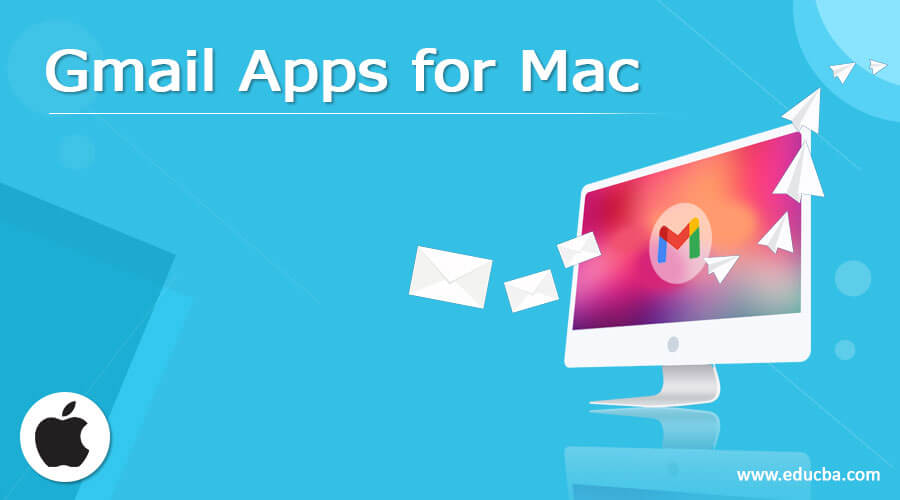 Introduction to Gmail Apps for Mac
Gmail is defined as an email service by Google and the Gmail app for Mac(Macintosh) Operating System is similar to the other email clients, letting you add email accounts from your favorite email provider so that you can easily send and receive messages. The app might be multi-device along with setting up need to check if there is a desktop or mobile version of your email client, and working should be as per the client that helps to organize the inbox instead of messing up the messages with easy organizational tools and helps to clean up your inbox. Good apps fulfill more requirements of the users.
Gmail Apps for Mac Users
There are so many Gmail apps for Mac users, as per professional needs there are some best apps are given below
1. Spark:
This app provides a smart inbox feature that helps to keep your inbox under control and see what's important if not then quickly cleanup. Spark uses AI to differentiate whether an incoming email is personal, work-related, or promotional, and then sort them accordingly. Has templates to reply to frequent messages. Spark can schedule emails to be sent later when recipients are most likely to read them. Spark can put reminders to take follow-up on important emails. If you are a part of team spark allow you to share emails from your inbox to colleagues using web links, leave private comments on emails that will be seen only by your colleagues also make it possible to write emails together with your colleagues by using real-time compose editor.
2. Mozilla Thunderbird:
Mozilla Thunderbird is a free email desktop application, with great features like edit contact, search interface, and attachment reminder feature. When you receive a message there is a star icon, by clicking on that you can add people in one click to your address book hence it is called a One-Click address book. The Mozilla Thunderbird app is older in design but it is very easy to use. It does still have great features like tagging and sorting emails, calendar, chat features, and gives email Security. The Emails are in Tabbed format so that you can quickly go from one email to other emails Users can change themes and dark themes for the night to look easier for the eyes. It has smart folders that help you to manage multiple email accounts.
3. Canary Mails:
Canary Mails is at the top in design. Canary provides excellent privacy and security. This is a very advanced Gmail app on Mac. The price is a little high. The Canary mails are relatively known for their end-to-end encryption on every mail you send, where your data is safe. Aside from its great security and design, the other great tools like smart tagging, natural language search, a bulk inbox cleaner, and so on. The most powerful productivity features ever designed, like reading notification, on one-click unsubscribe, and snooze, template, contact profiles, calendar, and so on.
4. Go for Gmail:
This is a simple, best, and most powerful desktop app, but is free for a limited time only. Without opening a web browser you can quickly access your Gmail account. Go for Gmail is beneficial at the best experience on macOS and easy-to-use feature. We can access your Gmail account instantly via Mac's menu bar. The notifications are color-coded with audio alerts. Users can view two modes Desktop and mobile, the desktop is a full-size browser view and the mobile is a condensed view. The Window can be resized and a new email notification is supported. It can run the app via the menu bar and the Dock both. It has regular free updates.
5. Mailtab for Gmail:
Mailtab is another desktop application that can be used to sort and view your inbox without having to open your web browser. It has a functional email alert to save time and attention. This app is similar to Go for Gmail. Both are based on the classic inbox feature and virtually there is no learning side at this app. When you need to access emails easily from the menu bar and want to focus on other apps then Mailtab is needful. You will receive a timely notification without being distracted by the content. The Window of the app is similar to the interface of your phone.
6. Unibox:
Unibox provides an entirely new way to see inbox to its users. Unibox shows you your mails as per the message sender's name instead of individual mail, date, or subject. Unibox's design is clean and beautiful so that you take a quick overview of messages that are sorted by contact.
7. Kiwi for Gmail:
Kiwi for Gmail is also known as Gmail for Mac. Kiwi upgrades the feature of Gmail and works with Google apps like Docs, Sheets, and Slides to increase the productivity of your desktop. Gmail in Web Browser is distinct from Gmail in Kiwi. Kiwi in Gmail is designed as a powerful engine that allows multiple accounts to be used at one time without conflict. It focused on filtered inboxes like today's email, or last 2 days, or past week emails. The Kiwi for Gmail has great usability, so you can attach a file to an email from the finder. Users can schedule an email in advance. Keep in mind that all versions not free you need to upgrade premium plans for new features.
8. Boxy Suite for Gmail:
Boxy Suite is the refined and improved Gmail compare to browser, get all the benefits and features that match your macOS beautiful interface. It does not have a mobile version. Boxy Suite is the best way to use Gmail and Google calendar on your Mac. The Boxy suite is clean, responsive with a minimal Gmail user interface. Boxy Suite has an auto dark mode with Mac also has the feature of email tracking detection. Pre-loading your account in the background you can switch fast.
Conclusion
In this article, we conclude that Gmail apps work great with Mac Operating System to increase productivity professionally. Different Gmail apps for Mac provide different features to users. Inbuilt tools and functions in Gmail apps help end-user to work proficiently and in an organized manner. As per professional purpose security of data is more important, so Gmail apps for Mac provide security to its users.
Recommended Articles
This is a guide to Gmail Apps for Mac. Here we discuss the Introduction, Different Gmail apps for Mac with different features. You may also have a look at the following articles to learn more –