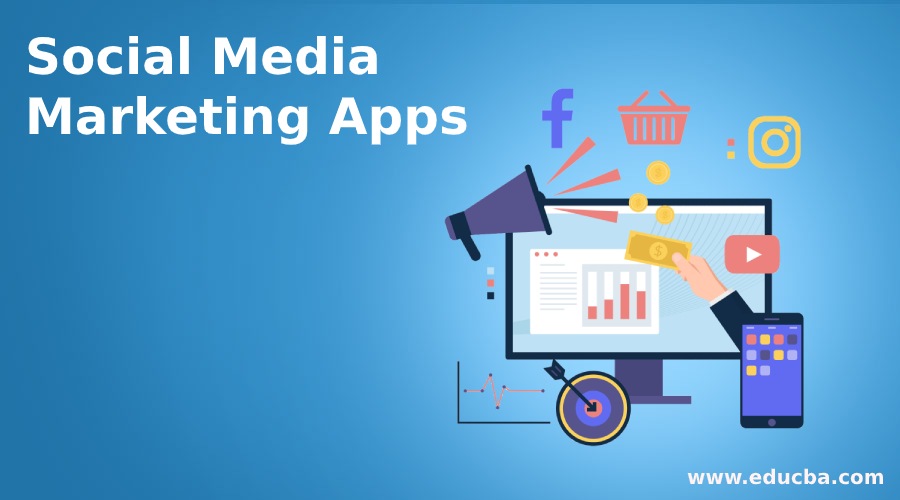 Introduction to Social Media Marketing Apps
Social Media Marketing Apps is a content creation method on different social media sites such as Instagram, Facebook, and Twitter to promote your company and your goods. Your unique content should be customized to the particular platform it's sharing to help you raise sales and increase brand recognition. Social media marketing is about reaching your target audience and clients and maximising your sales by reaching them and increasing brand awareness.
What is Social Media Marketing App?
The social media apps will help create better content, Connect to the targeted audience, and save time.
The Social media marketing app's function is just reaching and communicating with the targeted audience and always staying in touch with your team and audience. If you have a team for social media marketing, a Social media marketing app offers to send updates to the team, collaborate and delegate, and get feedback. It also provides features such as Increasing Brand Awareness, Generating Leads, Foster Customer Relationships by engaging with them on your content, replying to customers' queries and comments, and providing solutions about it.
Best and Essential Apps
So here is the list of best and essential apps that will help to create and promote your content effectively and efficiently:
1. Buffer
Buffer is a popular and widely used social media marketing app that manages multiple social media accounts. This app helps boost social media marketing by allowing companies and individuals to queue posts for their several accounts. It works for various third party extensions, besides managing the content updating of social platforms.
It also provides features such as group collaboration, photo editing, analytics of social media performance. Hence buffer is an outstanding tool to manage and organize multiple social media accounts and makes marketing easier.
2. Iconosquare
Iconosquare helps to manage your overall social media presence and marketing strategies. It offers Content planning and content scheduling, making it easier to upload original content or reposting other users' content from your mobile. In this app, you can manage multiple social media accounts. Along with this, you can post and optimize your content and analyze the performance from mobile. You can also save others' content and hashtags as well as view analytics of your platforms.
3. MavSocial
MavSocial is a management tool for social media platforms such as Twitter, Facebook, Instagram, LinkedIn, YouTube, and Tumblr, which focuses on graphics and videos. In any or all of those platforms, you can schedule or preview content. It also offers Real-Time Results, Smart Automation, Live Analytics, etc., which are useful to get more traffic on your pages. It has a Social Inbox tool by which you can switch between multiple social accounts to view comments and replies in a single inbox. So you can directly like, Reply, or retweet. You can schedule, Manage, and publish content on all of your social media networks with the help of MavSocial's campaign calendar.
4. Canva
Photos and videos are extremely influential on popular Social media sites like Instagram, Facebook, and Snapchat. Therefore, marketing teams are almost always pressured to create excellent visuals and graphics to increase brand visibility and get more traffic. Canva offers various design tools, templates, filters to make engaging content for your page. In Canva, anyone with minimal experience in designing can create content with the tutorials which Canva provides. Canva has a drag-and-drop feature and different filters, which are useful to design, share and print logos, business cards, etc.
5. Google Analytics
Google Analytics helps to analyze your website and Understand your site and app users to check the performance of your website's content, products, marketing, and traffic. You can access Google's machine learning features as well as insights to enhance your analysis.
Google provides Data Studio, which you can connect to Analytics to create performance dashboards and customized reports. It also provides outstanding functions like Google Ads. With Google Ads' help, you can get a better insight into how users engage with your content through your Google Ads campaigns.
6. SocialCaptain
SocialCaptain is a widely used tool for social media marketing. It helps you to control automation settings from SocialCaptain's web dashboard. It provides various features that help analyse your website performance, such as Live Analytics, Smart Automation, Real-Time Reports and Results, in which you can track and customize your progress in real-time, AI Optimization. It also offers organic and real followers, Advanced targeting, organic comments and likes, guaranteed follower growth, Auto Direct Message by which you can automatically send notifications to new users.
Conclusion
This article has seen What Social Media Marketing app is and why businesses and individual bloggers need them, along with various Social Media Marketing apps. You can choose any of them based on your requirements. I hope you will find this article helpful.
Recommended Articles
This is a guide to Social Media Marketing Apps. Here we discuss introducing Social Media Marketing Apps, what it is, and different 6 apps. You can also go through our other related articles to learn more –