Updated June 3, 2023
What is the Full Form of GPS?
The full form of GPS is the "Global Positioning System." GPS has transformed the way you navigate the world. From finding the quickest route to a new destination to tracking the movements of wildlife and shipping containers, GPS has become an indispensable tool in many industries. But what exactly is GPS, and how does it work? This blog will delve into the fascinating world of GPS, exploring its history, how it works, and its many applications. You will also look at the advantages and disadvantages of GPS and what the future holds for this groundbreaking technology.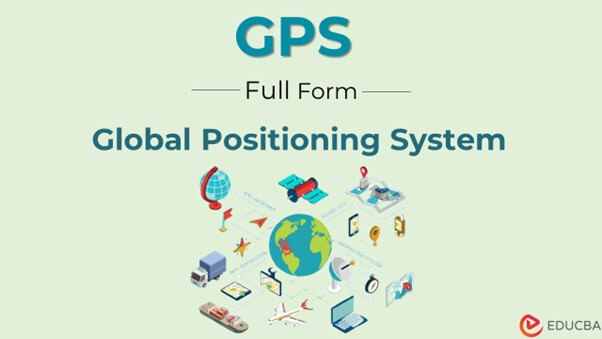 What is GPS?
GPS is a satellite-based navigation system that uses signals from a constellation of at least 24 satellites in orbit around the Earth. These satellites transmit signals that are picked up by GPS receivers on the ground, which then use this information to calculate the receiver's precise location.
How Does GPS Works?
A GPS receiver calculates its location by determining the distance to at least four GPS satellites. The receiver uses the time it takes for the signals from the satellites to reach it, along with the precise location of the satellites, to triangulate its position.
The GPS receiver needs to know the precise time to determine the location. The GPS satellites include atomic clocks, which allow them to transmit highly accurate time signals. By comparing the time the signals were transmitted and the time they were received, the GPS receiver can determine the distance to the satellites.
The GPS receiver then uses this information to calculate its position, taking into account the position of the satellites and any atmospheric or other interference that might affect the signal. The result is a highly accurate determination of the receiver's location, accurate to within a few meters in many cases.
Applications of GPS
After understanding the full form of GPS and how it works, let's look at its wide range of applications. Some of them are:
1. Navigation
GPS is widely used for navigation in vehicles and on foot. GPS-enabled devices, such as smartphones and dedicated GPS receivers, provide turn-by-turn directions and real-time updates on traffic and other conditions.
2. Geolocation
GPS can determine a person's or object's precise location. This is useful for various applications, such as tracking wildlife, finding lost hikers, and monitoring the movements of delivery trucks.
3. Surveying
GPS is commonly used in surveying and mapping applications, allowing surveyors to determine the precise location of points on the ground.
4. Agriculture
GPS can be used to precisely map fields, assist with planting and harvesting, and monitor the health of crops.
5. Weather Forecasting
GPS signals can gather data on atmospheric conditions, such as temperature and pressure, which are then used in weather forecasting models.
6. Mapping
GPS is used to create detailed maps and geospatial information products.
7. Timing
GPS provides highly accurate time signals, crucial for various applications, including financial transactions, power grid management, and scientific research.
Advantages of GPS
There are numerous benefits of GPS, including
1. Precision and Accuracy
GPS's most significant advantages are its precision and accuracy. GPS uses signals from a network of satellites to determine a device's location, and the accuracy of these calculations can be as precise as a few meters. This high level of accuracy makes GPS ideal for a wide range of applications, including surveying, navigation, and tracking.
2. Real-Time Information
GPS provides real-time information, which is crucial for many applications. For example, real-time data can be used in navigation to provide up-to-date traffic and route information. This helps drivers to avoid congested roads and reach their destination faster.
3. Wide Availability
GPS is available worldwide, making it a valuable tool for navigation and location determination in any part of the world. This global availability has led to the widespread adoption of GPS for various applications, from navigation and surveying to wildlife tracking and search and rescue operations.
4. Cost-Effective
GPS technology was relatively expensive in the past, making it inaccessible to many users. However, GPS device costs have decreased significantly with technological advances and increased competition. In recent years, GPS has become more accessible and cost-effective for many users.
Disadvantages of GPS
Despite the several benefits of GPS, it has some flaws too, including:
1. Limited Availability
While GPS signals are widely available, they can be disrupted by many factors, including buildings, trees, and other obstructions, limiting their availability in some locations.
2. Cost
While the price of GPS receivers has decreased significantly in recent years, high-end GPS systems can still be quite expensive, making them less accessible to some users.
3. Dependence on Satellites
GPS relies on a network of satellites to provide location and time information, which can make it vulnerable to disruption if the satellites are damaged or otherwise compromised.
4. Limited Battery Life
GPS receivers can consume a lot of power, limiting their battery life. This can be especially problematic for GPS devices used for extended periods, such as while doing outdoor activities like hiking or camping.
Conclusion
In conclusion, GPS has proven to be a game-changer in navigation and location determination. Its ability to provide precise and real-time information has transformed many industries and made life easier for people worldwide. However, it is essential to be aware of its limitations, such as the dependence on satellite signals and limited battery life, when relying on GPS for navigation and other applications. As technology advances, it will be exciting to see how GPS will evolve and play a critical role in our lives. Hope this article has helped you understand the full form of GPS and its various related facts.
Recommended Articles
We hope that this EDUCBA information on "Full Form of GPS" was beneficial to you. You can view EDUCBA's recommended articles for more information,