Updated April 10, 2023
Full Form of NIFTY (National Stock Exchange Fifty)
The full form of NIFTY is National Stock Exchange Fifty. Every day, the news is complete with knowing the current status of NIFTY. It is one of the important updates for traders and businesses. But commoners rarely give it much thought due to a lack of understanding.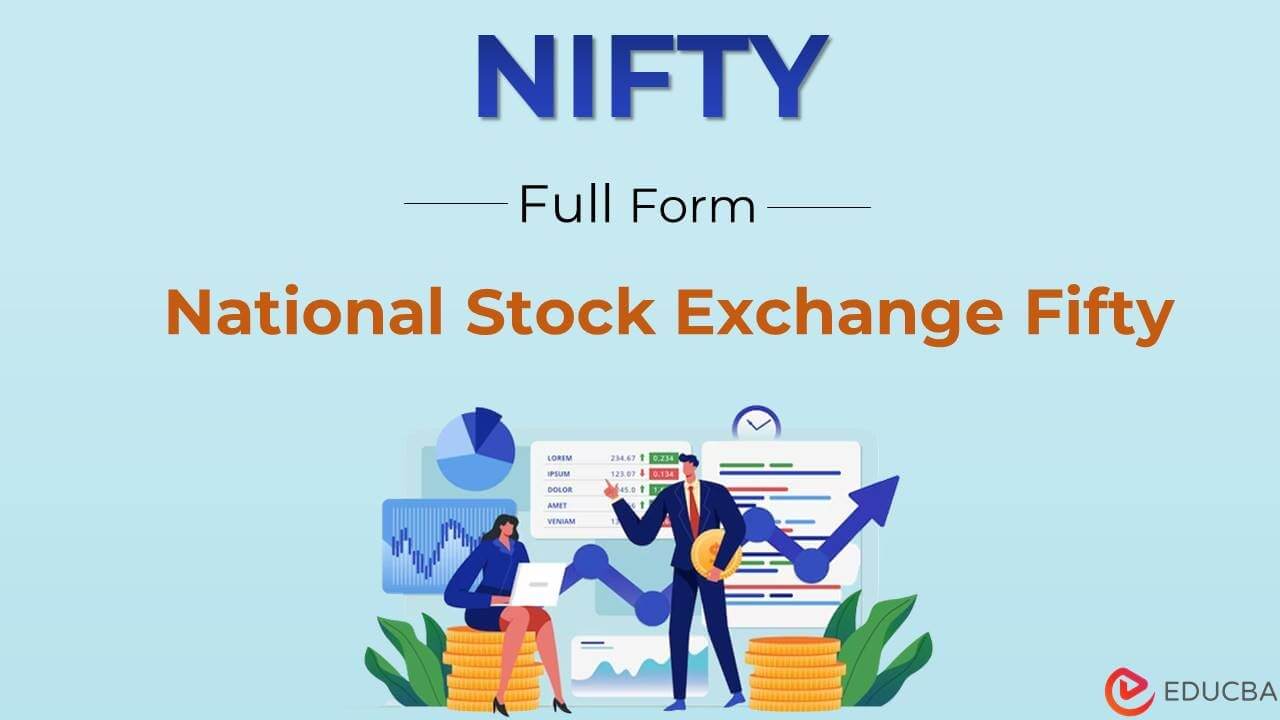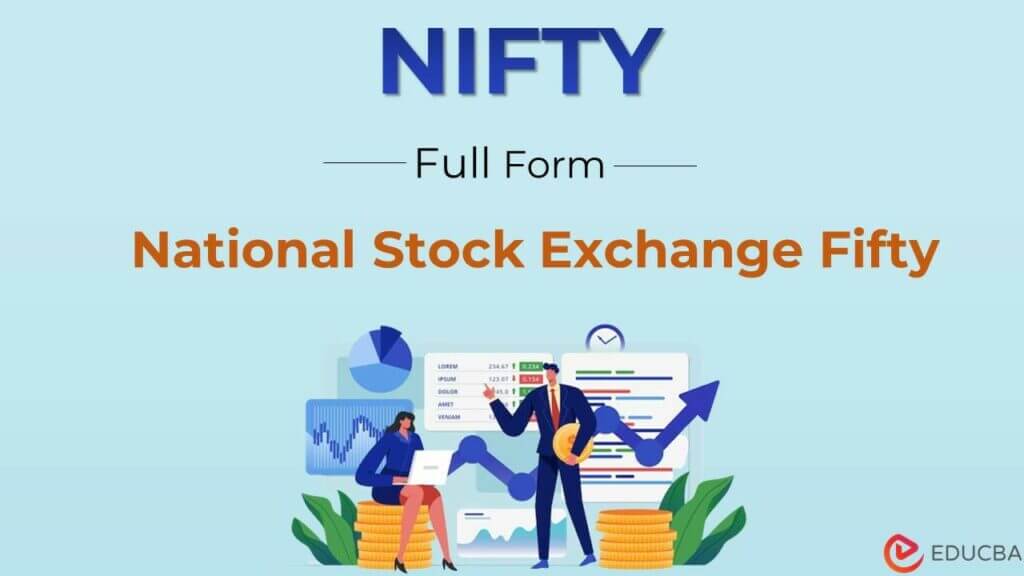 What is NIFTY?
The full form of NIFTY is National Stock Exchange Fifty, a popular stock index that enlists the top profitable 50 equity stocks actively trading. Also called NIFTY 50, it comes from two words; NSE and Fifty. Started by the NSE(National Stock Exchange of India) in 1992, the introduction of NIFTY 50 occurred in 1994.
Today, NIFTY is India's largest trading platform. It includes more than 13 sectors, including IT, Telecom, Pharma, etc. It evaluates the stocks for performance every six months, and in case of addition or subtraction, the platform gives four weeks before reconstitution.
What is a Stock Index?
It is an index that records volatility or changes in the stock market using parameters like market performance and price movement. It groups similar stocks based on the type of industry, market capital, or company size. Most investors and traders use the stock index to measure a company's performance w.r.t the benchmark index.
What NIFTY 50 Covers?
NIFTY covers the top 50 stocks of mostly the blue-chip companies, i.e., those with a big market. Its sub-indices include NIFTY IT, NIFTY Banks, etc., for separate sectors and asset classes.
Who Can Be on the NIFTY?
NIFTY calls for basic eligibility criteria fulfillment for indexing on its platform.
These include:
The Company must be an Indian and registered on NSE.
The company's stocks must have high liquidity, and its impact cost should be no more than 0.50% or 90% of the observations made on its Rs 10 crores portfolio.
The company's track record of trading must be 100% in frequency in the last six months.
5 times more free-floating average market value than the smallest one already on the index.
Those with DVR( Differential Voting Rights) shares are also eligible.
Besides, it must adhere to the regulatory guidelines of SEBI (Securities and Exchange Board of India).
As we progress from discussing the full form of NIFTY to its eligibility criteria, let's discuss NIFTY's calculation and timings.
NIFTY Timings
Its timings of operation are from 9:15 am to 3:30 pm, Monday to Friday. Besides, there is a pre-opening time from 9-9:15 am and a post-closing session of 30 min from 3:30 pm to 4 pm.
NIFTY Calculation
It follows the free float weighted methodology of market capitalization.
Formulas
Market Capitalization= Current Price X Outstanding shares
Free-Float Market Capitalization= Market Capitalization X IWF or Investable Weight Factor
Index Value = Current Market Value/ (Base Market Capital X 1000)
Here,
Base market capital is Rs 2.06 Trillion.
The base year for index value calculation is 1995.
The base value is 1000.
Terminologies
Free float market capitalization refers to the stocks available for public trading.
Outstanding shares are the total shares held by the organization and its promoters.
Market Capitalization is the total aggregate of shares the investors and company owns.
Current Market Value is the weighted total market capitalization of all 50 companies of the index.
IWF is the factor that determines the total shares available for trading, excluding locked-in shares, i.e., those held by companies' employees, their promoters, and the government.
How Invest in NIFTY?
NIFTY investment is possible via ETFs (Exchange Traded Funds) and IMF (Index Mutual Funds). Other options are Options and Futures.
ETFs V/s IMF
Price: The price of ETFs undergoes updation throughout the day while IMFs prices stay the same till the end of the day.
Purchase of Stocks: One can buy or sell the ETFs stock at the price of at the moment, while the IMFs transaction is possible only through the day's end price.
Which is Better: SENSEX or NIFTY
Another share market's favorite platform is SENSEX, the second largest in India after NIFTY. Owned by the Bombay Stock Exchange(BSE), it indexes the top 30 companies actively trading.
NIFTY is a broader market than SENSEX as it indexes more companies than the latter. Besides, NIFTY has a more diverse portfolio than SENSEX and is thus a more popular choice amongst traders.
Benefits of Investment in the NIFTY 50
Higher long-term returns.
Free from Fund Manager bias as it depends directly on the fund's portfolio.
Inexpensive with a low expense ratio of index funds compared to mutual funds.
Index funds offer promising market returns as their performance depends on the NIFTY index movement.
In this article, we broadly discussed topics ranging from the full form of NIFTY, its calculation, benefits, and why it can be better than BSE's SENSEX.