What is the Full Form of TTYL?
The full form of TTYL is  "talk to you later," which is frequently used in online chat rooms, mobile text messages, and other digital communication settings. Like many others, people developed this kind of abbreviation to shorten text messages and typing.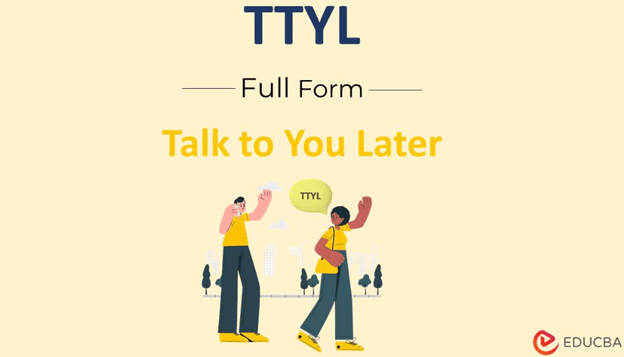 History
The term "talk to you later" first appeared in early online chat formats from the 1990s and, in some cases, even the 1980s. The phrase is most frequently used in text and other digital communication today. Additionally, you may find it on Facebook, Instagram, and Twitter. The phrase gained even more attraction with the introduction of instant messaging services like AIM, MSN, and Yahoo Messenger, which are frequently used before logging off.
Uses
People use it in texting, private online chatting, and occasionally in emails with friends. They typically use it whenever they wish to end a chat, conversation, or topic so they can continue another time.
When you know, you will communicate with the individual again in the future; you typically use this statement to terminate a conversation.
Some people might use BRB ("Be Right Back"), GTG ("Got to Go"), or CUL8R ("See you later") for TTYL.
TTYL is also replaced with: – "Talk To You Later," which Is Often Used As A Replacement For "Bye," Talk Later, See Ya Later, Talk About It Later; See You Soon, Speak Later, Catch You Later, Catch Up Later.
Similar slang words
TTYL:-  Text to you later
TTYL:- Talk to youth lately
TTYL:- Type to you later
TTYL:- Talk to you later
TTYL:-  Time to yell loud
TTYL:- Talk to you louder
Related Abbreviations
BFN – Bye For Now
BBFN – Bye Bye For Now
BRB – Be Right Back
GTG – Got To Go
SYL – See You Later
TTYIAF – Talk To You In A Few
TTYS – Talk To You Soon
CUL8R – See You Later
Advantages of TTYL
TTYL is a convenient way to end a conversation without offering an excuse or having to explain why you are ending it.
TTYL is a quick way to end a conversation, which is beneficial if you need to move on to other tasks.
This acronym is informal, which can be beneficial if you are having a casual conversation.
TTYL is a respectful way to end a conversation, as it does not indicate that the conversation is over in a rude or abrupt way.
Disadvantages of TTYL
When someone types Ttyl, it gives the impression to another person that the conversation is over. This could be confusing if the other person were hoping for an answer or further conversation on a given topic.
People can perceive TTYL as abrupt, making the person on the other end of the conversation feel disregarded.
TTYL can be misunderstood by the other person, who might think the conversation is over when you are simply taking a break.
TTYL does not give the other person closure on the conversation or a chance to respond. This might lead to awkwardness or confusion.
Examples
My phone is about to die, so TTYL.
Definitely will ttyl about the same.
Hope you don't mind if I ttyl.
I am busy. TTYL, bye.
I'm done for the day. Will ttyl.
I have got to go. TTYL
I had a great time tonight Ttyl.
Conclusion
TTYL is an internet slang commonly used as a farewell phrase while ending an online conversation. TTYL is a convenient way to end a conversation, as it is short and informal, and it lets the other person know that you need to end the discussion for now.
Recommended Articles
We hope that this EDUCBA information on "Full Form of TTYL" was beneficial to you. You can view EDUCBA's recommended articles for more information,