Updated May 16, 2023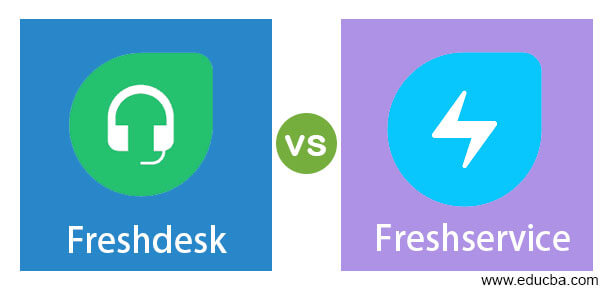 Difference Between Freshdesk vs Freshservice
Freshservice and Freshdesk have different purposes and are the products of Freshworks. It is a customer-oriented help desk software, and prices range from $0 to $109 per month. Whereas fresh service is an internal service help desk software used to control the company's internal information technology support, where the cost starts from $19 to $99 per user per month. The important differences and significant comparison factors are discussed in this article.
Head to Head Comparison between Freshdesk vs Freshservice (Infographics)
Below are the top 7 differences between Freshdesk vs Freshservice:

Key Differences between Freshdesk vs Freshservice
The important differences, like working, applications, integrations, plugins, and support, are explained in this section.
1. Definition and Functions
Freshdesk is a significant tool for enterprises with customers using websites that need support care or a consumer login portal. The features like ticket logging can enable the clients to submit a ticket which limits the staff's work to save the details via phone. The other features, like knowledge inventories, enable the user to access the information portal that manages the consumers to find solutions to questions from the content developed, like replies to tickets and articles. Whereas new service is used in the IT department of the company that manages the internal software and hardware. It is essential for tracking and organizing the tickets and controlling the release of updated technology issued to workers, like document approvals and laptops. It is employed for larger teams and requires technology asset management.
2. Pricing
Freshservice and Freshdesk fall under the same price ranges with free trials. The price range of Freshservice falls from $19 to $99 per month compared to Freshdesk, which starts from $15 for one user per month and ranges to $109 per month. Freshdesk focuses on customer-dependent tools like logging a ticket from the website. In contrast, the new service aims to solve IT issues and manages the internal asset of information technology. The price of Freshdesk is affordable for small and medium-sized businesses and includes a free plan that is availed with fundamental support. The paid version is adaptive, and business fluctuates from $15 to $29 monthly.
3. Accessibility
Freshdesk creates support tickets via calls, social media, and mail. It rejects the essentiality of logging the ticket, which saves more time and makes the creation of tokens easy. It has a visual appeal on the dashboard that highlights the primary supporting metrics with all descriptions of tickets like their number, date opened, status, and every mandatory detail to take necessary action on it. It also has an inbox that highlights all the details from accessing channels. Whereas Freshservice has an elegant dashboard with a simple user interface that displays various categories on IT support staff about the queries on request, tickets, new services, and so on. There is an attractive dashboard with metrics and all activities on the ticket status. Tools like the service catalog enable the user to request the software or hardware for the job and enable easy installation and customization on the department with random clicks, including automatic initiation of request that automatically sends the request for any approval.
4. Support
The same organization develops and owns both Freshdesk and Freshservice, and their service support features are identical. The customer gained support for both products and the contact number and mail address. Client support is extended in different methods. The service support has an academy on Freshdesk where the technicians can support the agents to take the courses on modules with agent and admin fundamentals with client service skills. It comprises a knowledge base with modules like how to set up and customize the self-service portal and social, phone, email, and website channels to create and submit tickets that can connect the users with the preferred community. Whereas Freshservice gives customer support via webinars and videos, agent guides, community forums, and knowledgebases via mail and phone. It provides a communication channel via chat, and the newly deployed services allow the communication channel for chatting facilities. The community forum enables the user to start a new topic with community members that respond to the related questions.
Comparison Table
| | | |
| --- | --- | --- |
| Attributes | Freshdesk | Freshservice |
| Definition | It offers a cloud-based solution with omnichannel client service for all business sizes, providing answers to submitted queries that enhance customer productivity and increases customer satisfaction. | It is an online ITIL service desk with ITIL features and enables ticket and asset managing capabilities with reports, problems, incidents, changes, releases, and knowledge management tools. |
| Oriented Platform | It is based on the web, Windows, Android, and iPhone. | It is based on Web, Android, and iPhone. |
| Customers | It has reliable clients like freelancers and small, medium, and large enterprises. | It has all types of clients in small, medium, and large enterprises except freelancers. |
| Support | You can access it online, by phone, through video tutorials, and knowledge-based web portals. | You can access it online, by phone, through video tutorials, and knowledge-based web portals. |
| Pricing | It is available for $19, with a free trial, no credit card required, based on subscriptions along with a free account | You can avail it at the same cost of $19 with a free trial, no credit card required, and based on subscriptions. |
| Key features | API, Absence management, activity tracking, activity dashboard, and control, retention, and archiving | Active directory integrations, alerts and escalation, approval process control, access control, and API are important features. |
| Integrations | Facebook, Gmail, Google Calendar, Mailchimp, and HubSpot marketing can be integrated to increase productivity. | Microsoft 365 and Google Calendar have important integration support |
Recommended Articles
We hope that this EDUCBA information on "Freshdesk vs Freshservice" was beneficial to you. You can view EDUCBA's recommended articles for more information.