Updated May 19, 2023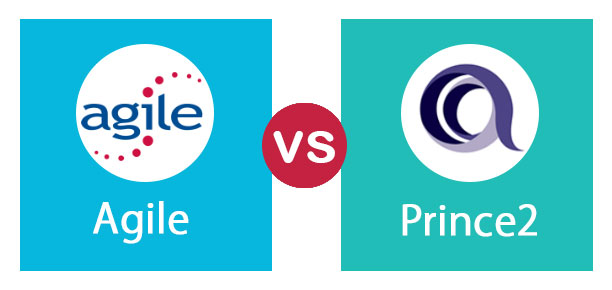 Difference Between Agile vs Prince2
In any project, many frameworks are to be used. It is difficult choosing one of these frameworks. When it comes to making a decision, it is a bit challenging. Two of the most popular frameworks that are making around these days are Agile vs Prince2. Agile is a software development method that helps build software by using iterations ranging from 1 week to 4 weeks so that the development process is aligned with all business needs at all times. Prince2 stands for Projects in Controlled Environments. This method helps in identifying and assigning roles to different team members of the team.
Head To Head Comparison Between Agile vs Prince2(Infographics)
Below is the top 3 difference between Agile vs Prince2

Key Differences Between Agile vs Prince2
Both Agile vs Prince2 are popular choices in the market; let us discuss some of the major Difference Between Agile vs Prince2
Both Agile vs Prince2 are project management methods that focus on giving an effective product that can bring the best value.
Where Prince2 is useful for a customer to justify a project, their Agile methods are useful for suppliers to deliver working software.
Prince2 is mainly useful and focuses on higher management levels. Agile, on the other hand, focuses on lower-level terms.
Prince2 is more of a predictive approach, while Agile is the more adaptive approach to create perfect software.
Prince2 focuses on questions like 'Should this project be done?' and 'Are the benefits worth the risk?' Agile focuses on questions like 'What do we deliver the next week?' and 'How do we know if the project is finished?'
Agile vs Prince2 Comparison Table
Below is the 3 topmost comparison between Agile vs Prince2
The basis of comparison Between Agile vs Prince2

Agile

Prince2

Methodology
Many organizations actively use Agile methods these days, primarily due to their flexibility and capability for pivoting. Agile, also known as Scrum, applies to any project, regardless of its complexity. The main focus of Agile is the execution of the project, necessitating close collaboration with clients, users, and stakeholders. It ensures a thorough understanding of the client's needs and their correct incorporation into the project. Agile describes as a continuous process that involves gathering constant feedback from clients and incorporating it into the system to achieve a better product.
Prince2 mainly focuses on the importance of processes that are to be followed. It involves all steps, including starting the project, initiating it, and then continuing with the management process. Moreover, it goes to finishing the project and then transferring it to normal business processes. It describes as a linear methodology that goes through different steps individually.

Prince2 actively describes a predictive plan-based approach that primarily focuses on the bigger goals of the project. The management team actively assumes pre-defined roles and responsibilities and emphasizes maintaining the product's quality. However, Prince2 can be modified at any time to suit any project and actively assists in maintaining the project's budget.

Who are they aimed for?
Suppliers and teams, including project members and non-members, can actively utilize Agile methods. These methods primarily focus on delivering the customer's needs next week and ensuring the software functions properly. Agile enables collaboration and teamwork between all project stakeholders and the customer. However, it involves defining and prioritizing requirements, developing, testing, and providing continuous feedback in iterative cycles. Software engineers created Agile to address project delays and exceeding budgets. Nowadays, organizations widely employ Agile methodologies.
Prince2 is a customer-focused project management methodology. It provides a set of principles, themes, and processes that help organizations to manage and justify a project. Moreover, its main focus is managing the project effectively and ensuring it remains a worthwhile investment in this changing business environment.
What do they focus on?
Agile methodology's main focus is on delivering projects continuously and incrementally. It also focuses on the effectiveness and efficiency of the product that is being built. These products actively fulfill what the customers want. They also constantly define and prioritize requirements and develop and provide customer feedback.
Prince2 is built on 7 principles that guide the different aspects of the methodology. It helps define the roles and responsibilities of all team members in the project. However, it includes everyone in the project, even from a higher level, like project managers. It also focuses on various project management aspects like a business case, organization, change, risk, planning, quality, and progress. A project's accomplishment measures how it has enabled benefits that will help the organization. It also includes the complete project management lifecycle, which enables who is responsible for making decisions at difficult times of the project. Prince2 does not guide how the people in the project should work. Instead, the interface between a project and these terms of reporting, accountability, and the work to be done defines actively.
Conclusion
While Prince2's focus is on business justification and whether the risk is justified where business remains to be the biggest asset. It ensures that projects proceed in a sound business sense. The ability to respond to customer needs is how agile majorly contributes to the project. However, Agile vs Prince2 are two different things. Prince2 is a project management methodology, while agile approaches are more useful for suppliers in delivering the products to the customer. Projects can benefit by using both Agile vs Prince2, the predictive approach of Prince2, and the adaptive approach of Agile. Using both, all projects can deliver products to the customer with all risks and timelines calculated in advance. It acts to respond to changing environments while ensuring the investment is wise.
Recommended Articles
This has been a guide to the top difference between Agile vs Prince2. Here, we discuss the Agile vs Prince2 key differences with infographics and a comparison table. You may also have a look at the following articles to learn more.