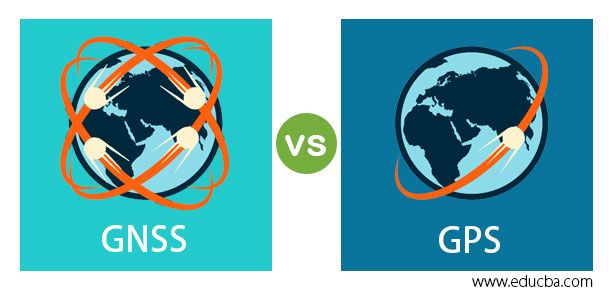 Difference Between GNSS vs GPS
GNSS which stands for Global Navigation Satellite Systems and GPS which stands for Global positioning systems are the most common terms that we know when we discuss regrading 'satnav' or satellite navigation. Satellite navigation provides autonomous geo-spatial positioning with the help of the network of satellites that provides global coverage and determine the minor electronic receivers locations using the time signals that are transmitted along the line of sight by the radio and from the satellites. More often these both GNSS and GPS are used interchangeably but there are major differences. This article highlights these differences.
Head to Head Comparisons Between GNSS vs GPS (Infographics)
Below are the top comparisons between GNSS and GPS:

Key Differences Between GNSS vs GPS
Let us discuss some of the major key differences between GNSS and GPS:
Global Navigation Satellite Systems which is referred to as GNSS is a global term that encompasses all of the world's or global satellite positioning systems. But GPS is one of the major components of GNSS and to be more specific it refers to the NAVSTAR Global Positioning System GPOS developed by the USA Department of Defence which was specific to military use earlier but later made accessible to the civilian population.
GNSS includes other satellite-based positioning systems such as GLONASS developed by Russians, European unions Galilieo and Chins Beidou. Whereas GPS is one such component under GNSS.
GNSS in collaboration with GPS is used to locate positions quite precisely anywhere on the earth. This GNSS and GPS work together to get accurate locations. But the main difference is that the GNSS is compatible with other satellite networks which can be beyond GPS. This all the GNSS receivers are compatible to receive the signals from the GPS systems but the vice vers that is all the receivers of GPS is not compatible with GNSS.
Both GNSS and GPS will be composed of three basic segments which are satellite (Space segment) that sends the signals continuously, Controls stations on earth (Ground Segment) which monitor and tracks each of the satellites and last the user segment which will be the GPS or GNSS receivers. This GNSS and GPS are currently used in a wide verity of fields where continuous position tracking is required such as transportation, agriculture, marine navigation, machine control, vehicle navigations, cellular and mobile communications, etc
The GNSS provides a wider network of satellites that provide better accuracy, availability, and redundancy at all times. Thus even one of the satellite systems fails the GNSS receiver can pick the signal from another receiver. GPS is also having a network of 32 medium earth orbit satellites that are positioned in six different orbital planes. Thus we can say that GPS a subset of GNSS
Comparison Table of GNSS vs GPS
Let's look at the top comparisons between GNSS vs GPS.
Below is the comparison table between GNSS and GPS on certain features. From the above part of the article, you might have seen that GNSS is a generic name for the group of satellites that sends out the signal to the receivers, and GPS is one of the many such different groups of satellites. So this comparison table will be more towards GPS and other satellites based navigation systems in the column termed as GNSS rather than literal GNSS and GPS comparison
Feature

GNSS(All Satellite Navigation System except GPS)

GPS

Origin Country
Since GNSS has many navigation systems in it, here is the list of origin countries of each one of them

GLONASS: Russian Federation NAVIC : India
Galileo: European Union
QZSS: Japan
BeiDou: China. China has BeiDou-2 which is also referred to as COMPASS

GPS was introduced by the United States of America.
Orbital Altitude
The orbital altitude of the navigation systems under GNSS are as follows

GLONASS: 11,890 Miles
NAVIC: 22,000 Miles
Galileo: 14,429 Miles BeiDou : 13,140 Miles

The orbital altitude of GPS is 12,540 miles.
Period
The period for the different navigation systems are as below

GLONASS: 11 h 16 min
NAVIC: 23 h 56 min
Galileo: 14 h 5 min
BeiDou: 12 h 38 min
QZSS: 23 h 56 min

The period of the GPS based navigation system is around 11 hours and 58 min (11 h 58 min).
No of Satellites
The total number of satellites used by other navigation-based systems under GNSS except GPS are as below

GLONASS: 24 are identified by the design and all are operational. One is under commissioning and one under flight tests
NAVIC: 3 Satellites under GEO and 5 with GSO MEO
Galileo: Galileo has around 26 satellites of which 22 are operational and it is expected that more six satellites will be added to this network
BeiDou: 23 are the total strength of the satellites and it is expected to rise to 35 in 2020
QZSS: 4 satellites are operational and of these 3 are GEO and 1 is GSO. It is expected that Japan will add 7 more satellites in the future to this network

The total number of satellites is 32 with 24 identified at least by the design.
Precision
The precision acquired by the various navigation systems under GNSS except GPS are as follows

GLONASS: 4.5 mt– 7.4 mt
NAVIC: 10 mt public and 0.1 mt encrypted
Galileo: 1 mt public and 0.01 mt encrypted
BeiDou: 10 mt public and 0.1mt encrypted
QZSS: 1 mt public and 0.1 mt encrypted

The precision acquired by GPS is a range of 5m (No DGPS or WAAS).
Status
The status of each navigation systems under GNSS except GPS are as follows

GLONASS: Operational
NAVIC: 7 are in operation
Galileo: operating from the year 2016 and expected to attain completion by 2020
BeiDou: 22 satellites are operational and expected to add more in the near future
QZSS: Operational

The Status of GPS base the navigation system is operational.
The source to the data in the above comparisons table is from the official site "GNSS signal – Navipedia". gssc.esa.int. Retrieved 2018-11-17.
Conclusion
Thus GPS one such popular GNSS base positioning system which is quite common in the civilian domain for positioning. And similarly, there are other navigation-based systems under GNSS which we have seen in this article. Using the network of satellites in GNSS for user positioning increases the precision level called Precision Point Positioning PPP that will be obtained
Recommended Articles
This is a guide to GNSS vs GPS. Here we discuss  GNSS vs GPS key differences with infographics and comparison table in detail. You can also go through our other related articles to learn more –