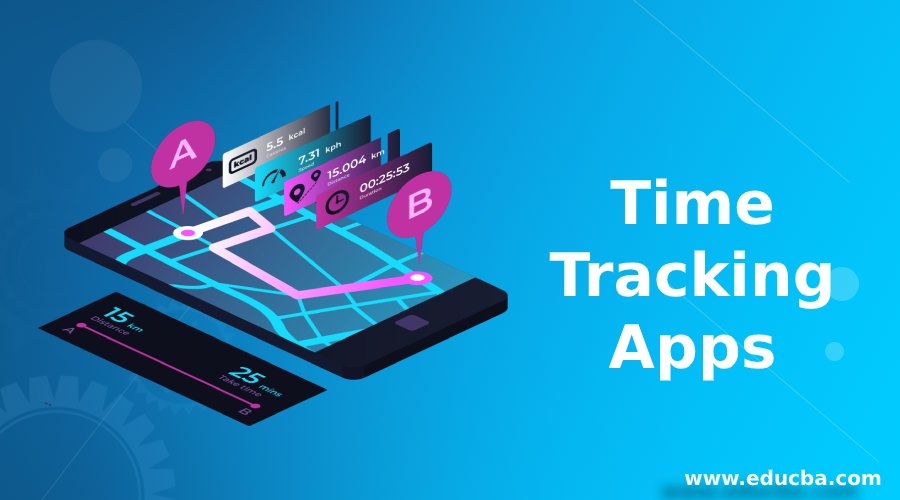 Introduction to Time Tracking Apps
The clock never stops, and it goes on and on without a lag. In these continuous lapses of time, humankind has gone ahead and built industries, companies, organizations, civilizations, and many things unimaginable. Amidst the chaos of the clock, ticking its way into infinity, and us, chasing after it, we have found means and ways of dealing with time. We work into what we call "work hours" and have the means of earning through those hours of effort put in. Best time tracking apps industries are many and the work aplenty, and each day bringing in varied time tracking apps to keep track of these numerous hours of efforts put into earning and selling a product or a service.
Our world runs on businesses, and corporate life with finances and money plays an important role. Each minute spent at work means something and can get you a sum of money for an entire day. As businesses grew, so did the size of their organizations and units. With the growth in organizations came an influx of employees. These vast number of best time tracking apps for employees need to, for themselves and the organization, calculate what they earned at the end of the day/week/month/year. Giving them that accuracy is the big elephant in the room—Time.
What do you Need to Track Time?
So, after understanding the entire setup of industries and organizations, the million-dollar question is, why do we really need to track time?
With organizations accounting their expenditures and sales and then making profit statements, it's necessary to account for how much is going out as damages to the organization and how much is the need to take time tracking apps for employees for a particular task. As a business owner, the experience of time tracking apps can be quite tedious as this would be yet another addition to the many administrative tasks at hand. Even if you have a pool of employees and an HR department, you're sure to be put out extra time sorting out the pandemonium called time-tracking. But your woes go away when you look at the many merits time tracking apps get along.
Listing it down:
You have kept track of exactly where you and your employees spend time.
You will be able to keep track of your development areas.
You can hold out a budget to your time.
You and your team will have a sense of work ethic and responsibility.
You will tend to not get distracted from time to time.
You will have boosted your productivity.
Many time tracking apps for employees have to keep it while managing it, with a view to increasing productivity, hence their performance and, hence, their benefits.
With an increase in the need to calculate time and with newer and more robust technologies coming up and running on the market, there are many, and we really mean many, time tracking apps doing the rounds; some with the features you need, some that might just lead you astray. But, which one do you pick among the many there exist is the question of the hour. Leading you no more astray.
7 Time Tracking Apps
Here is the list of the top 7 time tracking apps in my book.
1. TimeDoctor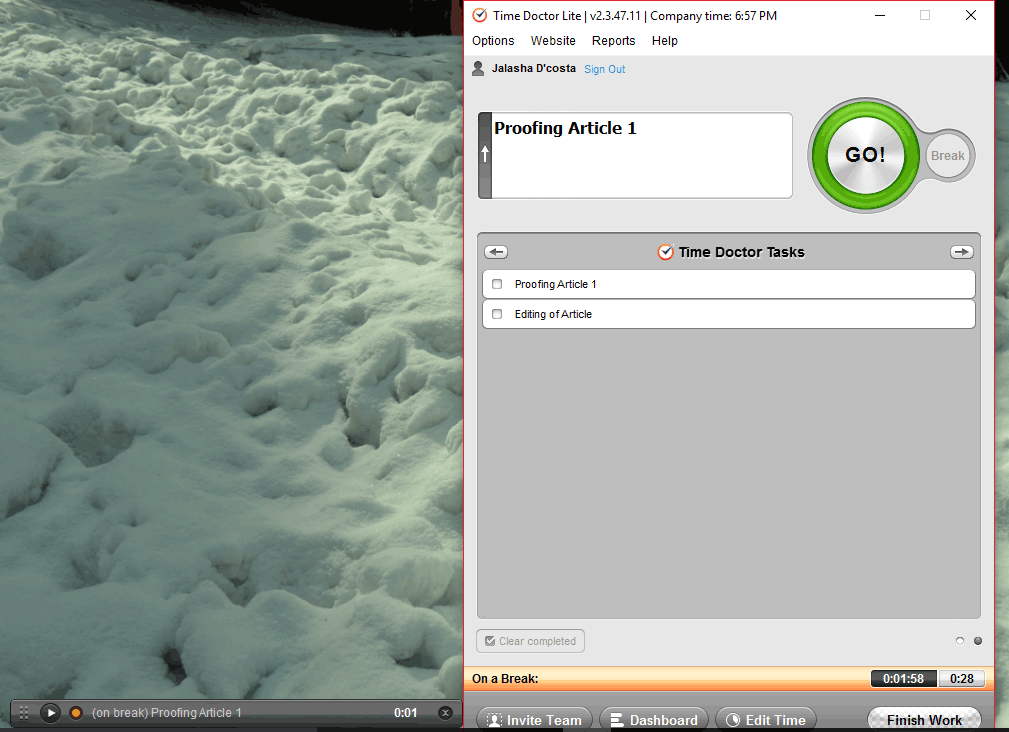 Time Doctor is a remedy for all your time-related ailments. It is made a completely fun experience for you, and this can be accessed through web as well as desktop apps. Known for its complete simplicity and straightforward approach with regard to tracking time and checking for employee productivity, Time Doctor is one app that you can rely on when it comes to automatic tracking.
Time Doctor has a control panel via the web app with exciting features such as on-demand analysis, reporting, and regular checking of the productivity levels to make sure that you or your employees are wasting time or money. These reports can be set and e-mailed to your account at regular frequencies.
Once you install Time tracking apps Doctor, you will be immediately asked to enter your task, and the tracking begins. Each time tracking apps free sheet is organized and kept separately as each task is described precisely with break time allotted to that. With this organized way of putting forward your time tracking apps free sheet, you will be able to view an entire day's, week's, or year's breakdown. The UI is user-friendly, and you can surely get used to it quite quickly.
This time tracking app free is to run in the background and has a prompt reminding me that we need to track my time once the computer wakes up or restart, taking into consideration all possible scenarios. This time tracking apps free has to prompt and will continue for as long as we signed into the app. This time tracking app free simply takes care of all the times that we are forgetful as a goldfish.
Apart from all these, one distinct feature is that Time Doctor monitors your activities and hence determines your productivity. It issues pop-up notifications if you spend a considerable amount of time on websites or social networking sites that don't pertain to your work. Time Doctor also boasts of a screenshot feature, which is also noteworthy.
2. Toggl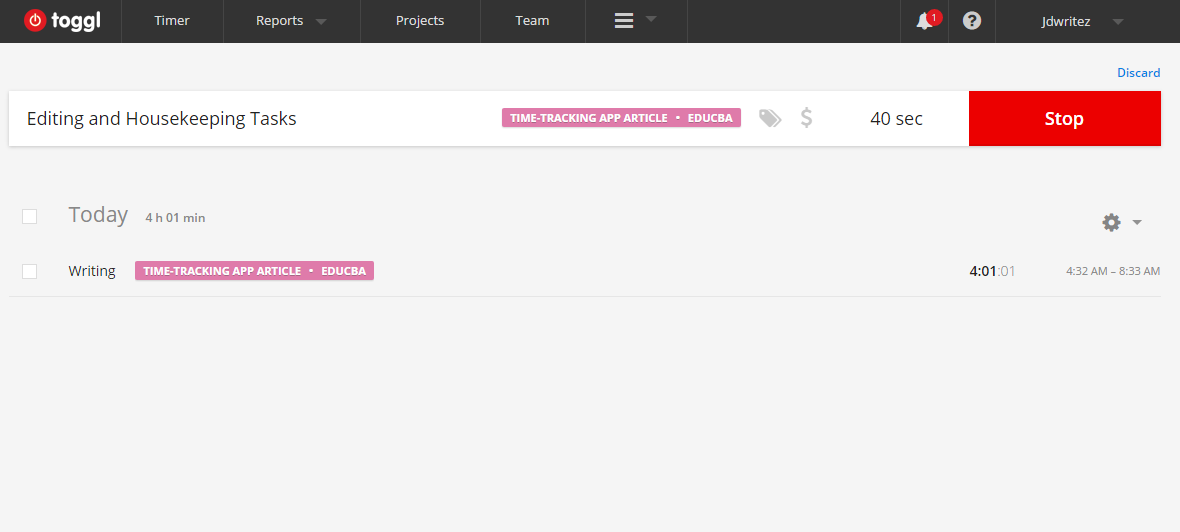 Toggl is one of the most versatile time tracking apps that allows you to carefully keep time on all the tasks that you perform each day. With specialized reports, you can now produce them so as to bill your customers on the tasks completed in a set time and organize and plan your work accordingly.
Coming fully equipped with a desktop app, a mobile app, and an online web app, This time tracking app Toggl can efficiently, and effectively record the time you spend on personal jobs and tasks throughout the day. With a start-and-pause-and-stop mechanism, you can hit pause at a task while beginning with another task. Then once you're completed with the second task, your first task can be easily resumed.
It can be assigned to a project or workspace and even labeled using tags, available as a feature in Toggl. These time tracking apps are handy labels for all your tasks to categorize them apart from the days you spent on tasks. With its robust reporting features, you can view your time tracking apps progress over time intervals of daily, weekly, and monthly duration.
This time tracking app Toggl comes to you absolutely free for most of the features. With the paid plan, you can avail of features that help you directly bill your customers. Loaded with a simplistic and extremely user-friendly UI, Toggl can be a good companion to keep a record of time tracking apps for you.
3. WorkPuls

WorkPuls is where your time tracking apps take a leap to the company level. Aimed at increasing employee productivity by the ways and means of time tracking apps and, subsequently, time management, WorkPuls is truly the pulse of the workforce. Best time tracking apps is a completely automated app that can tell you intricate details of your employees at their workstation. Right from when your employees start off with their work, the level of productivity on the floor; this very day till the current tasks undertaken by each and every employee who is signed into the app. Information about the top productive apps used by the employees on the computer and the non-productive apps are also mentioned. This best time tracking apps/tool covers everything you need to know about the time spent at your workplace by your employees.
The best time tracking apps/tools are collected sufficient data on time and tasks to produce cutting-edge reports for you to analyze and address. You will also be able to compare the data available for two different time periods and accordingly continue your analysis.
With WorkPuls, you can capture data that will enlighten you on the:
High-performers
Low-performers
Overworked staff
WorkPuls is supported on multiple platforms and caters to businesses and organizations of all sizes and shapes. Following a monthly model of payment, with WorkPuls, you will be spending $5.97 /month/user.
4. EmploTime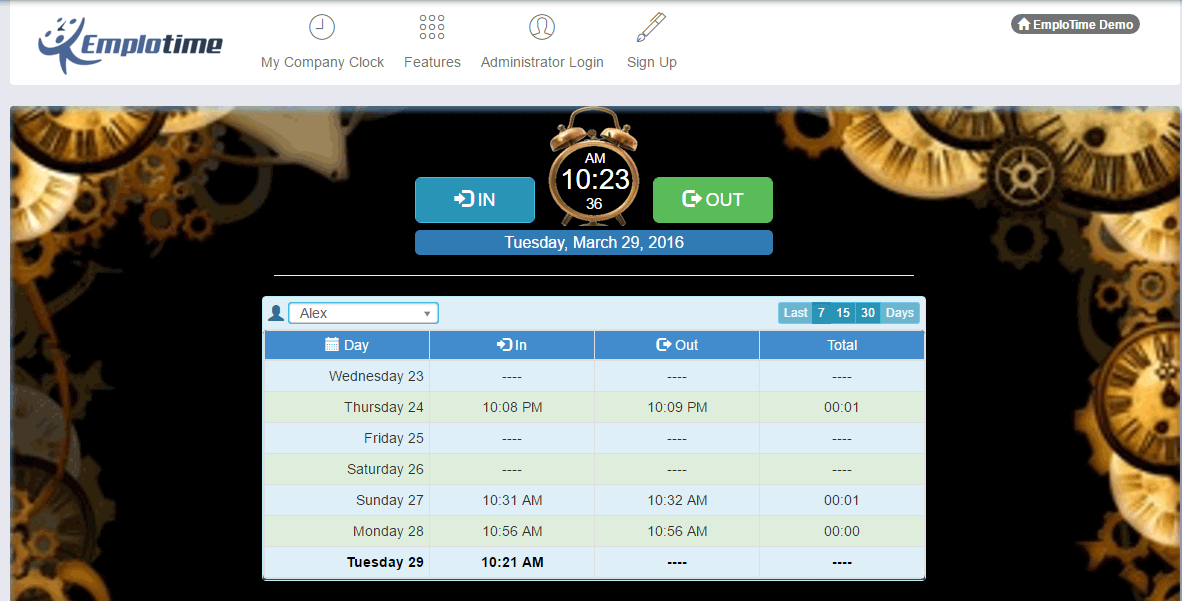 Time tracking apps – EmploTime couldn't be any simpler. A sign in and sign out time and attendance software that rides all the way is a simple and very portable app to carry around. Aimed at tracking the attendance times for your employees, EmploTime is specifically designed for use on mobile devices and has a target audience of small businesses, mostly limiting to 50 or fewer members.
Time tracking apps – EmploTime comes in handy for businesses that work on a shift basis and need to track the in and out time for all their employees and check for shift data. Time tracking apps for employees can very easily download the app on their mobile devices and clock into the system once they arrive at work with just a click of a button. With shifts come the possibilities of work across time zones. EmploTime syncs the clock to the time of the employee's current time zone and accordingly clocks in or out as per the day's work.
While that is going on, the admin portal supported by EmploTime can come into use for managers and senior personnel in the business. With report and data generation options, time tracking apps for employees can have a clear view of the time spent by each employee in the office and check current statuses as well. These reports can be printed into Excel or PDF file formats.
The plans offered by EmploTime are as follows:
Plan 1 – $40/year – 5 employees
Plan 2 – $80/year – 10 employees
Plan 3 – $160/year – 20 employees
5. WorkflowMax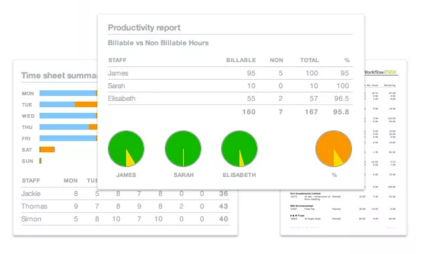 Time tracking apps – WorkflowMax, unlike the other apps on this list, is a complete work-business solution that has already gained your attention with its name. An end-to-end solution encompassing the following features is all set to make the all-in-one a comeback in the job management sector:
Customized quotes and estimates
Time tracking
Invoicing
Purchase orders
Document management
Reporting
Collaboration
Client management
Staff scheduling
Integration to various popular software (including TimeDoctor that features on this list)
Preferable for small-scale industries and businesses, WorkflowMax aims at getting all job management features into a single integration that benefits the company in increasing productivity with high-end reporting functionalities. The industries it taps on include marketing, creative, business, engineering, IT, and construction. You will find the need to have all the above-mentioned features and caters to individuals who bill by time.
The software is cloud-based and has currently captured over 6000 businesses worldwide, and is just a click away from the installation. The Pricing plan starts at $15/month for 1 user, $49/month for 5 users, $99/month for 10 users, and $199/month for unlimited users.
6. Chrometa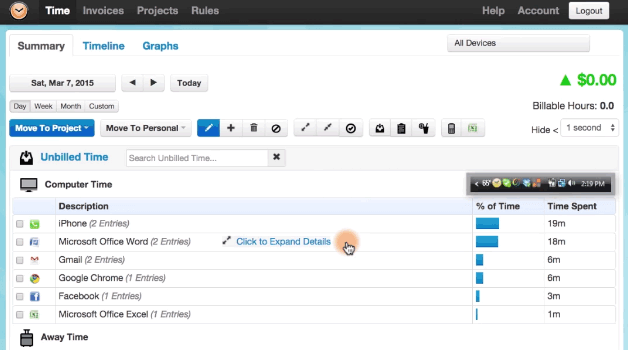 An awesome kid on the block, Chrometa has a slightly different outlook on time tracking apps than we've been doing all this while. It tracks your time for you absolutely automatically! It identifies the apps you've been working on and accordingly keeps track and time in real-time. This way, you will have an app-to-app breakup of what you're doing while working, without you ever selecting a task or switching through projects.
While Chrometa can be used proficiently by individuals, it can also be used to track time for teams. It stores data on the cloud and has a desktop installation framework. Chrometa, during best time tracking apps, can get as granular as possible to even track the time taken for you to write down a subject line to your e-mail, thus, helping managers in cases of micro-management.
Such a model would bring up the restriction when multiple users gather around multiple applications on the computer, with categorization becoming tedious. Apart from this, Chrometa also aids users in invoicing based on time spent and data storage and integration with other cloud-based services on the Internet.
The pricing for individuals on Chrometa is mentioned as follows:
Basic plan – $19/month – 1 device and 2 weeks of data storage
Plus plan – $29/month – 2 devices and 2 months of data storage
Premium – $49/month – 4 devices and 12 months of data storage
7. RescueTime

Distractions can cause a serious loss of work hours, and this can be detrimental to your productivity status and the one your organization is riding on. RescueTime comes to your rescue at such times. With the ability to now track your computer time and the apps you set your eyes on, you can get a clear picture of how focused you are and how distracted you are as well. With such awareness, organizations and individuals have been able to clearly push aside distractions and take into account the focused areas and timelines of their work.
RescueTime works well across many devices and platforms and comprises two components: a downloadable application to be used on your devices and the website login on which you can view the stats and reports that the app collects and puts together. RescueTime works in the background while you work and collect the necessary data putting together the time you spend on each application or site.
Categorizations take place as follows:
Very Productive Time
Productive Time
Neutral Time
Distracting Time
Very Distracting Time
RescueTime gathers all these data and information and charts it out for you to conduct analysis on them, all with a view to increasing individual as well as company-wide productivity. RescueTime comes absolutely free, but if you need to upgrade to a Premium, you will need to cough up $9/month or $72/year.
Recommended Articles
This is a guide to Time Tracking Apps. Here we have discussed the brief overview with a list of 7 useful time tracking apps in detail. You may look at the following articles to learn more –