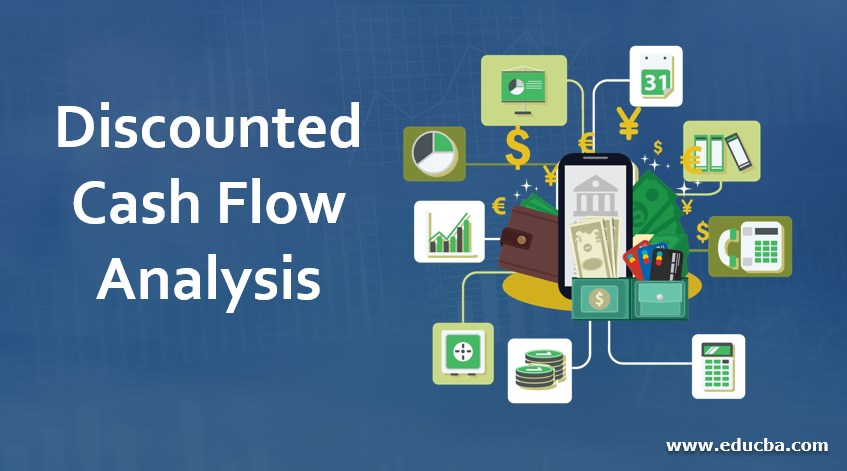 Introduction To Discounted Cash Flow Analysis
Part – 3
In our last tutorial, we have understood the basic calculations of FCFF. In this article, we will take a detailed video of the FCFF approach with the help of an example.
We will analyze a hypothetical company ABC for performing a detailed Discounted Cash Flow Analysis.
Step 1: Projections of Income Statement
Project the operating results and free cash flows of a business as discussed in the last chapter over the forecast period (typically 5 to 10 years). Project forward enough years to achieve a 'normalised' (ex-growth) or 'mature' level of cash flows prior to deriving a terminal value. Note that while projections become less reliable further out, it may still be necessary to go out up to 10 years or more in order to reach normalized levels. You should be careful to ensure that, for a cyclical business, you should end the forecast period at a midpoint in the cycle. Furthermore, if the company you are forecasting is expected to have a competitive advantage, your period should be of sufficient length to capture the entire period of the competitive advantage.
A simplified Discounted Cash Flow analysis can be created, which projects only the items in the FCFF formula. However, a more rigorous approach pulls such results from a fully integrated three-statement model. In forecasting future cash flows, you should be aware of the sensitivity of cash flow streams over the forecast period. The traditional method of discounting cash flows assumes that cash flows occur at the end of each annual period. It may sometimes be more accurate to forecast cash flows on the assumption that they fall evenly throughout the years.
How long to project cash flows depends on:
Industry cycle and competitive structure (operating margins)
Economic cycle
Known significant events
The useful life of the asset (e.g. oil well, mine)
Comfort of forecaster
Length of any competitive advantage
Allow enough time to reach a normalized or mature level of cash flows which assumes constant growth and/or capital needs into perpetuity.
While projections become less reliable the further out they go, it may be necessary to go out up to 10 years or more in order to reach a normalized level of free cash flow. 
Sources to project free cash flows
The free cash flows from a business can be projected using information about the industry in which a business operates and information specific to the business. A variety of sources can be used, such as research reports, S&P industry surveys, industry journals and manuals, and other miscellaneous sources. Discounted Cash Flow analysis is an attempt to look at the company's pure operating results free and clear of extraordinary items, discontinued operations, one-time charges, etc. It is also extremely important to look at the historical performance of a company or business (margins, growth) to understand how future cash flows related to past performance.
A company's FCFF represents the return available to both sources of its capital; debt lenders and equity investors. Thus, free cash flows there reflect the cash generated by the assets of a business, irrespective of how such assets are financed.
In summary, Discounted Cash Flow analysis projections should be based on:
Historical performance
Company or management projections
Industry estimates
Industry data
Macroeconomic data (e.g. long-term inflation and growth rate forecasts)
Common sense
Projections Using MS Excel
Let us now look at how do we forecast the key variables of FCFF in ABC Example (Please refer to the Discounted Cash Flow excel sheet provided)
Solutions for the above forecasts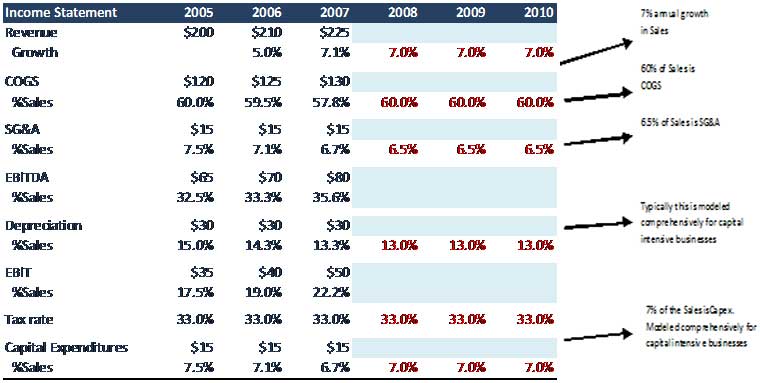 Solutions for the above forecasts
Discounted Cash Flow Analysis Projections Reality Check
Confront sales growth assumptions with underlying market dynamics
Be skeptical of projected sales growth curves that look show dramatic improvements versus recent actual performance
Does the increase in sales reflect a constant market share in an expanding market? If so, why is the market expanding?
Does that assumption agree with industry projections?
If it is an expanding market, why will the company be able to maintain a constant market share? Or does the increase reflect a rising market share in a stagnant market? If yes, why?
Are some firms leaving the industry? Why?
Check the reasonableness of margins.
Be clear on the actions or events needed to trigger improvements in margins (or reasons for decreases in margins)
Are the margin levels consistent with the structure of competition in the industry?
Any risk of new entrants/substitute products that will drive margins down? 
Capital Expenditures
Watch out for step-up of production capacity required as sales increase.
Is the Capex level sufficient to support the forecasted increase in sales?
Factor in the impact of industry trends on Capex (e.g., increased environmental expenditures, technology changes, etc.)
What Next
Now that we have understood detailed calculations of FCFF, Now in our next article, we will look at the projections of working capital. Till then, Happy Learning!
Recommended Articles
This has been a guide to the discounted cash flow analysis. Here are some articles that will help you to get more detail about the discounted cash flow analysis, so just go through the link.