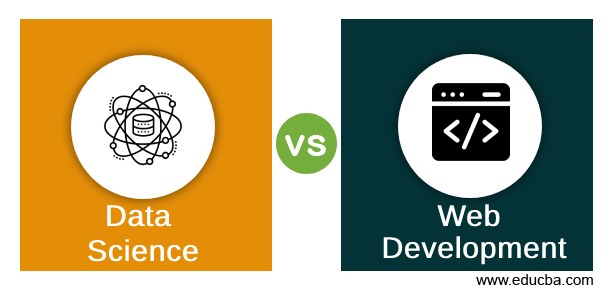 Difference Between Data Science vs Web Development
Investments are crucial for individuals and businesses. They lessen the risk in our lives and act as a cushion in times of need. When it comes to companies, investments are not just financial but also ones made of employees, i.e., building teams and image building. There is a quote by Warren Buffet which says-"Someone's sitting in the shade today because someone planted a tree a long time ago." True to this quote, businesses must invest in today to reap the benefits of tomorrow. Going by recent trends, we will discuss two types of investment Data Science and Web Development.
Data Science is the interdisciplinary science of data analysis using statistics, algorithm building, and technology. With recent Data Science trends like Machine Learning and Artificial Intelligence, more companies want to invest in a Data Science team to understand their data better and make wise decisions. Web development is the creation of a website for the internet or intranet. Since a website is the face of a company, companies must invest in one. Also, Web Development companies need to match their skills with the coming trends as businesses have become more E-Based, i.e. E-Commerce and E-Learning. This, in turn, is a driving factor for setting up Data Science teams in companies.
Head-to-Head Comparison Between Data Science vs Web Development (Infographics)
Below are the top 8 comparisons between Data Science and Web Development:

Key Differences Between Data Science vs Web Development
Data Science is the process of analyzing data using specialized skills and technology. In contrast, Web Development creates a website for the internet or intranet using company details, client requirements, and technical skills.
Data Science is a relatively new concept, introduced in 2008, whereas Web development has been around since 1999.
Both Data Scientists and Web Developers use Python. Data Science utilizes data analysis, while web development utilizes website creation.
Data Science uses coding widely but includes other elements, whereas Web Development is based on coding.
Data Science involves using statistics, whereas Web Development does not include using statistics.
Data Scientists try to answer business-related questions at the end of the analysis, whereas Web Developers try to cater to the client's requirement while building a website.
Data Science depends on data availability, whereas Web Development depends on close interaction with the client to understand needs and get the required information.
The budget for Data Science is steep but fixed, while the budget for Web Development varies depending on the changing requirements and additional features.
Data Scientists work for a short period on data to get results than Web Developers, who take a long time to launch a website.
Data Scientists work with structured and unstructured data, whereas Web Developers work with Company information.
With the coming of E-Commerce, Data Scientists understand websites, whereas Web Developers do not possess the skills to work with data.
There are a lot of future trends in Data Science, like Machine Learning and Artificial Intelligence, whereas not many trends in Web Development.
Data Science vs Web Development Comparison Table
The differences between Data Science vs Web Development are explained in the points presented below:
Basis For Comparison
Data Science
Web Development
Coining of Term
DJ Patil and Jeff Hammerbacher, who were employees of LinkedIn and Facebook, respectively, gave the term Data Science in 2008.
Tim O'Reilly and Dale Dougherty popularized the term in late 2004. It was initially coined by Darcy DiNucci in 1999.
Concept
It combines statistics, algorithms, and technology to analyze data.
It is the creation of websites for the intranet, which is a public platform, or the intranet, which is a private platform.
Coding
Coding is used widely to feed the computer with commands to analyze data and give the end output.
The entire process of web development involves coding.
Languages Recommendations
C/C++/C#, Haskell, Java, Julia, Matlab, Python, R, SAS, Scala, SQL, Stata.
Photoshop, HTML, CSS, JavaScript, JQuery, PHP, Python, Ruby.
Statistics
Uses statistics to a certain extent.
Uses no statistics.
Work Challenges

Data Science results are not used in business decision-making.
Inability to apply findings to the organization's decision-making process.
Low clarity on the questions that need to be answered with the given data set.
Unavailability or difficult access to data.
Data Security is of top priority.
Need to coordinate with IT.

The client's requirements are unclear and keep changing until the website launches.
Need to work closely with a client for site content and requirement.
Need to coordinate with IT.
The budget for the website building keeps increasing with more features. So no set budget.
It takes time to launch a new website.
Security factors have to be considered before launching.

Data Needed
Structured and unstructured data.
The website only requires company details, not data.
Future Trends
Machine Learning and Artificial Intelligence.
E-Commerce and E-Learning.
Conclusion
People build careers based on their passion, drive, skills, and the opportunities available to them. In the case of the comparison between Data Science and Web Development, both are in trend and provide students, fresher, and experienced professionals with a lot of scope to learn. Data Scientists need to have a sound understanding of statistics and computer science. Coupling this with the voluminous data that the different verticals generate daily, Data Scientists can explore various data sets and help businesses forecast their data to get valuable insights. Data Science openings are the most sought-after openings of today.
On the other hand, Web Development is taking slow steps, but the end product of creating a website is fascinating and thrills many. With websites acting as platforms for businesses i.e. E-Commerce, the latter has been a driving factor for the setting up Data Science Teams. Data Scientists are experts at working with Internet-based data. Comparing these Data Science and Web Development work areas cannot be made except for a few similarities. However, both Data Science and Web Development keep up with trends and offer great opportunities. 
Recommended Articles
This has been a guide to Data Science vs Web Development. Here we discuss head-to-head comparison, key differences along with infographics and a comparison table. You may also look at the following articles to learn more