Updated June 14, 2023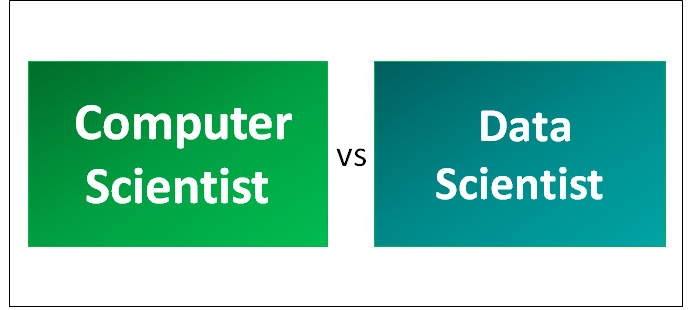 Difference Between a Computer Scientist and Data Scientist
Computer Science is an approach to systematically studying algorithms, processing, communication, storage, etc. Computer scientists, thus, must be adept at analyzing and modeling problems. He is also expected to have a firm foundation in the crucial areas and in-depth knowledge in one or more areas of the discipline. It's a science and technique of problem-solving.  Data scientists, on the other hand, are expected to know various scientific methods, algorithms, and processes to extract knowledge and information from data in various forms which can be either structured or unstructured. The concept is quite similar to data mining which uses meta keywords to extract the relevant information.
Let us study more about Computer Scientists and Data Scientists in detail
Computer Science deals with theory, experimentation that forms the basis for the design and use of computers. Computer scientists have a wide range of specialties, such as being proficient in understanding architectures, software systems, artificial intelligence, computational science, graphics, and software engineering.
As data science is known to be a concept of unifying statistics, machine learning, data analytics, and their related methods, data scientists are expected to derive and generate meaningful data from the already processed data to provide businesses with future insights, risk predictions, and ways of risk mitigation.
Head To Head Comparision Between Computer Scientists vs Data Scientists (Infographics)
Below is the Top 7 Comparision Between Computer Scientist vs Data Scientist

Key differences between Computer Scientist and Data Scientist
Following is the Difference Between Computer Scientist and Data Scientist are as follows
A computer scientist aims to simplify problems and classify them into smaller chunks. In contrast, a data scientist will tackle the problems from a business standpoint and dive deep into the data analytics lifecycle.
A computer scientist then uses a classification algorithm and improves it to meet the problem statement, which can be done by devising a new architecture or playing with regularization methods. In contrast, a data scientist uses techniques like cleaning datasets, normalizing, imputing missing, statistical testing, cross-validation, fitting models, etc.
A computer scientist applies the concepts of computation, computer design, and algorithms to a specific design problem. In contrast, a data scientist applies the ones emerging from machine learning, classification, uncertainty classification, cluster analysis, computational science, databases, data mining, data visualization, statistics, mathematics, information science and also computer science.
Computer Scientist vs Data Scientist Comparision Table
Basis of Comparison
Computer Scientist
Data Scientist
Primary Responsibility
They are known to shape the science of technology
They are known to discover the meaning of big data
Skillset
My Skillset includes Advanced computing, and in-depth experience in creating and building enterprise-scale applications, security solutions, database systems, and automated systems.
Expected to be knowledgeable in mathematics and computer science so that large data collections can be analyzed using data mining, predictive analysis, data visualization, and efficient data management.
What they do
Responsible for developing next-gen technology in computer software, cybersecurity, and smart systems
Expected to be SMEs (Subject Matter Experts) in one or more skills. The discipline will be used to clarify the relevance and usage of large data sets and therefore enhance organizational decision-making can be fostered.
Why are they important
They are the prime movers and drivers of today's technological inventions
Data is one of the most crucial aspects of a company, and the sheer quantity of it requires experts to process and transform that raw data into meaningful information.
Potential Salary (approx.)
Ranges from $68,665 to $146,810 across the range of professionals
The median expected salary for big data professionals is $124,000 per annum
Applications

General Science
Physics
Chemistry
Biology
Anthropology
Sociology
Neuroscience
Genetics
Geology
Robotics
Health and Medicine
Search Engine for the human body
Fuzzy thinking can spot heart risk
A look inside swine flu virus
Handling epidemics in the virtual world
Enzyme Design Speedup
Heart surgery in 3D
Training simulator environments
X-rays spotting breast cancer
Mapping infectious disease
Virtual surgery
Aiding chemists in superbug battle
Environment
Use of Wi-Fi mesh network to keep a watch on melting glaciers
Robot fish to eat pollution
Tornado simulators- Titanic Twisters
Monitor endangered species count
Data collected from volatile ice sheets
Sociology
Biology
Self-directed robots making a discovery
Genomes comparison with written text
Automated cell screening system
Reinventing molecular clues to the evolution
Protein pattern in tissues automated
Bats classifying plants from echo
3D models to optimize systems
Astronomy
Simulations for supernovae explosions
Vivid 3-D to explore new ways
19 mirror technique to capture lights from an end edge of space
Human assistance
Speech is especially challenged, and the ones with cerebral palsy get voice.
Brain-controlled wheelchair
Smart homes and smart bathrooms
Paralysed people walk in the virtual world
Work with robot arm via thought
Music
Systems to better musicians' performance with ideal performance
Instant backing band creation for singers
Art
Bringing old painting warrior to virtual life
Stress and Strain prediction
Literature
Government
Exploration
Cars
Sports
Linguistics

Deriving data from Internet Search Engines:
Google
Yahoo
Ask
Bing
Duckduckgo
AOL
Digital Advertisements are targeted to a specific audience. Data scientists extract the audience. Advertisements include:
Display banners
Digital Boards
Digital Ads
Recommender Systems are used to:
Promote products
Post suggestions per user's interest and relevance of the information
Generate traffic
Image Recognition
Speech Recognition:
Machine learning techniques
Natural Language processing
Gaming
Price/Feature comparison websites
Airline Route planning
Predict flight delays
Class of airplanes to be bought
Decision-related to connecting and non-connecting flights
Effectively run customer loyalty programs
Fraud and Risk Detection
Customer profiling
Past expenditures
Weird transactions
Delivery logistics
The best route to ship
Best suited delivery time
Best mode of transport
Marketing
Human Resources
Finance
Health Care
Government Policies
Self-driving cars
Robots

Other potential careers

Computer Engineer
Application Programmer
Application Developer
Database Architect
Database developer
IT Engineer
Data Center Manager
Network Administrator
Mobile Specialist
Network Architect
Systems Architect
Networks engineer
Web developer
Systems programmer

Business Systems Analyst
Business intelligence Manager
Clinical researcher
Data Analyst
Computational Biologist
Database Developer
Data Strategist
Financial Analyst
Health Informatics Analyst
Predictive modeler
Marketing analyst
Research Analyst
Statistician
Risk Analyst
Conclusion
Both these Difference Between Computer Scientist and Data Scientist streams have their own set of roles and responsibilities to be taken care of, and they both aim to make the world a better place. If you want to pursue a career in any of these, now you know which one to choose.
Stay tuned to our blog for more articles.
Recommended Article
This has been a guide to Computer Scientist vs Data Scientist. Here we discuss head-to-head comparison, key differences, and comparison tables. You may also look at the following articles to learn more –