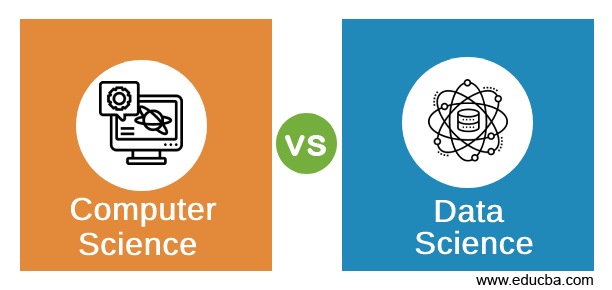 Difference Between Computer Science vs Data Science
Computer Science is the study of computer design, architecture and its application in the field of science and technology that consists of several concepts of technical aspects. It includes hardware, software, networking, and the internet having a vast number of research areas to advance beyond. Data Science is the study of various types of data such as structured, semi-structured and unstructured data in any form or formats available in order to get some information out of it. Data Science consists of different technologies used to study data such as data mining, data storing, data purging, data archival, data transformation, etc., in order to make it efficient and ordered.
Let us study more about Computer Science vs Data Science in detail:
Computer Science varies across architecture, design, development, and manufacturing of computing machinery or devices that drive the Information Technology Industry and its growth in the technology world towards advancement. Computer Science consists of different technical concepts such as programming languages, algorithm design, software engineering, computer-human interaction and the process of computation. Principal areas include database systems, networks, security, the theory of informatics and bioinformatics.
Data Science is useful in studying internet users' behavior and habits by gathering information from the users' internet traffic and search history. This is the way how the recommended ads will be displayed for a user on their web browsing pages without their inputs.
Computer Science vs Data Science differ in the terms of computation and data where computing is the field of operating methods on data where data science is the field of studying, maintaining, transforming, storing and processing different formats of large volumes of data.
Data Science is a multi-disciplinary subject with data mining, data analytics, machine learning, big data, the discovery of data insights, data product development being its core elements. It needs mathematical expertise, technological knowledge / technical skills and business strategy/acumen with a strong mindset.
The hardware aspects include Electrical and Electronics subjects in Computer Science and deals more with computing subjects and academics apart from Information technology.
Comparison Between Computer Science and Data Science (Infographics)
Below is the top 8 comparison between Computer Science and Data Science:

Key Differences Between Computer Science and Data Science
Below are the lists of points, describe the key difference between Computer Science and Data Science:
The Computer Science is the field of computations that consists of different subjects such as Data Structures, Algorithms, Computer Architecture, Programming Languages etc., whereas Data Science comprises of mathematics concepts as well, such as Statistics, Algebra, Calculus, Advanced Statistics, and Data Engineering etc.,
Computer Science gives us knowledge on how processors are built and work and the memory management in the programming areas. Data Science gives us a view on how data can be used to study on how the data will be stored, processed and manipulated to reduce the redundancy and making it meaningful for further usage.
Computers Science gives us detailed insight into the utilization of computing machinery and its applications. Data Science reveals on how to extract information and Knowledge from data in various forms.
Computer Science sub-areas include computations, probabilistic theories, reasoning, discrete structures and database design. Data Science include Simulation, modeling, analyicts, machine learning, computational mathematics etc.,
Computer science is the main branch whereas Data Science is a branch of Computer Science.
Computer Science is completely about building and utilizing of computers efficiently and Data Science is about safely handling the data.
Computer Science is completely computing whereas Data Science is data computing.
Computer science is evolving with advanced concepts and more efficient and advanced devices are coming. Data is growing fast day by day causing more complex to handle it and maintain efficiently.
The Computer Science deals with algorithms with more focus on software engineering and development. Data Science is the combination three fields' data engineering, maths, and statistics.
Computer science deals with scientific ways of finding a solution for a problem. Data Science deals with finding a way to organize and process data.
Computer Science has numerous research areas to pursue and excel in career whereas Data Science research areas have been recently evolving and expanding that provides us more options.
Computer Science and Data Science Comparison Table
Below is the comparison table between Computer Science and Data Science.
| | | |
| --- | --- | --- |
| The basis of comparison between Computer Science vs Data Science | Computer Science | Data Science |
| Definition | Study of Computers and its Computation technologies | Study of various forms of Data to extract some information |
| Usage | Technological Growth and Advancement | Managing Data |
| Benefits | Speed and Performance | Reduction in Data Redundancy |
| Real Time Usage | Usage of advanced and ultra-fast devices like supercomputers | Maintenance and Handling of large volumes of customer data |
| Academics | Exists since from many years | Recently evolved and developing branch of science and technology |
| Industry | Basic Science to become a Computer Software Professional | Data Scientist / Analyst are the professions to become after studying in this field |
| Applications | Applies to all technical industries and large-scale companies | Applies to companies where large-scale sensitive data is to be managed |
| Field | Covers entire technological field  which is superset of Data Science | A subset of computer science where the study of data is done by using different methods and technologies |
Conclusion
Finally to conclude Computer Science vs Data Science are two different fields but come under the same umbrella when getting them to apply for the use of technologies. Computer Science gives us the view to use the technologies in computing the data whereas Data Science lets us operate on the existing data to make it available for useful purposes.
There are a lot of opportunities in Computer Science vs Data Science and there are even several Bachelor, Master and Doctoral degrees too in the level of academics.
Both the areas of Computer Science vsData Science are important nowadays in all the technical aspects where they are advancing and creating new opportunities as well as technologies with sophisticated processes to ease the life of a human.
Each has its own advantages in terms of the conceptual matters, growth and development in the field of Science and Technology and the expanding technology world needs more of these areas in order to grow further and create some extraordinary inventions that ease not only human life but also saves our atmospheric environment too for the upcoming generations to lead a smooth and happy life.
Recommended Articles
This has been a guide to the top difference between Computer Science and Data Science. Here we have discussed Computer Science and Data Science head to head comparison, key difference along with infographics and comparison table. You may also have a look at the following articles –