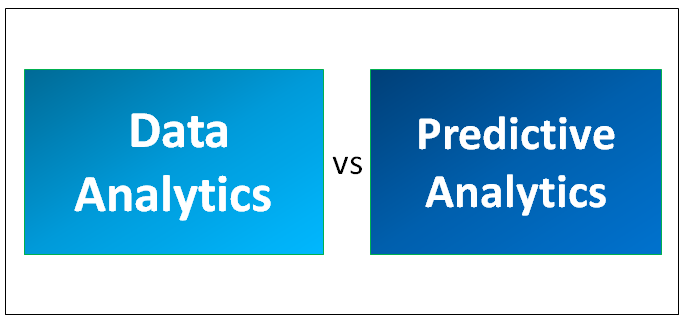 Difference Between  Data Analytics vs Predictive Analytics
Analytics is the use of data, machine learning, statistical analysis and mathematical or computer-based models to get improved insight and make better decisions. Analytics is defined as "a process of transforming data into actions through analysis and insight in the context of organizational decision making and problem-solving." Analytics is supported by many tools such as Microsoft Excel, SAS, R, Python(libraries). Let us learn both Data Analytics and Predictive Analytics in detail in this post.
There are mainly three types of analytics: – descriptive analytics, predictive analytics, and Prescriptive analytics.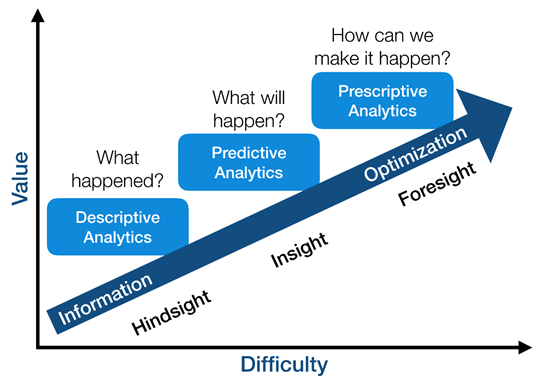 Source: Google Image
Descriptive Analytics: This type of analytics is used to summarize or turn data into relevant information. In other words, it summarized what has occurred. This type of analytics has some meaningful impact but won't be much helpful in forecasting.
Predictive Analytics: – Predictive analytics involves advanced statistical, modeling, data mining and one or more machine learning techniques to dig into data and allows analysts to make predictions. Predictive analytics is used to forecast what will happen in future.
Prescriptive Analytics: – This form of analytics is one step above of descriptive and Predictive Analytics. With this type of analytics, we are able to predict the possible consequences based on different choices possible for an action, it can also be used to find the best course of action for any pre-specified outcome.
Head to Head Comparison Between Data Analytics and Predictive Analytics (Infographics)
Below is the Top 6 Comparison between Data Analytics and Predictive Analytics:

Key Differences Between Data Analytics and Predictive Analytics
Let's understand few differences between Data Analytics and Predictive Analytics similarly looking terminologies:
Data analytics (DA) involves processing and examining of data sets in order to draw conclusions about the information those data sets consists of. Predictive analytics helps to predict the future by inspecting historical data thoroughly, detecting patterns or relationships in these data, and then conclude these relationships in time.
Data analytics uses tools and techniques to enable businesses to make more informed, real-time and pragmatic business decisions. Predictive analytics can predict risk and find a relationship in data not readily apparent with traditional analysis.
Data analytics involves finding hidden patterns in a large amount of dataset to segment and group data into logical sets to find behavior and detect trends whereas Predictive analytics involves the use of some of the advanced analytics techniques.
Using Data Analytics, in general, Data scientists and researchers verify or disprove scientific models, theories, and hypotheses. Whereas Predictive analytics, with increased use of specialized systems and software, help Data scientists and researchers to bring confidence into predictions and possible outcomes.
Data Analytics is the science of using raw data and generating purposeful information with a defined objective which brings conclusions about that information. Data Analytics uses traditional algorithmic or mechanical process to build deep insights. For example, running through a number of data sets to look for meaningful correlations between each other. Whereas Predictive analytics uses advanced computational models and algorithms for intelligently building a forecast or prediction platform, for example, a commodities trader might wish to predict short-term movements in commodities prices, collection analytics, fraud detection etc.
For working in Data Analytics one needs strong statistical knowledge though for working in Predictive analytics segment one needs to have strong technical knowledge along with fundamental statistical knowledge as well. He / She may be required to use and work on technological tools like SAS, R and Hadoop.
Data analytics is generally used for business-to-consumer (B2C) applications. Many organizations collect, stores, analyze and cleanse data associated with their customers, business partners, market competitors etc. Data Analytics is then used to study trends and patterns. Predictive analytics facilitates future decision-making. For example, a social networking site collects data related to its users regarding their interests, community likings, and others segment preferences according to a specified criterion such as age, gender and most important demographics. Predictive analytics reveals most probabilistic future product buy or preferred shopping items for such users.
Data Analytics and Predictive Analytics Comparison Table
The comparison table between Data Analytics and Predictive Analytics are explained.
| | | |
| --- | --- | --- |
| Basis for Comparison | Data Analytics | Predictive Analytics |
| Form | Data analytics is 'general' form of Analytics used in businesses to make decisions which are data driven. | Predictive analytics is 'specialized' form of Analytics used by businesses to predict future based outcomes. |
| Structure | Data Analytics consists of data collection and data analysis in general and could have one or more usage. | Predictive analytics consists of Defining a Project and data collection, Statistical Modelling, Analysis and Monitoring and then predicting an outcome |
| Data | Raw data is churned to get clean data for doing Data Analytics. | Clean Data is provided for doing Predictive Analytics |
| Sequence | Data Analytics is sequenced as following steps – collect, inspect, cleaning, transforming the data, and reach to conclusions. | Predictive Analytics is sequenced as following steps – Model the Data, Trained the Model, Predict and Forecast the outcome. |
| Outcome | Outcome of Data Analytics could be predictive or not, it depends on the business case requirements. | Predictive analysis allows us to declare assumptions, hypothesis and tests them using statistical models. After that predictive model gives you an ability to create an exact model about future. |
| Usage | Data Analytics, in general, can be used to find hidden patterns, unidentified correlations, customer preferences, market trends and other useful information that can help to make more informed decisions for businesses. | Predictive analytics helps to answer questions such as "what will happen if demand goes down by 10% or if supplier prices go up by 5%?" "What do we presume to pay for fuel for next few months?" What will be the risk of losing money in a new business enterprise?" |
Conclusion
Today huge data is collected across organizations. This data could be related to customers, business partners, applications users, visitors, internal employees and external stakeholders etc. This data is churned and categorized to find and analyze patterns. Data analytics refers to various tools and techniques involving qualitative and quantitative methods and processes, which utilizes this collected data and generates an outcome which is used to enhance efficiency, productivity, reduce risk and increase business gain.  Data analytics techniques vary from organization to organizational according to their requirements.
Predictive Analytics as a subset of Data analytics is a specialized decision-making tool which uses advanced technological assets and progressive statistical based algorithms and models to generate future predictions so that business can focus and spend their money and energies towards more positive and expected outcomes.
Recommended Articles
This has been a guide to Data Analytics vs Predictive Analytics. Here we have discussed Data Analytics vs Predictive Analytics head to head comparison, key difference along with infographics and comparison table. You may also look at the following articles to learn more –