Updated November 18, 2023
Introduction to Continuous Learning
Continuous learning is the dynamic process of acquiring new knowledge, skills, and insights throughout one's life, transcending formal education. The ability to adapt and grow becomes paramount in our rapidly evolving world, where technology and industries constantly reshape the landscape. This article explores the significance of continuous learning in fostering personal and professional development. From embracing a growth mindset to leveraging diverse learning tools, we delve into strategies for success. As we navigate the complexities of the 21st century, understanding and actively engaging in continuous learning prove essential for staying relevant and agile and unlocking a world of possibilities.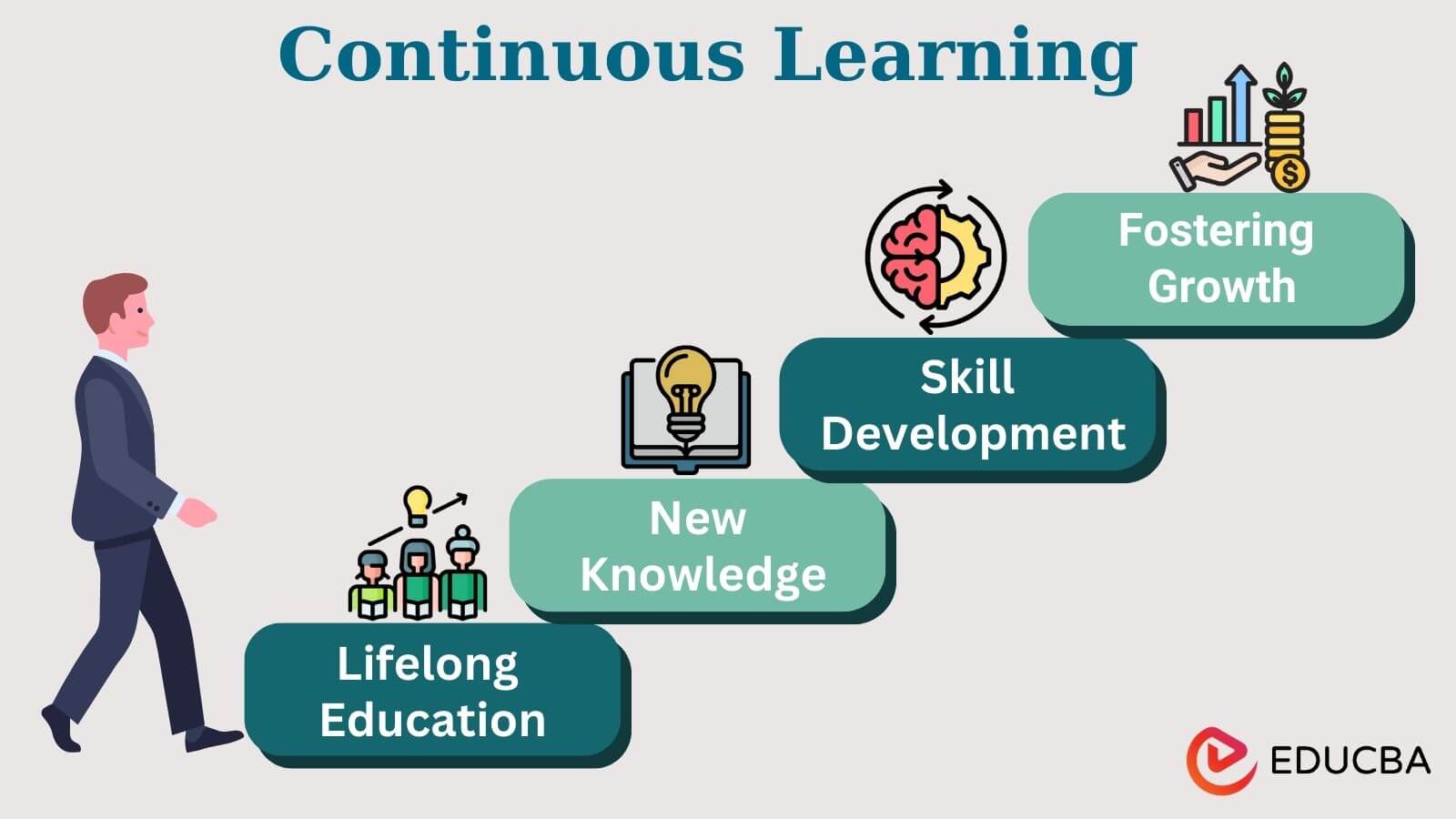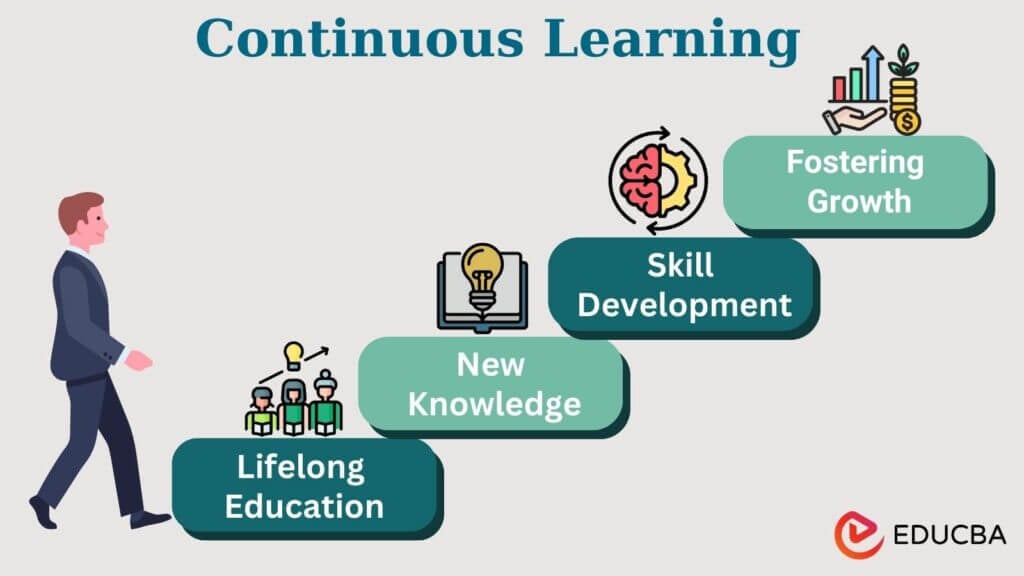 Table of Contents
Principles of Continuous Learning
Continuous learning concepts serve as guiding beliefs that individuals may use to establish a mentality of lifelong growth and development. Here are some key principles:
Embrace a Growth Mindset: Develop an attitude that welcomes the possibility of continuous progress and sees obstacles as chances for personal development.
Set Clear Learning Goals: Define specific, measurable, and achievable learning objectives to provide direction and focus for your continuous learning journey.
Prioritize Relevance: Focus on acquiring knowledge and skills that align with your personal and professional goals, ensuring that your learning remains purposeful.
Diversify Learning Methods: Explore various learning formats, including online courses, books, podcasts, workshops, and hands-on projects to engage different facets of learning.
Allocate Dedicated Time: Establish a consistent learning routine by scheduling dedicated time daily, weekly, or at intervals.
Reflect Regularly: Reflect on your learning experiences, assess progress, and identify areas for improvement or adjustment in your approach.
Stay Adaptable: Be open to adapting your learning strategies based on feedback, changing circumstances, and emerging trends in your field of interest.
Collaborate and Network: Engage with peers, mentors, and communities to share insights, exchange knowledge, and benefit from collective learning experiences.
Seek feedback Actively: Actively seek constructive feedback on your work and learning progress, valuing input as a catalyst for growth.
Apply Learning in Real-World Contexts: Reinforce theoretical knowledge by applying it in practical scenarios or projects, enhancing retention and understanding.
Celebrate Milestones: Acknowledge and celebrate achievements, both big and small, to maintain motivation and reinforce the positive aspects of your continuous learning journey.
Be Curious and Inquisitive: Foster a natural curiosity that drives you to explore new topics, ask questions, and delve deeper into areas that pique your interest.
Continuous learning model
A continuous learning model is a systematic and adaptive framework individuals or organizations use to promote continuous learning and growth. This model gives a framework for obtaining new information, skills, and competencies throughout one's life or profession. Here is a general outline of a continuous learning model: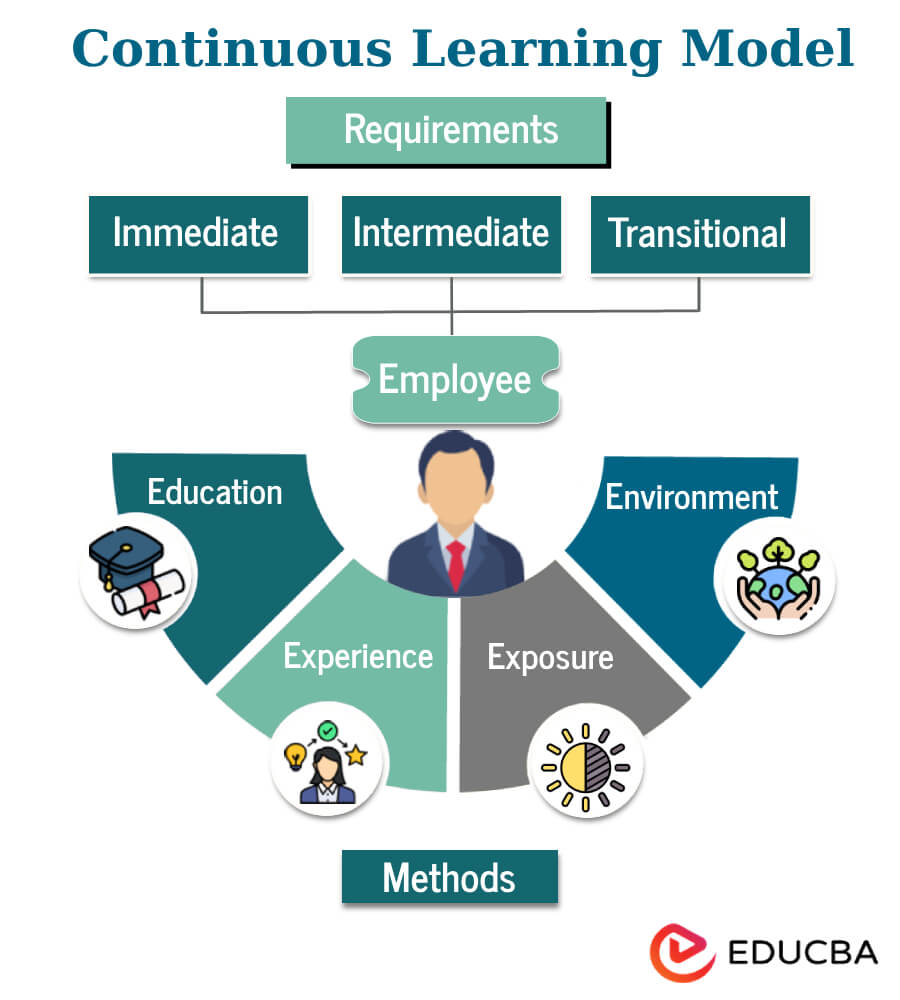 The requirements of trainees are classified into three types:
Immediate: This phase involves learning that occurs in real-time, addressing immediate needs or challenges. It could include quick problem-solving, on-the-spot decision-making, or rapidly acquiring information to address a specific situation.
Intermediate: The intermediate phase represents a more structured and planned approach to learning. It involves engaging in more comprehensive educational experiences or skill development programs that are not necessarily immediate but are still timely and relevant.
Transitional: Transitional learning involves moving from one set of skills or knowledge to another. It signifies a shift or evolution in learning focus, often prompted by technological changes, industry trends, or personal career goals.
Employees learn in various methods, which are known as methodologies:
Education: The education component encompasses formal learning experiences, such as academic pursuits, courses, workshops, or certifications. This structured form of learning provides a foundation for ongoing development.
Experience: Experience-based learning involves acquiring knowledge and skills through practical application. This could be through work projects, hands-on activities, or experiential learning opportunities that complement formal education.
Exposure: Exposure refers to learning through observation, interaction, and exposure to different perspectives. This could involve networking, attending conferences, or being part of diverse communities that expose individuals to new ideas and approaches.
Environment: The learning environment is the overarching context in which continuous learning occurs. It includes the workplace culture, industry dynamics, and the broader societal context that shapes and influences learning opportunities.
Benefits of Continuous Learning
Continuous learning is crucial for professional and personal development in today's dynamic world, offering numerous benefits.
Professional Growth: Regular skill acquisition and knowledge updates enhance expertise, opening doors for career advancement and increased job opportunities.
Cognitive Benefits: Lifelong learning stimulates the brain, improving cognitive function, memory, and problem-solving skills, contributing to long-term mental well-being.
Adaptability: The ability to learn continuously fosters adaptability, a crucial trait in an ever-changing environment, allowing individuals to thrive in diverse situations.
Innovation and Creativity: Exposure to new ideas and perspectives sparks creativity, fostering innovation and contributing to a more dynamic and progressive society.
Increased Confidence: Acquiring new skills and knowledge boosts self-esteem and confidence, empowering individuals to take on challenges and pursue ambitious goals.
Networking Opportunities: Engaging in continuous learning often involves connecting with like-minded individuals and creating valuable professional and personal networks.
Personal Fulfillment: Lifelong learning goes beyond professional goals, contributing to personal growth and fulfillment and enriching one's life with diverse experiences and insights.
Competitive Advantage: In a competitive job market, those who consistently update their skills and knowledge maintain a competitive edge, positioning themselves as valuable assets to employers.
Career Resilience: Continuous learners are better equipped to navigate industry changes, economic shifts, and job market fluctuations, ensuring greater career resilience.
Global Awareness: Lifelong learning exposes individuals to a broader understanding of global issues, fostering cultural awareness and a more interconnected worldview.
Strategies for Implementing Continuous Learning
Proactive thinking and strategic planning are necessary for the implementation of continuous learning. The following are crucial tactics for promoting a culture of continuous learning:
Set Clear Learning Goals: Define specific, measurable, and realistic learning objectives. Whether acquiring a new skill or expanding existing knowledge, clear goals provide direction and motivation.
Embrace a Growth Mindset: Cultivate a mindset that values challenges and sees failures as opportunities for learning. A growth mindset fosters resilience and a willingness to embrace new ideas and skills.
Leverage Technology for Learning: Explore online courses, webinars, and educational apps. Technology provides flexible and accessible learning platforms, allowing individuals to engage in continuous learning at their own pace.
Build a Personalized Learning Plan: Tailor learning experiences to individual preferences and needs. Create a plan that aligns with personal and professional objectives, ensuring relevance and sustained motivation.
Allocate Dedicated Time for Learning: Treat learning as a priority by dedicating specific time slots. This could involve setting aside time daily or designating regular intervals for more focused and immersive learning experiences.
Diversify Learning Methods: Explore various learning formats, including reading, watching videos, attending workshops, and engaging in hands-on activities. Diversification keeps learning experiences stimulating and accommodates different learning styles.
Seek Feedback and Reflect: Actively seek feedback on progress and reflect on learning experiences. Regular reflection enhances understanding, identifies areas for improvement, and reinforces the learning process.
Collaborate and Share Knowledge: Engage with peers and colleagues to exchange insights and knowledge. Collaborative learning environments foster community and provide diverse perspectives, enriching the learning journey.
Join Professional Associations and Networks: Participate in industry-specific associations and networks. These communities offer access to resources, mentorship opportunities, and the latest industry trends, enhancing continuous learning within a professional context.
Stay Inquisitive and Curious: Foster curiosity by asking questions and exploring topics beyond immediate areas of expertise. A curious mindset stimulates ongoing learning and encourages a proactive knowledge-seeking approach.
Overcoming Challenges in Continuous Learning
1. Time Management
Prioritize Learning Objectives: Clearly define learning priorities and focus on the most relevant and impactful skills or knowledge areas.
Create a Structured Schedule: Allocate dedicated time slots for learning activities, creating a consistent routine accommodating other responsibilities.
Utilize Microlearning: Break down learning into smaller, manageable chunks to make it easier to integrate into busy schedules.
Eliminate Time Wasters: Identify and minimize activities that consume time without contributing significantly to personal or professional development.
2. Overcoming Resistance to Change
Communicate Benefits Clearly: Articulate the advantages of continuous learning, emphasizing how it aligns with personal and professional goals.
Provide Support and Resources: Offer tools, mentorship, or assistance to ease the transition, ensuring individuals feel supported in their learning endeavors.
Highlight Success Stories: Share stories of individuals who have successfully embraced continuous learning, showcasing positive outcomes and the transformative power of change.
Encourage a Growth Mindset: Foster a culture that values learning and growth, emphasizing that challenges are opportunities for development rather than obstacles.
3. Addressing Financial Constraints
Explore Free or Affordable Learning Resources: Leverage online platforms, open courses, and community resources that offer cost-effective or free educational content.
Negotiate Employer Support: Advocate for employer-sponsored training programs or negotiate opportunities for financial support for relevant courses or certifications.
Budget for Learning: Allocate a specific portion of personal or professional budgets to continuous learning, treating it as an investment in long-term development.
Seek Scholarships or Grants: Investigate available scholarships, grants, or sponsorships that can offset the costs of formal education or specialized training.
By systematically addressing these challenges, Individuals can overcome obstacles to continuous learning by creating a conducive environment for personal and professional development.
Continuous Learning in the Workplace
1. Creating a Learning Culture
Leadership Commitment: Demonstrate leadership support for continuous learning by actively participating and endorsing learning initiatives.
Communicate Expectations: Clearly communicate that continuous learning is a valued aspect of the workplace culture, setting expectations for all employees.
Recognition and Rewards: Recognise and promote workers who actively participate in continuous learning, emphasizing the relevance of such efforts.
Provide Learning Resources: Ensure easy access to diverse learning resources, both internal and external, fostering an environment where learning is seamless.
2. Employee Training and Development Programs
Assess Training Needs: Conduct regular assessments to identify the skills and knowledge gaps within the workforce, informing the development of targeted training programs.
Customize Learning Paths: Tailor training programs to individual and team needs, ensuring relevance and maximizing the impact of learning initiatives.
Utilize Blended Learning Approaches: Combine traditional training methods with digital platforms, workshops, and mentoring to create a comprehensive learning experience.
Evaluate Program Effectiveness: Continuously assess the impact of training programs, gathering feedback and making adjustments to enhance their efficacy.
3. Encouraging Knowledge Sharing and Collaboration
Establish Knowledge-Sharing Platforms: Implement digital platforms or physical spaces that facilitate sharing insights, resources, and best practices among employees.
Foster Mentorship Programs: Encourage experienced employees to mentor their peers, creating a culture of knowledge transfer and skill development.
Promote Cross-Functional Collaboration: Facilitate collaboration between different departments or teams, fostering the exchange of ideas and skills.
Recognize Collaborative Efforts: Acknowledge and celebrate collaborative achievements, reinforcing the value of teamwork and shared learning experiences.
Organizations can create a continuous learning and collaboration culture by integrating these practices. This helps to develop employees and foster an innovative and agile workforce.
Continuous learning for AI and machine learning
Continuous learning is especially important in rapidly evolving fields like artificial intelligence (AI) and machine learning (ML). Below are specific considerations and strategies for continuous learning in these domains:
Stay Updated with the Latest Research: Follow academic publications, conferences, and research journals regularly to stay up to date on the newest advances in AI and ML.
Engage in Online Courses and Specializations: Online platforms offer specialized courses and certifications in AI and ML, enabling professionals to deepen their knowledge and acquire new skills.
Participate in AI and ML Communities: Join online forums, discussion groups, and community platforms to engage with fellow practitioners, share insights, and stay abreast of industry trends and challenges.
Continuous Experimentation and Projects: Apply theoretical knowledge through hands-on projects and experiments. Continuous practical application is essential for mastery of AI and ML.
Attend Conferences and Workshops: Regularly attend conferences, workshops, and webinars in the AI and ML domain. These events provide networking opportunities and exposure to cutting-edge developments.
Subscribe to AI Newsletters and Blogs: Subscribe to newsletters and blogs focused on AI and ML to receive regular updates, insights, and practical tips from experts in the field.
Contribute to Open Source Projects: Engage in open-source AI and ML projects. Contributing to collaborative projects enhances skills and provides exposure to diverse problem-solving scenarios.
Utilize Online Platforms for Coding Practice: Platforms like Kaggle offer opportunities for data science and machine learning competitions, allowing practitioners to enhance their problem-solving and coding skills.
Mentorship and Collaboration: Seek mentorship from experienced professionals in AI and ML. Collaborate with peers on projects to exchange knowledge and gain different perspectives.
Continuous Skill Assessment: Regularly assess and benchmark your AI and ML skills. This could involve taking online assessments, participating in coding challenges, or obtaining relevant certifications.
Adapt to New Frameworks and Technologies: AI and ML frameworks evolve rapidly. Stay adaptable by learning and integrating new frameworks, libraries, and tools that become industry standards.
Ethics and Responsible AI Learning: Stay informed about ethical considerations in AI and ML. Understand the implications of AI systems and promote responsible and ethical practices in development.
Tracking and Measuring Progress
1. Assessing Skill Development
Skill Inventories: Regularly update a comprehensive list of acquired skills and competencies to track progress.
Performance Metrics: Establish measurable performance indicators for specific skills, allowing for objective proficiency assessments.
Feedback Loops: Solicit feedback from peers, mentors, or supervisors to gain external perspectives on skill development and areas for improvement.
Skill Assessments and Certifications: Undertake formal assessments or seek certifications to validate and quantify skill levels, providing tangible evidence of proficiency.
2. Reflecting on Learning Experiences
Journaling: Maintain a learning journal to reflect on experiences, challenges, and insights gained during the learning process.
Self-Reflection Sessions: Set aside dedicated time for self-reflection, pondering the impact of recent learning experiences on personal and professional growth.
Peer Discussions: Engage in discussions with peers or mentors to share and gain perspectives on the significance of learning experiences.
SWOT Analysis (Strengths, Weaknesses, Opportunities, Threats): Regularly assess personal strengths and weaknesses in relation to learning goals, identifying areas for enhancement.
3. Adjusting Learning Strategies as Needed
Regular Goal Reviews: Review learning goals and assess whether they align with broader personal or professional objectives.
Flexibility in Learning Plans: Acknowledge that goals and circumstances may change, and be flexible in adjusting learning plans accordingly.
Feedback Implementation: Act on feedback received during assessments and reflections, making specific adjustments to learning strategies for continuous improvement.
Experimentation with New Approaches: Be open to experimenting with different learning methods or tools to find the most effective and enjoyable approaches.
Future of Continuous Learning
1. Trends in Lifelong Learning
Microlearning: Short, focused learning modules catering to on-the-go lifestyles, providing easily digestible information.
Personalized Learning Paths: AI-powered platforms now personalize learning experiences by considering individual preferences, performance, and career goals.
Gamification: Integrating game elements into learning enhances engagement, motivation, and the overall learning experience.
Continuous Learning Platforms: The rise of comprehensive platforms offering a spectrum of learning resources, fostering holistic skill development.
2. The Role of Artificial Intelligence in Education
Adaptive Learning Systems: AI algorithms analyzing individual learning patterns to customize content and pacing for optimal understanding.
Virtual Assistants and Chatbots: AI-driven tools providing instant support, answering queries, and guiding learners through their educational journey.
Predictive Analytics: Utilizing data analytics to forecast learning trends, identify potential challenges, and suggest proactive solutions.
Automated Skill Recognition: AI systems assess and validate acquired skills, streamlining the recognition of competencies for individuals and employers.
3. Anticipating and Adapting to Future Learning Needs
Developing Future-Proof Skills: Focusing on critical thinking, adaptability, and digital literacy prepares individuals for evolving job market demands.
Interdisciplinary Learning: Emphasizing the importance of interdisciplinary knowledge to address complex real-world challenges.
Remote and Hybrid Learning Models: Continued remote and hybrid learning model integration, providing flexibility and accessibility.
Global Collaboration: Increasing opportunities for global collaboration, enabling diverse perspectives, and fostering a more interconnected learning environment.
As the world of continuous learning keeps evolving, it is crucial to remain informed about emerging trends, embrace technological advancements, and proactively adapt to the changing landscape. The future of continuous learning holds exciting possibilities for personalized, technology-driven education that empowers individuals to thrive in an ever-changing world.
Conclusion
Continuously learning is an essential foundation for navigating the complexities of the 21st century. As trends change and technology shapes education, the commitment to lifelong learning remains critical. A combination of personalized learning, AI integration, and proactive skill development anticipates a future where individuals can adapt and thrive. Embracing this mindset not only fosters professional growth but also enriches personal fulfillment. As we journey into an era defined by innovation, resilience, and interconnectedness, the significance of continuous learning persists as a guiding beacon toward sustained success in a dynamic and ever-evolving world.
FAQ
Q1. What role does technology play in continuous learning?
Answer: Technology has enabled individuals to continuously learn through online platforms, virtual classrooms, and AI-driven personalized learning experiences. This allows for convenient and flexible learning opportunities tailored to meet each learner's unique needs.
Q2. How can artificial intelligence enhance education for continuous learning?
Answer: AI can offer personalized education through adaptive learning, virtual assistance, predictive analytics, and automated skill recognition.
Q3. Are there any financial constraints in continuous learning, and how can they be overcome?
Answer: Exploring accessible or affordable resources, negotiating employer support, budgeting for learning, and seeking scholarships can help address financial constraints.
Q4. What are some emerging trends in lifelong learning?
Answer: Microlearning, personalized learning paths, gamification, and technology integration create a holistic learning experience.
Recommended Articles
We hope that this EDUCBA information on "Continuous Learning" was beneficial to you. You can view EDUCBA's recommended articles for more information,