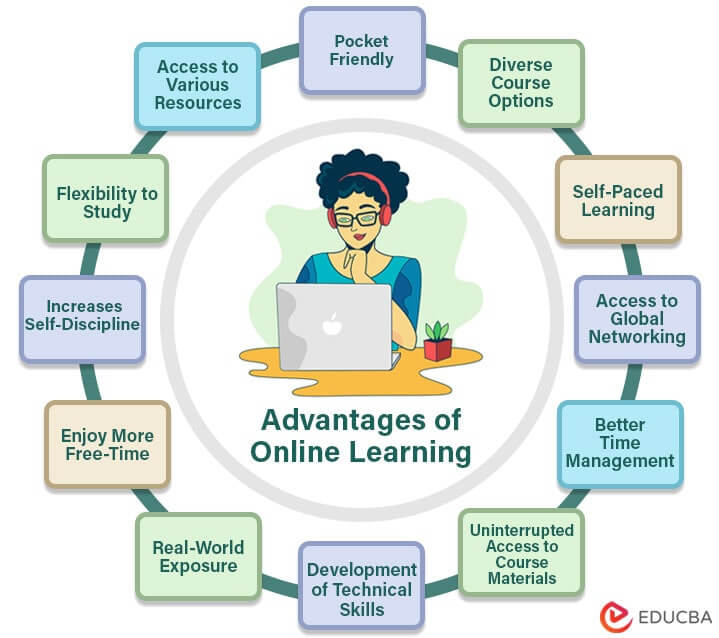 Table of Contents
Why is Online Learning Popular?
What are the Top Advantages of Online Learning?
Why is Online Learning Popular?
Online learning, which became the primary source of education during the pandemic, has become more popular after the pandemic. We can see this from the significant growth in revenue that the online learning industry experienced in just a few years. In 2018, the revenue from online learning was $88.02 million. However, after the pandemic, this revenue surged to $146.88 million in 2022. Projections suggest that in 2023, the online learning sector may generate a revenue of $166.55 million. It is also popular amongst learners due to its convenience and comfort. The main reason for the shift from traditional learning was the advantages of online learning and the freedom it gives learners.
There are several benefits of online learning you might still be unaware of. Thus, this article will help you know more about them and help you make an informed decision about online education.
2. Access to Various Resources
Students can explore various learning materials through digital platforms, including e-books, videos, interactive quizzes, and research databases. Accessing various resources enhances the learning experience and enables students to understand every concept easily. Thus, numerous resources make online learning a highly effective and convenient choice for individuals looking to expand their knowledge and skills.
Example: An individual learning digital marketing can learn from various resources such as e-learning videos, podcasts, webinars, e-books, etc.
3. Learn From Expert Instructors
Online learning allows learners to connect with experts, professors, and fellow students worldwide, giving them more opportunities to learn better. Virtual classrooms provide real-time communication and instructor interaction, creating an engaging learning environment for students. Therefore, you can always access diverse learning from highly experienced instructors from various platforms.
Example:  An aspiring chef can join an online culinary school and get lessons, tips & techniques from well-known chefs that will help improve skills.
4. Pocket Friendly
Without a doubt in mind, online learning is more cost-effective than traditional learning. There are no commuting or relocating expenses, saving time and money for a learner. Also, online courses have lower tuition fees than traditional ones, and digital materials and resources eliminate the need for costly textbooks. Moreover, you have various options and can select one course according to your budget.
Example: By pursuing an online MBA degree, you can save on commute expenses, relocation, and accommodation costs, among others.
5. Diverse Course Options
One of the major advantages of online learning is access to various courses and programs, allowing students to find a course according to their interests. Online courses offer the same range of degrees that a student can get from a traditional university or college. Nowadays, most well-known universities also offer distance online courses; thus, you don't need to enroll in traditional courses at such universities as well.
Example: Renowned online platform, eduCBA, offers bundle courses for every field – Data science, IT, Finance, etc. For instance, the Financial Analysts Masters training Program includes 250+ courses at a minimal price of $149.
Note: The price is subject to change, so visit the official page for updated information.
6. Self-Paced Learning
Most online courses offer self-paced learning options, allowing students to learn and read through the material at their speed. It helps a student develop a deeper and better understanding of the course. You get time to spend more time on a particular topic that you really need to improve in your academics.
Example: An academically struggling slow learner can take more time to understand the concepts fully.
7. Career Advancement Opportunities
Online learning provides career advancement opportunities similar to traditional classroom settings. With the flexibility to manage their schedules, students can easily balance work while pursuing a course. It allows working professionals to enhance their knowledge without leaving their jobs.
Example: An unemployed individual can use online courses to fill their resume gap and show their dedication to learning and self-improvement.
Example: A working professional can fix specific daily hours to study online courses after work.
Example: A student with shy nature may find it more convenient to engage in an online course as they can attend it at their own pace.
12. Uninterrupted Access to Course Materials
Online courses offer access to video courses that you can watch multiple times. Unlike traditional lectures, where you have to depend on note-taking, with video classes, you can revisit the content whenever needed. You can watch the video lectures repeatedly until you understand the concept. These videos can also be helpful when working on assignments, serving as a source to enhance your understanding.
Example: A slow learner can repeatedly watch a video class until they fully understand the course content.
13. Development of Technical Skills
Online learning offers the benefit of developing technical skills that are very useful for learners. You will learn to use video conferencing software like Zoom or Google Hangouts for communication. Also, you will get familiar with surfing the internet and using a laptop or computer more effectively.
Example: A senior citizen can enroll in an online course and learn to use a computer or laptop more easily.
14. Real-World Exposure
Most online courses give their learners the freedom to learn from real-world applications. Whether you are in the field of IT, Finance, or Digital Marketing, you get access to learn through various real-world applications. It helps develop your skills as you get early exposure to real-world applications before getting into a job.
Example: A project manager can take an online course on effective team management to use these skills in their workplace.
15. Enjoy More Free-Time
With online learning, you have more control over your daily schedule, so you can spend more time doing what you enjoy. You don't need to commute or travel to take classes which will save both time and money. You can use this extra time for your career or to spend with family. You just need a digital device and the internet to access the software for your education and earn your degree at your own pace.
Example: A learner can take online courses and follow a healthy routine in their free time.
16. Increases Self-Discipline
Online learning needs more self-motivation and discipline to complete an assignment while learning. You must keep yourself more organized and follow a scheduled routine when taking online courses. Thus, it will eventually make you more disciplined and composed.
Example: A student can create a study schedule and follow it strictly to stay on track with online assignments.
Recommended Articles
This article provides a comprehensive view of the advantages of online learning. We have provided all the necessary information related to online learning. You can check out our other articles for more information: