Updated July 5, 2023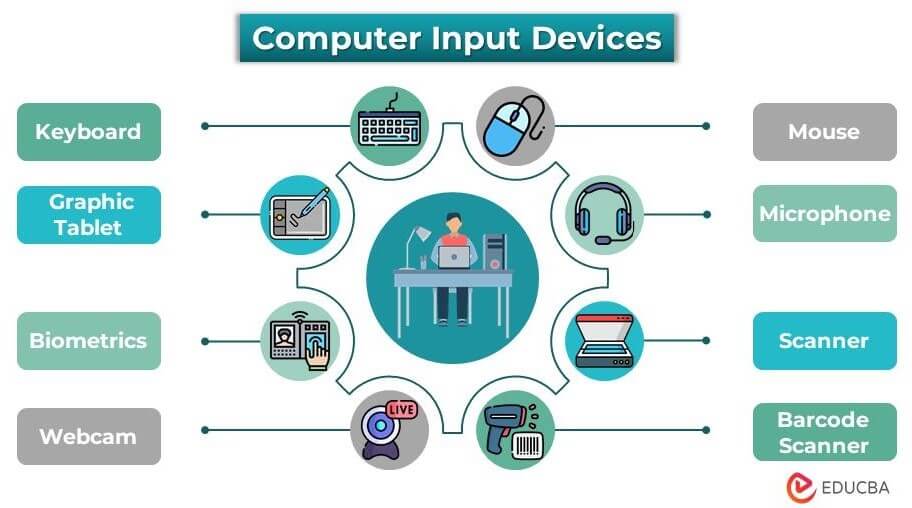 What are Input Devices in Computer?
Computer input devices are hardware instruments for entering data into a computer. The Central Processing Unit (CPU) receives the input from these devices, processes it, and provides an output accordingly (e.g., via monitors or printers).
Apart from the CPU, every other computer instrument serves either as an input or output device (or both). Input devices have evolved over the years due to continual technological developments, with novel devices entering the market, whereas certain previous ones lose their relevance.
List of Computer Input Devices
Here is a detailed list of the most common computer input devices. We have also provided a snapshot of all devices in a table at the end of this.
1. Keyboard
Before the arrival of keyboards, users commonly carried out computer input using punch cards or paper tape. However, with the introduction of keyboards, they actively became the most essential input device for a computer. Most English-language keyboards feature the QWERTY layout, which surrounds the alphabetical keys with numbers, function keys, symbols, and other characters. The input data or instructions are entered into the computer by pressing the relevant keys on the keyboard. Keyboards come in wired or wireless variants and offer PS2 or USB connectivity options.
2. Mouse
Mouse is another essential input device. The concept of an electronic mouse was derived from the trackball, invented in 1946. It used a roller ball mechanism to control a pointer on the screen. Modern computer mouse typically has two clickable buttons and a center wheel for scrolling web pages up and down. When a user moves the mouse on a surface, the computer's display screen actively reflects the movement, typically as an arrow. The mouse actively communicates with the computer through a mechanism called "point and clicks", which is also actively used for other similar input devices. Both the keyboard and mouse are crucial for any purposeful computer usage.
3. Touchpad
A touchpad (or trackpad) serves as an alternative to the traditional computer mouse. The touchpad is a sensitive surface that can detect the movement of a user's finger and utilize it for navigating the device accordingly. Touchpads were initially introduced for laptops in the 1990s, and nowadays, it is uncommon to find a laptop without one. However, people who want a more agile experience of using computers prefer mouse over touchpads for reasons such as speed and precision.
4. Microphone
A microphone captures sounds and converts them into a digital format, which can then be processed by a device. Once converted, the microphone actively enables the playback, copying, editing, uploading, or sending over the internet of the recorded audio. Moreover, microphones are commonly used nowadays in video chats or audio streams to actively record audio or transmit live sounds in real-time.
5. Touch Screen
Instead of relying on a traditional mouse, many modern computer systems provide touch screens. This allows users to navigate directly by touching and dragging on the display screen. A touch-sensitive monitor responds to the touch of skin, especially fingers. Touch screens have gained widespread popularity recently, particularly in devices like laptops, smartphones, and tablets. Touch screens offer various benefits over traditional input devices, such as precision, speed, multitouch and gesture features.
6. Scanner
A scanner is an input device that transforms physical images or text into digital format through a process known as digital image scanning. A digital image is actively captured by the mouse, which can then be actively viewed, edited, saved, emailed, displayed on a monitor, or printed as required. On a related note, smartphones also have apps providing scanner-like services via built-in cameras.
7. Digital Camera
Users actively capture images and videos using digital cameras. Subsequently, users can actively transfer these files to a computer by directly connecting the camera with a cable or by separately connecting the camera's memory card to the computer. Once the pictures and videos are on the computer, users can actively edit, save, email, or print them according to their preferences.
8. Webcam
Webcams are either built-in devices in laptops or external devices that users actively connect to a computer system. They are frequently used for actively live-streaming videos and conducting video chats. In addition, they are also capable of capturing images or videos when needed. Webcams differ from digital cameras in two important ways. Firstly, webcams typically require a connection to a computer system and cannot operate independently. Secondly, webcams lack built-in memory and depend on the computer for storage. Furthermore, with the arrival of camera smartphones, the relevance of webcams has been largely decreasing.
9. Graphic Tablet
Graphic tablets (or digitizers) actively convert hand-drawn images into digital format as input devices. The digitizer is simply a flat surface on which the user can draw using a stylus, resembling the experience of drawing on a piece of paper. The created drawings can be edited, saved, or displayed on a computer screen. Unlike scanners that can only convert sketches into digital images, graphic tablets allow artists to view their drawings in real time as they work. This grants greater control and flexibility in the creative process.
10. Joystick
In computer video games, users commonly utilize joysticks to actively control characters and vehicles. A joystick typically consists of a handle that can be rotated. Consequently, the computer actively receives and processes information about its angle or direction. Many video game joysticks also include buttons, triggers, and other controls that can be pressed or activated during gameplay. Joysticks also provide users with tactile feedback, i.e., vibrations and other sensations, for a better gaming experience.
11. Light Pen
A light pen is a pen-shaped device for selecting or drawing images on a monitor screen. It allows one to directly touch or point at the desired items on the display. The pen has a sensor that can detect the light coming from the screen when one touches it. This allows the computer to locate the pen's position on the screen. As a result, one can use the computer without needing a mouse or keyboard.
12. Biometrics
Biometrics is an input device that is becoming increasingly common for identification purposes. Biometric devices capture/record certain physical characteristics of users and recall them whenever the requirement arises. Some common methods are fingerprints, eye recognition, hand geometry, etc. Biometrics is widely prevalent for recording office attendance and smartphone security.
13. Barcode Scanner
A barcode scanner is simply an optical reading device that decodes barcode information. Supermarkets and godowns widely use it in sales and inventory management, especially for scanning barcodes and managing stock. Barcode scanners cast a light upon a product's barcode, which helps decode the information in the barcode. Consequently, MICR readers actively send this information to the connected computer screen and convert it into a readable format for further processing.
14. MICR (Magnetic Ink Character Recognition)
Banks utilize MICR technology for reading and processing cheques. The method involves printing certain numbers and symbols on cheques using a specific ink with iron particles. Whenever a cheque is scanned, MICR readers can actively detect and understand the printed characters on it. The MICR scanning method aids banks in processing cheques quickly, accurately, and securely.
15. Virtual Reality Controllers
Virtual Reality controllers are a recent entry into the input devices market owing to the development of VR technology. These are devices one holds while playing virtual reality games or using other VR applications. These controllers aid in interacting with the virtual world. For instance, one can shoot weapons, grasp objects, and do many other actions with a very real-world experience. VR controllers have various buttons and sensors that help track your hand movements, ultimately providing a natural and enjoyable experience.
Snapshot for Quick Reference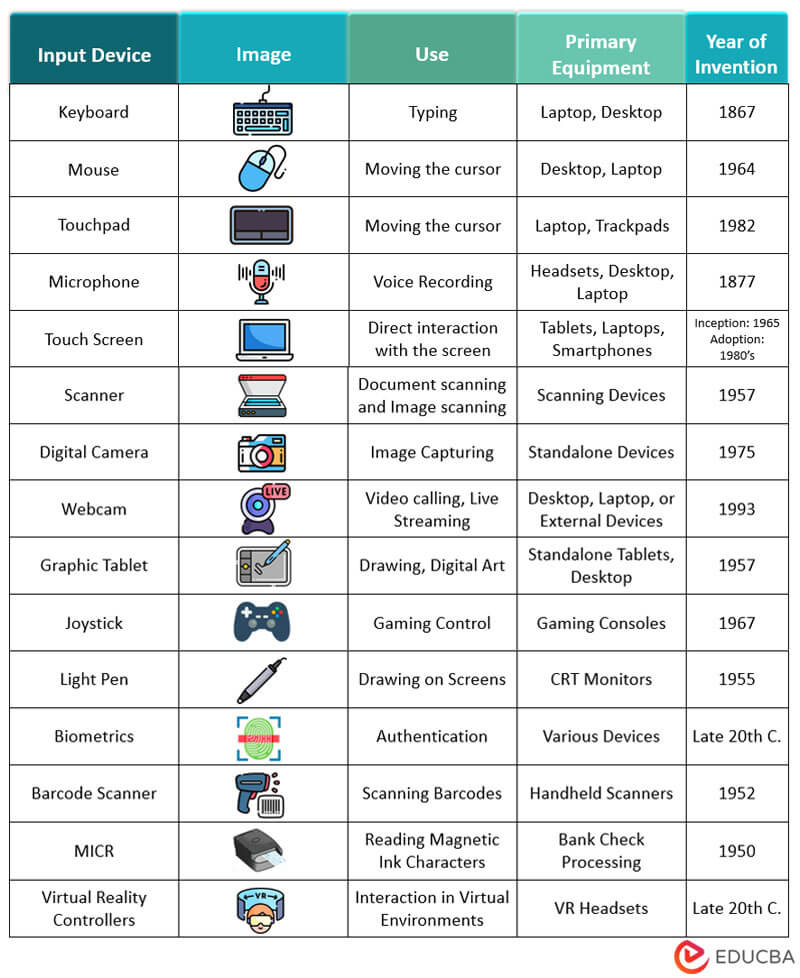 Conclusion
The article outlines the various computer input devices. Some of these devices are highly integral to the working of a computer, e.g., keyboard, mouse, and touchpad, while others are peripheral devices with varying degrees of importance. For example, input device users commonly utilize scanners, webcams, and microphones, while a specific niche of users more commonly employs barcode scanners, graphic tablets, and MICR.
Frequently Asked Questions(FAQs)
Q1. What is the difference between wired and wireless input devices?
Answer: Wired input devices establish a connection to the computer using physical cables, while wireless input devices utilize wireless technologies such as Bluetooth or RF (radio frequency) for connectivity.
Q2. Are there alternative input devices for individuals with disabilities?
Answer: Yes, manufacturers design certain specialized input devices specifically for individuals with disabilities.  For example, braille keyboards, eye-tracking devices, sip-and-puff switches, etc., can help such individuals easily access the computer.
Q3. How do I troubleshoot issues with input devices?
Answer: One can employ the following steps for troubleshooting computer input devices:
Ensure proper connection of the device to the CPU.
Check for any driver updates for the device.
Restart the computer and check again.
Test the device on a different computer to identify whether the issue lies with the device or computer.
If everything else fails, seek professional assistance or contact the manufacturer's helpline for support.
Recommended Articles
This is a guide to Computer Input Devices. Here we have discussed the top 15 input devices for computers. You can also go through our other related articles to learn more: