Updated June 22, 2023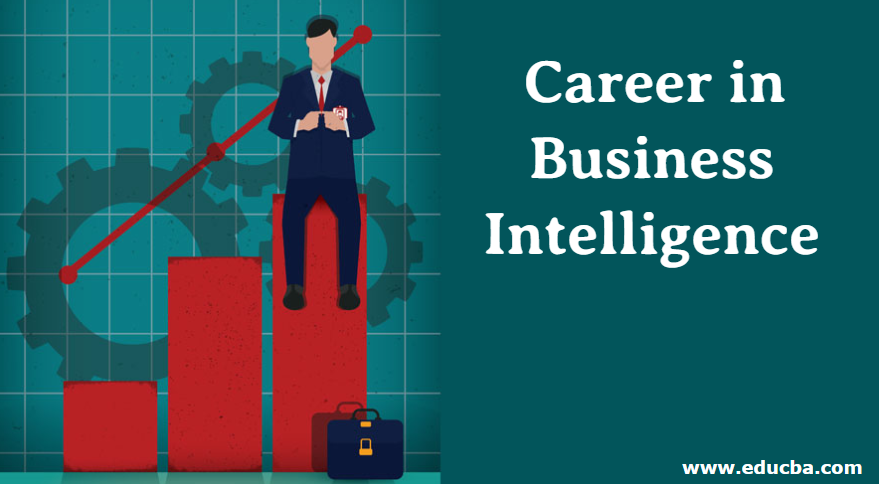 Overview of Career in Business Intelligence
Business intelligence (BI) constitutes of ways, means, and methodologies put into use by firms and organizations to analyze business information-related data. A career in BI is used to get past, present, and future views of business operations. Reporting, online analytical processing, analytics, data mining, process mining, complex event processing, business performance management, benchmarking, text mining, predictive analytics, and prescriptive analytics are the activities included in BI technologies. BI technologies identify, develop, and help create new business opportunities by easily interpreting structured and unstructured data.
This helps firms in garnering new opportunities by implementing the right strategies. Product positioning in the market and pricing are a part of basic operating decisions. Priorities, goals, and directions are a part of strategic decisions in business. Both external and internal data combined give us the practical usage of BI technologies by providing us with the complete picture. Business intelligence methodologies and tools help firms and organizations understand various marketing aspects.
Qualifications Required for Business Intelligence
Business intelligence analysts have a minimum bachelor's degree in business, management, accounting, economics, statistics, or information science. In addition, high-profile jobs may require a master's degree in business administration (MBA).
Career Path for BI
Career development, a high pay package, multitasking ability, a heterogenous schedule, and an insatiable learning appetite. It is best in terms of career for a person who doesn't want a monotonous career and wants to play a variety of roles. The pharmaceutical and software industries are the ones to provide the most lucrative salary and the best career prospects for BI professionals. Financial services, retail, manufacturing, healthcare, insurance, communications, and education are the industries that require BI professionals and their services. The designations in which they work are the following: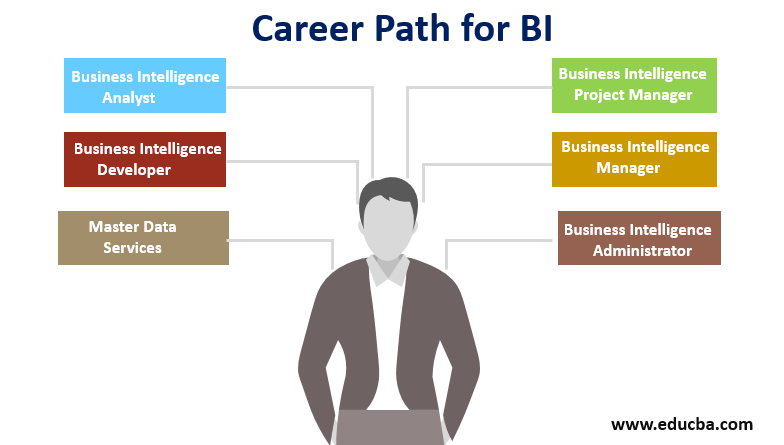 1. Business Intelligence Analyst
Business Intelligence analyst studies and understands business processes, data warehouses, production systems, and departmental databases. They also use their knowledge of building Business Intelligence tools, projects, and BI solutions.
2. Business Intelligence Project Manager
A BI project manager reports all the data regarding business intelligence tools and solutions. It coordinates with all the internal departments and helps build up BI solutions. They also improve solutions by identifying improvement areas in BI.
3. Business Intelligence Developer
BI developers come up with solutions as per the requirements of the clients. They also design software to support data integration necessities. They handle SQL Server, Oracle, and DB2.
4. SQL Server Business Intelligence
SQL helps the user get access to data from every and any source in the world. It also helps in various collaborations.
5. BI Semantic Model
This model helps unify all the heterogeneous data using various tools and transforming them into BI solutions.
6. Power View
Power View lets us get an overview of customer behavior, competition, and economic shifts.
7. Master Data Services
This permits users to access and maintain all the collaborated data across functions.
8. Business Intelligence Administrator
BI Administrators analyze, utilize, and present data by working on the database management software. BI systems help to get an overview of customer behavior, competition, and economic shifts.
9. Business Intelligence Manager
BI Managers are responsible for carefully designing and implementing business intelligence software and systems, including integrating databases and data warehouses. They also collaborate with developers and frequently pursue testing of BI solutions.
10. Business Intelligence Consultant
BI consultants utilize BI solutions to make new business strategies. They will execute solutions to make it easier to handle information. BI consultants mix technology with business management and help improve the efficiency of a firm.
Applications: Business intelligence can be applied to the following business purposes:
Help business leaders know the progress of their business.
Help in data analytics like prescriptive analytics.
BI is used for business reporting and information management.
BI helps in collaboration and can facilitate data sharing.
Knowledge management is handled through BI solutions.
Salary
Professionals in this field generally earn $70,000-$90,000 annually. Business Intelligence Analysts will normally get a wage of $67,000 annually.
Career Outlook
Career opportunities in business intelligence are increasing day by day. Data scientists are filling up all the vacancies as it requires all the knowledge of various subjects.
Conclusion
Business Intelligence and its application are on the rise, and so are its opportunities. There are a wide number of applications and, therefore, the utility of Business Intelligence. It helps improve business prospects and make business very efficient.
Recommended Articles
We hope that this EDUCBA information on "Career in Business Intelligence" was beneficial to you. You can view EDUCBA's recommended articles for more information.