Updated May 31, 2023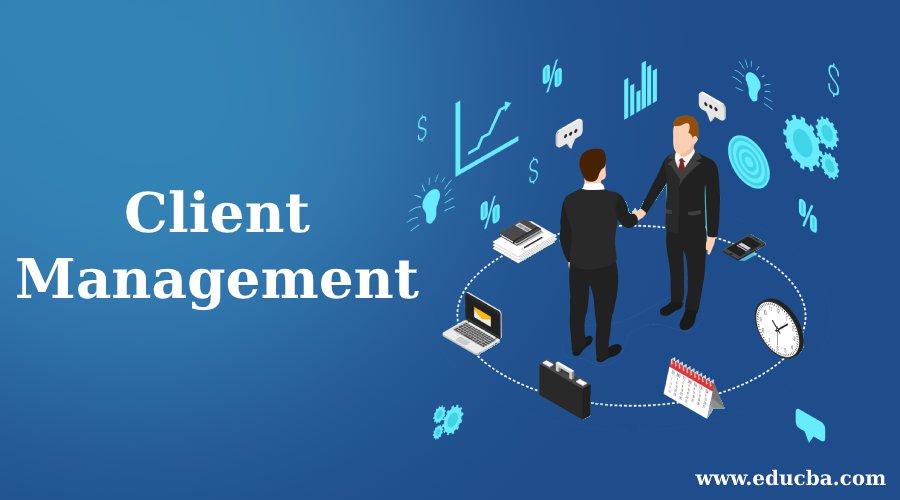 Client Management  –
Great Expectations. That succinctly summarizes what clients have, especially from the project managers. What can meet those expectations is effective client management.
But how do you achieve that Holy Grail of Project Management, where clients are happy with all you offer?
In this changing landscape where Agile Management and other non-linear ways of working are redefining management. How can one be an effective project manager while optimal Client relationship management regarding their expectations?
These days, Project Management is becoming less about spreadsheets, budgets, and resources and more about open communication with the client and intelligent planning.
There is no magic bullet with client relationship management, but these pointers will help any project manager avoid common pitfalls with clients. It is important for the project manager to set a positive tone with the client from the very first meeting.
Let's understand the secrets of effective client management skills in three phases viz. pre-signing, project start, and project end.
Client Management: Pre-Signing
---
Know your client. When the marketing team delivers the client to your team, get a full briefing from the team. Have they promised the client satisfaction anything yet? If so, what? Try and get as many specifics as possible. Even if you might know, get the complete information from the marketing team. Some extra information, such as the client's working style, even something informal such as their preferred mode of communication, work patterns and hours will help.
Set your team. After the initial meeting, consider the internal team members who will work best for the project. Factor in what you know about the client. Clients often want to know all about the people working on their projects. If your company policies allow such information to be passed on, do so honestly.
If Agile, ensure everyone's on the same page. The same word. Every IT company needs an employee orientation on Agile systems as they practice it. Not all Agile systems are the same, and it is best that an organization's/project's workflow and processes are defined upfront. Agile systems mean daily meetings with the client, likely a phone call. Ensure that this is factored into the time frame and the scope of work. As Agile systems inherently work towards more flexibility, ensure enough leeway for the same.
Note: If you are using Agile management systems, you might also need to do some introspection. This will mean your team members will be given a lot of responsibility, with a lot of collaboration, so be ready to relinquish some control. Also, choose your team accordingly.
Set up a kick-off meeting. The first meeting with the client is an important one. As they say, "You only get one chance to make a first impression." Find that comfort zone with the client.
Make the initial meeting comfortable for you and the client. It's important to thrash out some of the nitty-gritty during this initial meeting.
Some of the things you might want to discuss are:
The composition of the team. You could introduce the team on the phone/online if that is possible.
The scope. It is likely that the client may have glossed over some relevant points, and it is best to have a quick run-through.
Process flow. If using Agile Management, this needs to be explained to the client. The requirements from the client must be clarified at this stage.
Timelines and milestones. It is good to give specific information, including a buffer time required for approvals, etc.
Contingency plans. It is difficult to imagine a project that goes completely according to plan. The initial meeting must also discuss plans in place in case schedules, or work takes a hit. Changes in the client's requirements can blindside any project, and it is important to address these as well.
Communication protocol. This needs to be established, keeping in mind the preference of the client. Whether it is telephone or email or instant messaging, accommodate. Unless the client asks for an impossible schedule/mode, it is best to adhere to their wishes.
Important to note: This meeting need not be about schmoozing the client (the salespeople have probably done most of it anyway). You must address what cannot be done, as well as the client's responsibilities and roles for the successful completion of the project.
Client Management: After the Project Starts
---
Create clear and precise project responsibilities for each of your employees. With flat management styles, interaction with clients is just a click away. In one project, an intern fired away an email with questions to the client, questions that his manager already had information on.
Automate tracking. Use a Project Management tool to keep track of progress, schedules, and different bits of the project. Some of the applications that can be used are: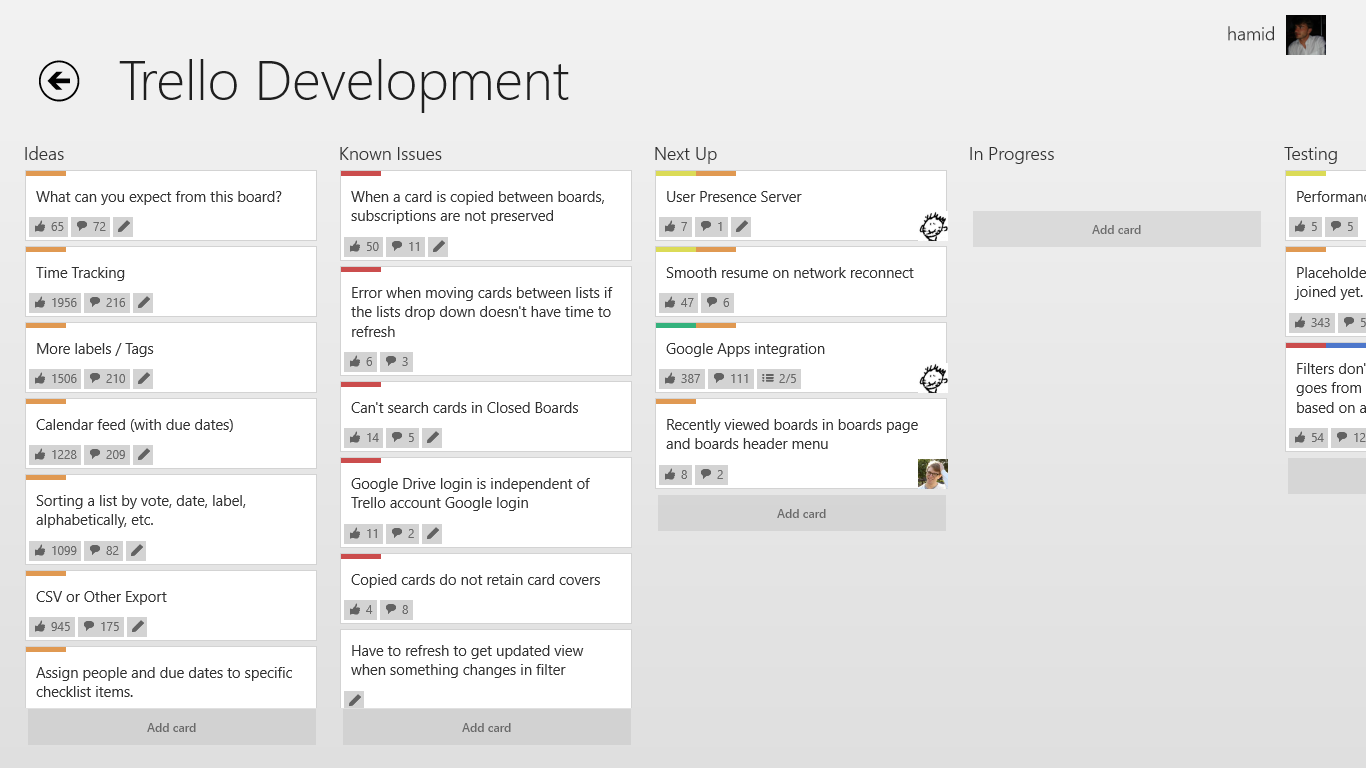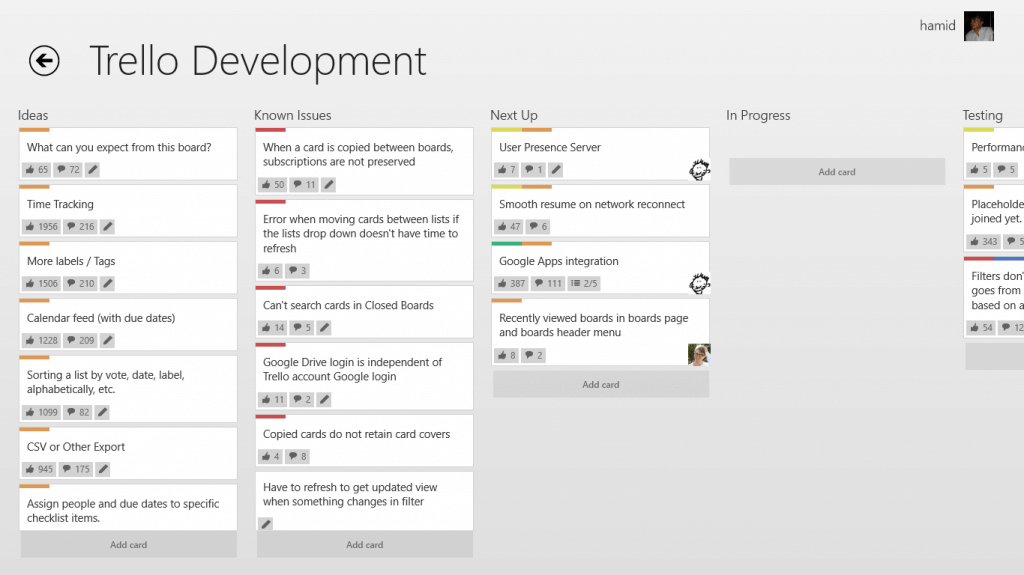 Credit: Trello.com
Your organization has likely already invested in a tool; use the one people are familiar with. If not, even something as basic as Excel will work—often, it's the idea of collaborative work that is missing, not the tool.
Tip: Be sure to include "Red Flags" or areas of possible concern. This could be unchartered territory for your team, or a functionality that has not yet been tested, or a feature that a client seems confused about. When these bits are under-way, you can be extra cautious and stay on top of things.
Maintain client interaction at set intervals. This is less of an issue with Agile projects, but getting the client on a call at predetermined intervals is essential. This interaction can be about myriad things, including scope, and budgets, but it should always be honest. If clients have ideas that don't seem workable, explain why. It is important to say "no" when need be.
Resist the temptation to keep the client in the dark. How often have we told ourselves of a crisis, "Let me not get into it now—let me wait for the client to discover it, and then we will tackle it"? Do. Not. Do. That. Ever. Be upfront, be honest. But bring a workable solution to the table, not just the problem.
An obvious but often ignored advice: Encourage your Team. The number one gripe of employees against project managers is that they act like the honchos of the client. Try and work for the client and the people you work with. Check the task lists to find out who might need help to catch up and find ways to provide that help. Don't be afraid to roll up your sleeves and do some coding if circumstances demand it. Treat your team like people, not mere "resources." If employees work very late, get some good dinners organized. When milestones are reached, try to get something special for the team. Please note that you might want to double-check company policies on this too.
Keep Calm When Problems Arise. That's really when your value as a Project Manager will be evident. When there is a problem (and this will happen), do not pass on the stress to the people on your team. It doesn't do any good. Analyze the problem and figure out a logical way.
If the crisis is because of a goof-up by someone on the team, find out exactly what happened and let them know that this has happened because of their action/inaction. Find ways to resolve it.
In times of crises, consider swarming to resolve the problem. This might be quicker than resolving it within just a couple of people.
Let the client know once you have a solution, typically at the end of the day.
Follow multiple projects closely. If you are managing multiple projects, it can get overwhelming. Keep a close tab on the projects, and find out if there are ways for collaboration. Can some of the architecture be replicated? Code?
If time and other factors permit, this might also be a good time to "pair" members from different teams.
Deadlines and extensions. When the end of the project looms, it is always a tense situation. And somehow, it seems as if the best-scheduled projects are always the worst affected. Factor in a bit of delay in your original time schedule. Regardless, if something will take longer than planned, let the client know. Try to see if this part can be swarmed so that more can be done.
Note: This problem usually arises because testing and bug fixing gets bunched up at the end. See if testing can be done simultaneously as and when parts of the project get done.
Client Management: When the Project Ends
---
Have a clear implementation plan. Planning must include time for the implementation of the project at the client site or on the cloud.
Prepare clear and concise documentation. Documentation, including user manuals and guides, must be clear. There is a move toward making the manuals easier to understand in simple language. Be as clear and simple as possible as there is no ambiguity.
Celebrate with the client. Before the formal end of the project, meet with the client (perhaps lunch) to celebrate and find out their thoughts on the project. This meeting can include only key project people, not the entire team. This will be a free and undocumented feedback session for you too. Try and find out what they might have done differently or what you could have. Enjoy the time spent with the client.
Bring out the champagne! Have a celebratory party! Do not bring any negativity to this occasion. This is just the time for everyone to feel good.
Tie up loose ends. Have a quick review meeting with your internal team to discuss ways that could have improved the project. Take the time to appreciate each member. If you find that someone has done a good job, mention specifics. If you find that Mike is a better fit with coding than testing, mention that. Part of the Project Manager's job is to nurture talent within the team.
Close the file and move on. A good idea is to document things learned from each project in a notebook, but the important thing is to reflect and take home valuable lessons. Not just about projects but also about people and processes.
And soon, the next project begins.
Regarding the client, here are some quick pointers to always keep in mind (at the risk of repetition). The most important thing that you can instill in the client is "trust". How you enable that is up to you.
Imagine things from the client's perspective. "The customer is always right" is not just a slogan; it is a motto to work by.
Treat the client like a person, not just a money machine. Be interested in them.
Be honest. Always. (Maybe delay the honesty for a few hours while you figure out a solution). Resist the temptation to give the impression that everything is always in order.
Never place the blame on any of your team members for your client. Clients pick up on that. Never say, "Paul did so-and-so and we had to work around it." Instead, say, "So-and-so was done and we worked around it." Learn the power of the passive voice!
Create online project progress reports and share them with the client. The client need not have access to every single file but create project statuses that the clients can also update. All software has this feature built-in, and you must use it.
Don't burn any bridges. Even if the project has gone badly, end it on a positive note. Do not walk away with a sulk. Smooth the relationship before the goodbye.
It's also important to update yourself on the new software that helps the process along. With multiple projects, it is impossible to use outdated methods of keeping track of things.
Project Management is changing rapidly, but its basics remain the same, i.e., more automation, more power to the team, more interaction with the client. But the service the manager brings to the table remains. It is the project manager where the buck stops. And it is up to the project manager to ensure everything runs smoothly.
I hope this information on client management skills will help you get a better and smooth business.
First Image source: pixabay.com
Recommended Articles
Here are some related articles to learn more: