Updated June 8, 2023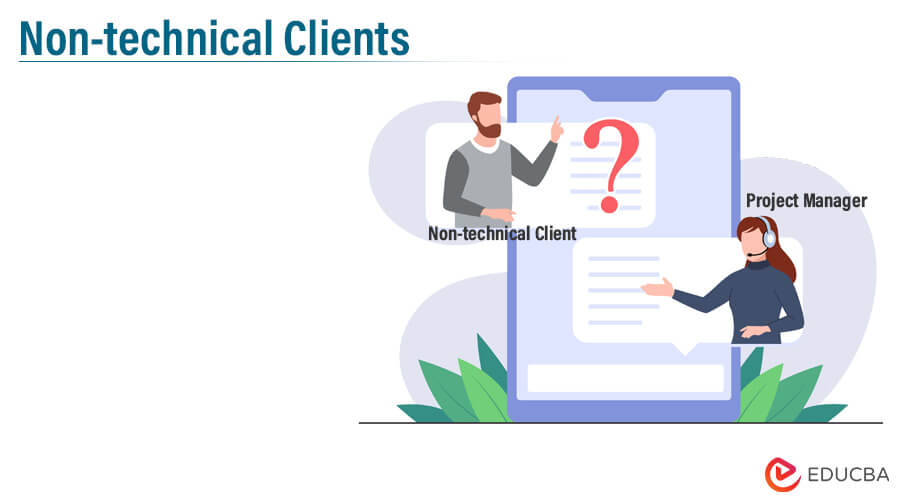 Project Managers Can Deal With Non-technical Clients
Non-technical Client: I've read through the project documentation, but I didn't get the different aspects of the specifications of the software to be used. I would like some further explanation on them.
Project Manager: Sure. We can discuss those points and then we can move ahead.
Non-technical Client: Here it is mentioned, in one of the articles I was going through on the Internet that the software tool will be able to take on the load for 10 project members, but you've allocated just 5 and if we had 10 on board, the work would get done faster I reckon.
Project Manager: Yes, that's right. The 10 GB can support 10 project members, but we've made in an investment of 5 GB storage for 5 users and it's cutting the exact cost; we aren't missing on any time. We will require the project to hold on for that timeline so that we can router in a complete 360 degree feedback system in the backend for the business to hold its own. Plus, we're working up the search and match functionality that would anyway hold the project on for a long time. We will be doubling the investment in that case and still rushing the project. No quality.
Non-technical Client: I didn't quite understand that last bit and there's no mention of that in the documentation you sent me. Can you clarify?
project Manager: Sir, it's surely mentioned clearly in the addendum that was passed on along with the plan to you. Did you manage to go through it?
Non-technical Client: Oh! No, I've not gone through it. The first page itself got me thinking of the language as Greek. It has too many terms I can't understand. Can we plan a meeting to go through the entire documentation?
Project Manager: Sure thing! Let me know when you can make it our site.
The Missing Bridge between Technical Project Managers and Non-technical Clients
As clearly evident from the conversation pitched between a non-technical client and a project manager, there's always going to be a great percentage of disconnect between technically sound project managers, who are rolling in technical dialect all day long, and their non-technical clients, who need their services but aren't as well-versed with the entire scheme of the tech world.
With clients participating actively in the projects they are stakeholders in, it can get a little bit more exhausting for a project manager to maintain the bridge between a people who knows a lot about the work that is being conducted in order to facilitate the needs of the person who knows little about the background work.
Project managers and technical experts are normally people who would have details of the product and the process in a lingo that might not be comprehensible to an individual who has hasn't tasted this field. As project managers, the responsibility of maintaining an effective communication link between us and non-technical clients holds a very important stance in the grand scheme of things. We will require our clients' input all the way through till the project's closure.
But, we can't keep everything in front of them and ask them to decipher the technical terms mentioned in the project documentation and the project guidelines or even the presentations we put up. We will have to twist and turn and bring them a world-view of the product or service we are creating or improving through the project. Bridging this technical and non-technical gap is extremely important, and we will look at 8 different ways in which you can present your work in order for them to create a mental picture of the product.
8 Ways to Effectively Communicate with Non-technical Clients
Enlisted below are sure-shot ways of getting through that communication line with your non-technical clients. These tips and tricks will allow you great freedom to achieve what you think is the most difficult thing to do. Get up and chatty with your non-technical clients and make a difference to how they view the project and how they contribute to it.
1. Learn about your customer's world and put your feet in their shoes
Explore your non-technical client's background and the industry they come from. Ensure that you know enough of their professional work status so as to understand the level of communication you can render to them. Also, understand the level of technicality they are aware of and tread on the same lines when you communicate with them.
These individuals won't always be completely lost when they are part of the project, but as the spearhead to the project, it's your responsibility to keep in mind all the comfort levels of every stakeholder and team member as they manage and work on the project.
Think from their perspective and walk a mile in their shoes, then you will understand how they see technical terms and you can accordingly alter your presentation levels and your tech lingo based on that study and research. Dedicate yourself to make a good work done out of communicating with these individuals. And, one important aspect—stay humble.
2. Remember it is about people and their actions, not about codes and technology
If you're a tech-savvy individual, it doesn't mean everyone gets you spot on when you flaunt that technical lingo that you carry around. As a project manager, while speaking to a non-technical client, ensure that you concentrate on the people (your team and customers) and the tasks they perform for the project. Inform your clients about their progress and how they have been contributing to achieving that milestone in the project.
Talking about code lines and the code loop issues that have occurred won't really benefit you and will send your non-technical clients into a frenzy mood.
Try using terms they can relate to such as "the user will then have to press this button to get to this pages to complete the transaction…" instead of "the system will initiate the submit action and will display the completed transaction notification while the action gets completed…" This way you can strike right at the heart of what they want to achieve with this project and enable them to understand that you and your team have got it right.
3. Keep It Simple, Silly
KISS and tell, they say. As a project manager dealing with external, non-technical clients, you have to ensure that the communication to your clients is complete, concise, and more than ever simple. Use plain English to get your message across to them. You have studied their background and you know what they fervently respond to. So, your next step is to keep all communication with them as simple as it can be and level it up only on the basis of what you acquired through the professional background check.
Don't overwhelm them with the jargon you could use with your team members or internal stakeholders and be honest with them about every proceeding that takes place.
Effective communication is the way to go. Imagine a situation where you visit a doctor and he explains your ailment to you in a way that leaves you confused and out of place. The helplessness that you feel is exactly what your client is going through. So, rule of thumb, KISS (keep it simple, silly).
4. Discuss the results that they will obtain
When communicating with your non-technical clients, make sure you explain to them the "why" and "what" are you doing aspects of the project rather than "how" you are doing just that. When non-technical clients look at the benefits and the functionality they are going to reap off the project, they respond better than when you explain the intricate details of how your team is putting it all together.
Show them the benefits that the results will then obtain for them. Show them that with every milestone achieved by the project and project team, they will be coming closer to achieving the goal they set out to achieve. Ensure that they realize that these tasks will result in the objective set and these tasks when completed in efficiency will prove to add more benefits than anticipated.
With this in mind, I am sure that even you as a project manager will look out for added benefits that can be yielded from this single project.
5. Use examples
Analogy and using examples can be your best friends at such times. These exercises will even help you out with bringing in your creative side to work. Twist and turn your way into using daily-life examples to make your point. This way, you will be able to relate the information better to their level of expertise. With more relatability and a conscious effort from your side, you will be able to win them over with your comradeship as well. With relatability comes reliability and with that comes trust in the work you do and the communication you render to your non-technical clients.
Using examples can even help you simplify the project for yourself and your team members and will enable you to look at the project from a layman's perspective. This will increase your chances at a whole-rounded project that truly caters to the customers and the general public.
6. Don't underestimate or overestimate their level of expertise when it comes to projects
While these non-technical clients are often not very well-versed with the technicality of the subject, especially during the creation of software tools and applications, they mostly have a good and well-rounded knowledge base when it comes to projects and processes. They understand the processes and how these processes can ultimately enable the software development process to be conducted with ease.
You can surely have them on board to actively help the team out when it comes to running the project. There are many different types of clients that we, project managers, have to deal with. Don't think them all as one, but rather understand each client thoroughly, their strengths and weakness and how you can tap on their strengths and minimize their weaknesses. Analyze all of these and never make the mistake of underestimating or overestimating these individuals.
7. Give them a 101 class
Take note of all the terms you will be using in your presentations and your dialogs with the non-technical clients. Make the list a definition forum and note down the definitions in plain English so that you can hand them over to your non-technical clients and they can understand what you mean when you use them. You can avoid the blank expressions they will have on their faces when you belt out these terms in your meetings and will also avoid the loss of time due to explanations on those particular terms.
With this exercise, I am sure that your non-technical clients will also have an opportunity to learn something new and will enable them to be enthusiastic about the meeting and the presentations. This activity can prepare them for many more meetings and discussions that you plan to organize and will allow them to contribute fruitfully as well. Isn't this what you want?
8. Always ask them if they are grasping what you are belting out to them
Pause your presentation for a while and ask your non-technical clients a few questions:
Are you with me?
Is anything unclear to you?
Do you need me to repeat anything?
Do you have any concerns or doubts in your mind pertaining to this concept?
Do you need assistance with anything?
Are you comfortable with the speed of the presentation?
Such questions can be reassuring, and it can show them that you need their presence and active participation and you need them to understand everything that is going on. It also gives them a chance to ask trivial questions, which when answered can make a difference to their understanding.
This will also suggest that you're happy to answer just about any question that they throw at you, and this will help them build up the confidence to accept that they've not understood a particular term or concept. With this boost, they will stand up to clarify their doubts. Your project then benefits as they can then think about it from their perspective and offer you a whole new perspective to think about.
Recommended Articles
This has been a guide to Non-technical Clients. Here we have discussed a brief overview with 8 Ways to Effectively Communicate with Non-technical Clients. You can go through the following articles to learn more –