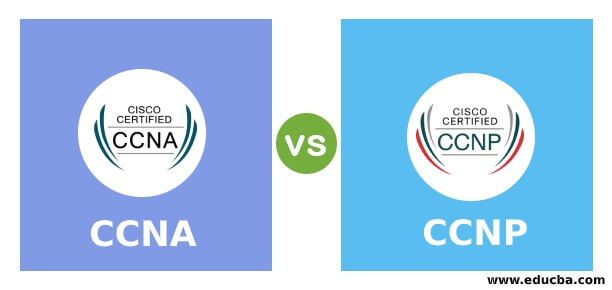 Difference Between CCNA vs CCNP
As you are aware that all Cisco-based certifications have their own value. Therefore, when you are stepping out to enroll for a CCNA course, you must be familiar with the curriculum of the program. Here you will have to learn and learn how to organize and operate medium-level switches and routers. Side by side, you also learn how to verify and then implement connections through remote sites by using WAN. For those who are not contained with just a Certificate in Network Associate and want to move on further, the Cisco Certified Network Professional (CCNP) is a perfect program to add more stars on your shoulder. Like CCNA, it is also a routing and switching based course specifically designed for the network and system engineers. But here, you need to have a couple of years of experience in the networking field and also should have obtained a valid CCNA certificate.  The job profile is more or less similar; the only dissimilarity is that here the professionals have advanced and profound knowledge on the subject.
Cisco Certified Network Associate (CCNA)
In short, the CCNA program usually focuses on these vital topics that include-
How to Conduct IP Addressing
Information on VLAN and WLAN
How to design WAN and LAN
Info on Network Security and Management that includes ACL
Information about OSL models
Getting knowledge about routers and routing network that includes EIGRP, RIP and OSPF
If you want, you can also get certification in CCNA Voice, CCNA Wireless and CCNA Security. However, these are basically corresponding courses. This is not all. Cisco has introduced a number of Advanced CCNA exams specifically for the professionals such as CCIE and CCNP.
A Big Relief for Admission Seekers
Cisco is kind enough to provide a big relief to all the individuals who are willing to peruse the CCNA course. There is no such terms and conditions in order to get the certificate. The only requirement that needs to be fulfilled is passing the exam. You can first enrol at a training center to receive formal training so that you are better prepared for the examination. You can also avail the study materials published by Cisco. Other than that, you can also attend online classes and webinars.  It is to be reminded that the duration of the test is about 90 minutes.
Validity of the Certificate
Yet another vital point to remember at this juncture is that the validity period for the CCNA certification is about three years. Once the validity period expires, you have to renew it after qualifying for the exam.  Cisco is upgrading its certificate programs on a regular basis. It emphasises a curriculum that is based on specific industry standards and needs.
Important Exams to Qualify
If you aspire to obtain a CCNA certificate and give an extra edge to your career, you must pass either of two examinations. These include-
Combined CCNA Exam (200-120)
ICND1 Exam (100-101) and the ICND2 (200-101)
The first Combined CCNA Exam (200-120) is a composite exam that focuses on routing and switching. The preparation of the exam needs to be done by enrolling for the Cisco Networking Devices: Accelerated (CCNAX) course. You will have to prove your acquired knowledge in installing and operating as well as troubleshooting small to the mediocre enterprise branch network. Actually, it comprises of chapters ICND 1 and ICND2.
ICND 1 and ICND2 is two different topics. While the first part primarily centers around different types of networking and media, basics of switching, how to conduct TCP/IP, IP addressing, routing and WAN technologies besides others, the second part is dealing with advanced networks in switching, determining of VLANS and IP routes, managing the traffic and much more.
It's a Bet: You Opted for Best
There is no doubt over the fact that all Cisco Certifications are becoming incredibly popular, and their demand is hiking with each passing day. If you want to serve the IT sector, believe it, you couldn't have asked for a better course than CCNA. Several hundred thousand individuals have already cleared the exam and are placed well in various IT companies all around the globe.
Benefits of perusing the CCNA program
Below are mentioned some of the benefits of CCNA:
1. Promotion Opportunity with a Good Increment in Pay: So, let's start with an aspect that will bring a huge smile to your face. Of course, your aim in perusing this course is to flourish your career, and the CCNA certification is certainly not going to disappoint you on that front. As soon as you show the certificate to your company's HR department, you can surely expect a promotion in your designation and a hike in your salary. However, the percentage of increment may vary from one company to another.
2. Enhancement of Knowledge: There is no denial that every course or program of study helps increase one's knowledge as we come to know about new topics. The same can be said about the CCNA certificate course. Although it does not require any academic qualification but you acquire good sound knowledge on network and switching. This course is meant for youngsters looking to establish their career in the IT field and for the experienced persons associated with the industry. You will always remain updated with the latest developments in the field.
3. Getting a Recognition: With a CCNA certificate, you also earn a self-recognition. You will notice that your employer and your seniors at the workplace will start valuing your opinions and give much-needed respect. In fact, you can dictate the terms to the recruiter instead of him doing so when negotiating the salary column.
Expected CCNA Salary
So far, you won't read all positive about the CCNA certificate and also have been assured of a good hike in your pay. It must have increased your curiosity about the expected salary. A female Network Associate can expect an average salary ranging from $55,000 to $90,000. On the other hand, the males usually get a pay around $54,000 to $89500.  It is good to know that a female receives more than a male.
Recommended courses
Online Course on Java Hibernate
Online Certification Course in WordPress
Certification Course in Ruby
The Job Profile of CCNA
Now that you are glad to know the payment associated with CCNA, you also must get familiar with what kind of job profile can you expect?  Well, talking about job responsibilities, there are a number of designations that you can apply for. It includes network engineer, system engineer, administrating the IT networking, IT Manager or even a Director. The more experience you gain, the better are your chances of promotion.
Cisco Certified Network Professional(CCNP)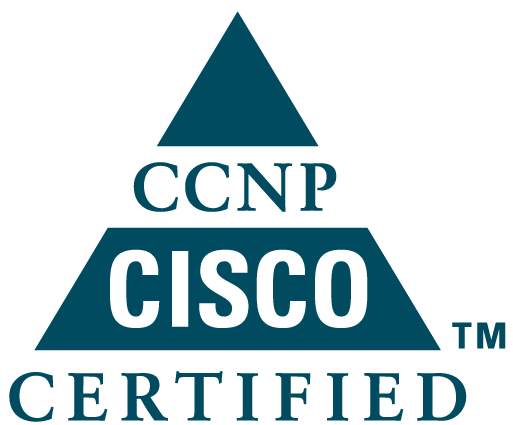 The Subject Matter of CCNP Program
As said, there is not much of a difference between the CCNA and CCNP programs.
The course mainly focuses on developing a few skills that include-
Establishing Better Coordination: First and foremost, it teaches you to establish better coordination with the network engineers and specialists while undertaking a project. The issues are related to wireless, video and voice solutions and sorting out the advanced security problems.
Designing and Developing Troubleshoot and LAN: You also get to learn and get trained in designing and implementing troubleshoot and Local Area Network, including authenticating them.
Essential Criteria for Obtaining the Certificate
Unlike CCNA, CCNP requires individuals to satisfy a few prerequisites. You can apply for the course only after availing of the CCNA Routing and Switching Certificate. Apart from that, you can also obtain the certificate if you posses the Cisco CCIE certification.
Are You an Eligible Candidate?
You have to find the answer to this obvious question before enrolling for the Cisco Certified Network Professional. The reply will be affirmative if you are a network engineer who has just started out his career after getting the CCNA certificate. This undoubtedly is a tailor-made program for those associated with networking and security, such as specialists, administrators, consultants, and so on.
The CCNP Examination
As far as the examinations associated with the CCNP program are concerned, there are basically three major tests which include-
SWITCH 642-813
ROUTE 642-902
TSHOOT 642-832
1. The Exam Curriculum
All three examinations will have questions related to advanced routing and switching. In addition, you also need to remain updated on the latest developments in security and networking. Whether it is Switch, Route or TSHOOT, all questions will be Multiple Choice Questions along with drag and drop and fill in the gaps. So, it is basically an objective type question paper. It must be noted that the subject matter of the examination keeps on changing without any prior notice; hence the candidate has to come thoroughly prepared.
2. Time Allotment for Each Exam
The maximum time allotted to complete each of the three papers is about two hours or 120 minutes. However, the total number of questions to be attempted is different. For the ROUTE exam, you need to attempt about 45 to 55 questions; whereas, if you are appearing for the SWITCH or the TSHOOT exam, the number of questions will be around 35 to 45.
3. The Validity of the Certificate
Here too, like the CCNA, the validity of the CCNP is about three years. It means that you have to again sit for an examination after its expiry and pass the exam to get the specialized certificate.  One additional benefit is that the person awarded with the prestigious CCNP certificate also obtains a special certificate as Forum Certified Gold Engineer.
Expected CCNP Salary
Obviously, the salary of a Networking Professional will be much higher than that of a Networking Associate as the post is quite senior. On completion of the course and obtaining the certificate, you can definitely expect an average salary of about $117,000. However, if you have just entered into the field, you can still get a pay of around $41,000 which may go as high as $1 33,000. Wow! What a flying start to a career.
CCNP is Simply Unbeatable
This phrase is completely true and appropriate in context to CCNP certification. You get a lump-sum advantage which can be discussed in the following points-
Knowledge of three different elements, namely; ROUTE; SWITCH; and TSHOOT, and work effectively on them
Acquire knowledge on how to organize various networks and keep an eye on routing and switching techniques
Strategizing and executing the plans for establishing a LAN enterprise network and troubleshoot with specialists
Have profound knowledge of advance techniques related to IP addressing, VLAN, IOS licensing and how to route Inter-VLAN
The Certificate adds great value to your career, and you can rise to of the highest designations in the IT company.
The individuals get a lifetime opportunity to work with some of the top-notched IT companies around the globe.
Lastly, it has been found in a study conducted by the U.S. Bureau of Labor Statistics (BLS) that the demand for skilled and eligible Network professionals is increasing at a steady rate.
It was also found in research that the average salary of a CCNP holder is nine percent more than other professionals of the IT sector.
Conclusion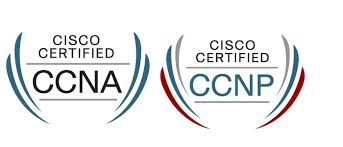 Both CCNA and CCNP are offered by the Cisco Certifications and have indomitable prospects. However, you can only apply for CCNP once you have received the CCNA certificate after passing the exam. Therefore, the final suggestion would be first to choose CCNA, complete it and then proceed further. Moreover, you are making your knowledge about networking more profound, which will help while you are perusing the CCNP program.
Recommended Articles
This is a guide to CCNA vs CCNP. Here we discuss the head to head comparisons with infographics along with career opportunity and certification. You may also have a look at the following articles to learn more –