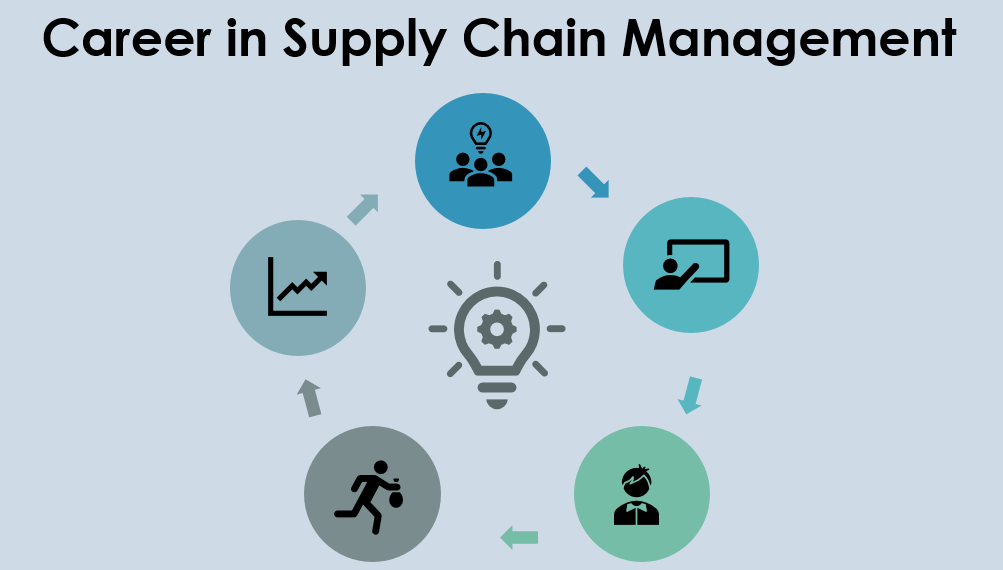 A career in Supply Chain Management
In this Topic, we are going to learn about a Career in Supply chain Management. The management of the flow of goods and services is called Supply Chain Management (SCM). It involves all the steps of transforming raw material into finished goods.
Considering the current scenario of Indian industries, Supply Chain Management plays a very important role.
There is a lot of scope in the field of Supply chain Management. This is the result of increasing limitations in a network of supply, business globalization, and proliferation, thereby reducing the product lifecycle. Therefore, the potential of employment of a graduate is very high in our country.
Choosing a career in supply chain management is not only very promising but also very challenging. A great impact is created on the performance and productivity of an organization directly depending on the performance of supply chain management.
The expertise of Supply Chain Management is required everywhere. Some of the business sectors involve FMCG, manufacturing units, healthcare, logistics, transportation, e-commerce, restaurants, etc.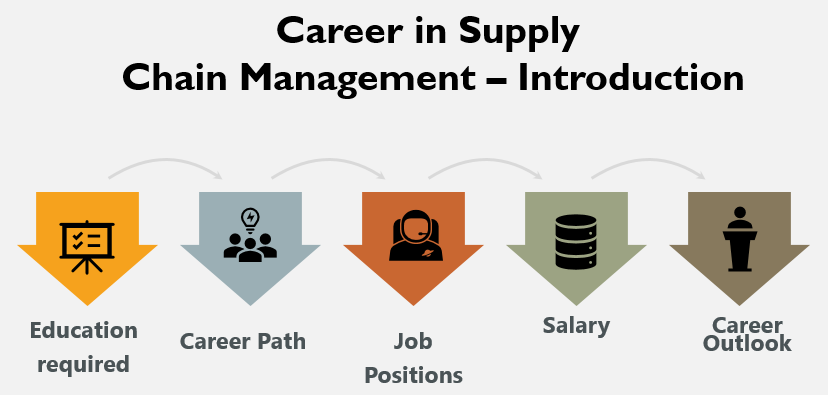 Education required for Career Supply Chain Management
We need a bachelor's degree for working in the logistics and supply chain management field. While some business organizations require a master's degree, others may require a professional degree depending on the job profile and the responsibility to be held.
There are internship offers for most degree programs. This provides an intuitive way of earning hands-on experience in this field.
Following are the different educational levels that should be helpful in deciding the career path:
Bachelor's degree
Bachelor's degree in Supply Chain Management: This course focuses on the study of supply chain management, logistics, transportation, warehouse operations, inventory management, procurement and also manufacturing processes, etc.
Bachelor's degree in Project Management: A bachelor's degree in project management provides us with training in leadership skills, planning tools, organizational tools, etc. It also includes the study of various techniques and tools required for effective project management.
Bachelor's degree in Operations Management: This degree provides students with the education of managerial techniques and skills such as organizational skills, motivational skills, hiring skills, etc. It also teaches us the skills for the development of resources.
Master's degree
Masters in Supply Chain Management: This degree prepares students for managerial positions. Such positions include government sectors and the private sectors.
Masters in Project Management: This degree prepares students for leadership roles. It educates them on the process of Supply Chain Management. Big environmental projects and environmental engineering projects are some areas of this education.
Masters in Industrial Engineering: This study helps students develop the skills needed to optimize high productivity processes.
MBA in Project Management: MBA in supply chain management provides advanced education for helping students develop management expertise and enhance their knowledge and skills.
Doctorate
Ph.D. in Supply Chain Management: This program is designed to help students utilize the rising need for workers with appropriate skills. These skills may include research, training, and teaching.
DBA in Supply Chain Management: A DBA in supply chain management program helps prepare students for research work on Supply Chain Management or alternatively pursue a career in academics teaching the importance of Supply Chain Management to students pursuing bachelor's degrees.
Certifications
Certificates in Supply Chain Management: These programs are designed to help students master an area of subject or topic in a short span of time. Once completed, they are provided with certifications specifying their expertise in that respective field or topic. The duration of these certifications is small, ranging from three months to nine months.
Online education: These educational programs allow students to receive distance education as well as certifications online via respective schools or universities that provide such online courses.
Career Path in Supply Chain Management
Getting the right education and experience is what is needed to pursue a supply chain management career path. After that, the next step is working for a firm or business organization and gaining experience by being a part of the supply chain management team.
Once we get adequate experience, we can enhance our skills and get promoted to supply chain manager.
There are many opportunities in the field of supply chain management career path. Following the most potential areas:
Warehouse Operations Management
Transportation Management
Logistics Management
Inventory Management
Purchase Management
Materials Management
All the above-mentioned positions provide huge opportunities in the field of a career in Supply Chain Management. Therefore, all of them are considered equally important.
Job Positions or Application Areas For Career in Supply Chain Management
Following are some of the job positions applicable to Supply Chain Management career enthusiasts:
Logistics manager
Supply chain director
Supply chain planning manager
Integrated programs director
Inventory manager
Following are the crucial application areas in the supply chain management industry. These areas include:
Supervision of Manufacturing
Quality Control and Analysis
Inventory control
Logistics management
Distribution of Materials
Management of Materials
Disposition and investment recovery
Packaging
Forwarding
Purchasing
Material Procurement
Development of Product/service
Receiving of Materials
Strategic sourcing
Transportation and shipment
Warehousing and storing
Salary
The average salary for a Supply Chain Manager in India is ₹15,96,000. This report is based on 121 salaries submitted to the Internet anonymously by Supply Chain Management employees.
Please note that the above information is taken from a statistical website and is for informational purposes only.
Career Outlook
Supply Chain Managers plays an important role in running a business. They are important in every sphere of the business. The flow of the business process is as follows:
Planning > Purchasing > Production > Transportation > Customer Service > Storage >Distribution.
With the current scenario of globalization, it is the right time to get into the field of logistics and supply chain management. According to a study, employment in Supply Chain Management is likely to grow around seven percent between 2016 and 2026. Hence, employment growth will rise with the need for logistics resulting in the growth of requirements in Supply Chain Management in a global economy.
Recommended Articles
This has been a guide to a Career in Supply Chain Management. Here we have discussed the Education, Career Path in Supply Chain Management, Jobs, Salary, and Career Outlook in Supply Chain Management. You may also look at the following article to learn more –