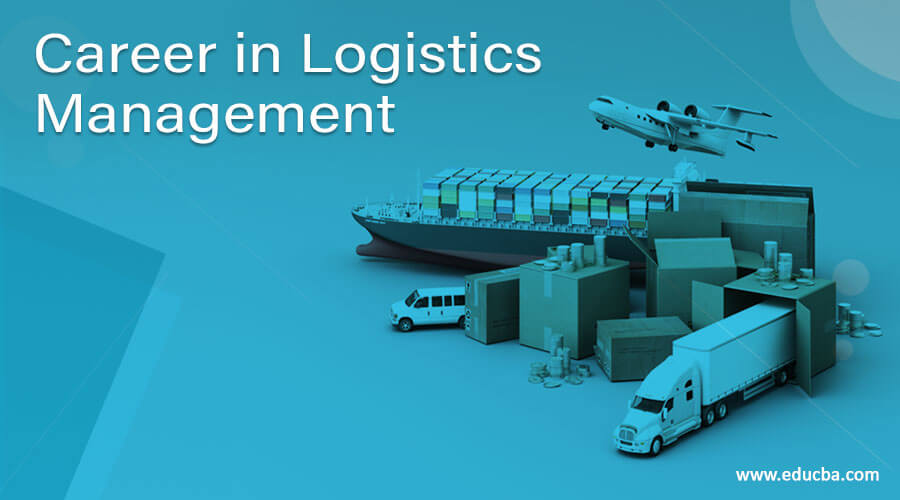 What is Logistics Management?
Generally, when a question is asked from a youngster about his career plan, his/her instant answer is maybe a doctor or an engineer, and further still police, teacher, psychologist, etc but can he ever imagine a "Career in Logistics Management". It is strange, we are confined with few choices, but do we know there are many career opportunities and one of them is a Career in Logistics Management. It is a highly demanding field with paradoxically many capable brains that do not want to acquaint themselves with but this career is very well here, recognized and with great potentialities of growth.
Logistic managers work at the heart of the organizations as they are the ones who ensure manufacturers are getting requisite raw materials and the finished goods and services are reaching the end consumers or any other desired destination. Logistics managers steer the company towards its growth. Logistics Manager is required in every business, whether big or small. A small businessman would have one logistic manager but big organizations have separate Logistics management and Supply Chain department.
Many start their career in Logistics Management from the entry-level and work their level up acquiring more responsibilities and higher salaries. The manufacturing sector employs the largest number of logisticians we can say around 40 percent of them, and can acquire different job titles, with some of them are:
Consultants
Customer Service Manager
International logistic Manager
Inventory Control Manager
Logistics Engineer
Logistics Manager
Logistic Service Salesman
Supply Chain Manager
Purchasing Manager
Systems Support Manager
Transportation Manager
Vendor Managed Inventory Coordinator
Warehouse Operations Manager
Here I would focus on how to build a career in Logistics Management
What Does A Logistics Manager Do?
A Logistic Manager is also known as a Supply chain manager who manages the transport of inventories and raw materials, manufactured products, and different goods and services from one place to the other. They get the help of the Council of Supply Chain Management Professional (CSCMP) who explains to the Logistics manager the way to connect the suppliers to consumers in the production of the goods while handling the different steps in between. It is the job of a Logistics manager to have all the products in their proper condition and quantity is transported on the spot at the right time. They look after the companies following needs:
Warehousing
Complete Inventory Control
Proper Transport arrangements
Handle Materials properly
Reasons Why You Should Consider Career In Logistics
Logistics is very important for any company as, without its proper execution, the company would cease to function and there would chaos all over the organization. Just imagine a situation if a production department does not receive raw materials on time, how will it start its manufacturing process. A logistics manager looks after all the operations. The in-house logistics process then works with outbound logistics management for products and services to get distributed.
Here are some of the reasons why you should consider a career in Logistics:
1. More Opportunities in Logistics
As the world economy is getting closer, multinational companies and corporate giants are looking forward to Logistics for new opportunities. As per the estimates of the US Department of Labor, the jobs in Logistics would continue to grow by 25.5 percent from 2010 to 2020. In this field than at least 27,800 jobs more are expected to be generated.
2. Logistics Management Salary
The approximate salary of a Logistician is around 53,000 dollars while the annual earning is around 74,000 dollars. The salary distributed among the lower rung was estimated to be $43,500 in 2010, but the topmost ten had been earning more than $108,000 every year and this salary will sure be going to be doubled. The topmost market for Logistician in the United States is Bellingham, W.A.
3. Logistics positions are available for anyone
It is a general assumption that a Career in logistics needs an advanced degree but it also depends on which logistics field you are interested in. Naturally, you need a Bachelors's degree if you want the job at the senior level but there are also jobs as truck drivers, warehouse workers, and forklift operators. They all make the part of the Logistics team requiring Logistics executives. There is always a scope of growth in Logistics and opportunities for advancement are also many, besides the department provides training programs for aspiring candidates, and promotions are also quite common. Hard workers and innovative persons can reach a higher hierarchy level quickly and positively.
4. US Government also provides Logistics Training
Many people enter Logistics after serving armed forces, where Logistics plays a most critical role and is very sensitive too. The four years of experience they get in an army is enough for gaining the position as a mid-level logistics in any organization or manufacturing unit.
5. There is no geographic limitation to Start Career in Logistics
Logistics is not confined to any particular geographic area or a specific industry. You can begin a Career in Logistics from anywhere or in any part of the world and in any industry or a company. Nearly all companies or organizations require Logistics workers and a few industries like the army, the oil industry, and the coal industry are the hubs of Logistics.
6. A career in Logistics management is Very Interesting
People who are already working in this field know how interesting is this occupation? Every day they have a new task ahead and a new challenge in front of them. And they are doing a multitude of tasks. They have to show responsibility, diligence, intelligence, shrewdness, and make proper strategies and plans. After all, they have to keep, transport, and deliver each and every item securely and that too as scheduled. Their tasks become difficult when it involves transportation and delivery on higher altitudes where roads are rough and risky, and when goods have to be carried across oceans, through forests, and even in war zones. There are a lot of risks and stakes involved in this occupation. Only the most experienced and skilled person can achieve this feat.
7. A career in Logistics for women are also doubling
A career in Logistics was traditionally held by men and in many nations still, men are dominating in this area. But slowly the situation is changing as now women are also holding top positions in logistics and are doing their job perfectly well.
8. Logistics can also become a first step for entering in International Business
People who have started their career in logistics can also gain quick experience in doing international business, and develop new skills. This business gives you much exposure to meet people across the lands and even learn their language and culture. You can also learn many tits and bits of doing business overseas. Besides you might also get an opportunity to temporarily relocate overseas lands.
You can establish fraternal relationships
Logistic managers consider their co-workers as their teammates and consider them as their biggest asset. People working in it feel a sense of pride in what they do and achieve.
Recommended courses
Manage Project Integration Training
Educational Requirement to make Career in Logistics Management
The educational requirement depends on the industry for which a manager is required and the respective needs of the company. It is seen that at least a bachelor's degree is needed to apply for a position. The CSCMP recommends having an internship and work experience along with its business skills and know-how of supply management as a necessary requirement. The industry also demands a candidate having experience or knowledge of the specific industry for which he is applying.
A bachelor's degree in Logistics, supply chain management, business administration is a field that can prepare graduates to build their careers in logistics management. In the course, students are taught the ain concepts, processes, and strategies of supply chain management including key aspects in business management. The degree program also includes
Global logistics,
Logistics operations,
Storage and distribution,
Accounting and business law
A custom service position that is at the lowest hierarchy level needs an associate degree with many jobs needed a bachelor's degree. Many employers also necessitate having a master's degree. Students are made to go through lessons in administration, finance, marketing, international business, statistics, and conflict resolution. Programs also offer many internship options to get first-hand experience. Students need to gain expertise in
Supply chain analysis,
Supply Chain Management Strategies
Global Procurement and Supply Management
Domestic and International Transportation Management
Principles of Traffic Management
Technology and Product Innovation Management
Besides a Logistics Manager needs to acquaint himself with software programs for tracking movements and maintaining the record of inventories and accounting.
There is also online education available which offers logistics degree programs at different education levels.
Different Degree Options
Logistics degree programs cover managerial decision-making distribution and logistics and supply chain management and management. Some of the programs are also offered as operational management degree programs or logistics and supply chain management degree programs. Some schools also offer a degree program in transportation and logistics.
Pre-requisites for Logistics & Supply Chain Management Job
You start your Career in logistics as the Customer Service Manager which is a common entry-level Logistics and Supply chain logistics management stream. Listening to and servicing customers is crucial to any business. Many companies also expect an entry-level employee to manage product inventories, shifting of products, and arranging transportation including managing the supplies that are required for production. Many organizations also require entry-level employees working as the distribution clerk, van driver, operational clerk which can become a stepping stone for advanced level positions.
Some of the entry-level jobs are operational research analyst or process associate which is more focused on analytical and critical thinking and may need certifications for the process.
Advanced level of Logistics and Supply Chain management
As the person continues to gain experience in Logistics, there is a climb of the hierarchical level. The positions available are industry analyst, global logistics manager, operational director, transportation director, international logistics manager. A Logistical manager is in charge of the efficient movement of the goods and services from the suppliers to the consumer. A Logistician looks after proper flow and management of the products that start from collections, arrangements, transportation, maintaining the record to the final delivery. While a Supply Chain Manager checks the proper functioning of all the systems and then streamlines all the activities. The experienced candidates can also reach the position of President and Vice President who looks into the various aspects of Logistics and Supply chain management.
Many multinational companies also seek Logistics managers for their cross-country operations, as they work with logistics companies and foreign distributors for conducting their business. You also have the opportunity to work as consultants and in a capacity of the same can work with many different companies, at the national as well as international level. Consultants offer strategies and tips on how the way the processes can be streamlined.
These are some of the best Supply Chain Masters courses available:
Purdue University, MBA in Global Supply Chain Management (U.S.A)
It is based at Purdue University which is located in Lafayette Indiana, having a full-time year-long program providing contextual and problem-solving skills.
Maastricht University MSc Global Supply Chain Management and Change (Netherlands)
It is a complete Global Supply Chain Management and Change program for meeting supply chain requirements providing innovative approaches for the success of the businesses. The institute is in Venlo giving students the opportunity to place their knowledge in practice.
ESSEC Business School Advanced Master's Degree in Logistics and Supply Chain Management (France)
It is an advanced Master's degree program for providing professional training in basics in Supply Chain management. Certification is provided by the American Production and Inventory Control Society which is taught to them in French. The program aims to make its graduates become professionals.
BEM – KEDGE Business School ISLI – MS Global Supply Chain Management
The business School provides the MSc Global Supply Chain Management program to meet the multicultural manager's needs. Companies approach the institute to gain Supply Chain Excellence and help them learn and grasp new-age business management with supply chains that extend across the borders and oceans.
Recommended Articles
This is a guide to a Career in Logistics Management. Here we have discussed a brief overview, education requirement, prerequisite, and reasons why you should consider Career In Logistics. You may look at the following articles to learn more –