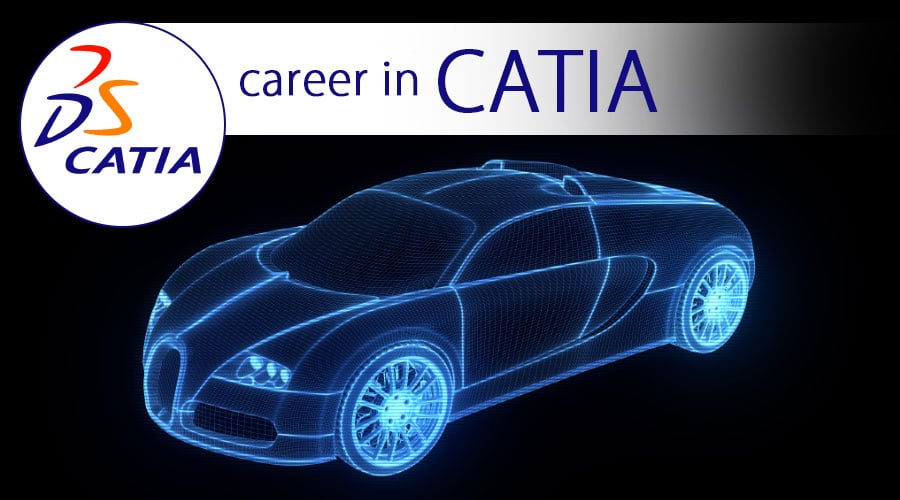 Introduction to Career in Catia
In this topic, we are going to learn about Career in Catia. In order to have a successful product, every aspect of it needs to be right- design, methodology, technology used, quality of the product, as well as price. So as to make a great product for the market, an interdisciplinary group of specialists that have a deep understanding of the product and its manufacturing process is required. For design purposes, whether it is industrial design, sheet processing, drawings, engineering, developing equipment, machine development, 3D circuit board layout, electrical wiring, piping design or digital validation (DMU) – to name just a few – CATIA offers each client an exclusively customized solution for their specific tasks.
Computer-aided three-dimensional interactive application or CATIA is a software suite for
Computer-aided design (CAD)
Computer-aided manufacturing (CAM)
Computer-aided engineering (CAE) and
Product lifecycle management (PLM).
This software is developed by the French company Dassault Systèmes, offers a complete set of engineering tools for many platforms within a single working environment. It is used to design, simulate, analyze, and manufacture products in a variety of industries, including aerospace, automotive, consumer goods, architecture, energy process, and utilities and industrial equipment. It provides an instinctive experience for both experienced and non-experienced users with one of the best 3D modeling and simulation capabilities that optimize the effectiveness of every user. It serves as the creativity of the designer. Industrial designers can manipulate shapes however they like and take benefit of the tools to add more ideas in early conceptual phases.
Education Required to Build Career in Catia
Since CATIA is software, there is no need to have a prior degree or education; there is a certified course available that will improve your level of expertise to use the software. This course will give you recognition in the market hence increase career opportunities. However, some professionals require some sort of vocational training or two to three years of a diploma from a college with a technical or career program. Some organisations may also want you to have a Bachelor's degree in a specific course depending upon the field you are applying to. Mostly for a career in the manufacturing industry, general engineering or industrial engineering is required.
Career Path in Catia
To start a career in designing, one needs to be creative and should have a passion for the field. As CATIA is used in product development, the person needs to have good imagination who can visualize the idea and have an innovative approach. Organizations like to hire those individuals who have an interest and aptitude in technology.
Bachelor's degree in industrial designing, general engineering or architecture is required to get a job. The degree course should include product designing software tools like CATIA, Pro E etc.
Prior experience is always beneficial to get any job. While getting your degree to start doing some internships to get a practical knowledge of the corporate world.
To manufacture products, one needs to be fast and accurate; it's essential for workers to be both focused and detail-oriented, and these traits are nurtured over time by working on the software every day.
Learning a different language will be helpful as one might have to work in a different country.
Application Areas For Career in Catia
Application areas CATIA is used in different stages of product development, including theoretical design, engineering, and manufacturing.
1. Mechanical engineering
CATIA facilitates the production of 3D parts from 2D sketches, composites, molded, forged or tooling parts. The software provides tools to finish product definition, both functional and kinematics definition.
2. Designing
CATIA provides a solution to shape design, style, surfacing workflow and visualization to draw, modify and validate complex, innovative shapes from a mere sketch to specified structures with the ICEM surfacing technologies. CATIA is used in many phases of product design, whether it is made from scratch or from 2D sketches.
3. Electrical engineering
CATIA is used to design and manufacture all the electrical components required in developing the whole electrical system. At first, you have to gather all the requirements then draw an electrical diagram. An interactive 3D structure is produced using wire harnesses, industrial cables, and boards based on the sketch.
4. Fluid systems
All the equipment such as a tube, pipe, and Heating, Ventilating & Air Conditioning (HVAC)systems are designed and manufactured using CATIA. The proficiency of the software enables these 2D diagrams to be used to make the 3D models.
5. Aerospace
The career in catia provides all the required tools to perform the advanced and specific 3D design of sheet metal parts. It also provides a function of productive and innovative Designing solutions to the user, including applications that concerns shape design, image rendering, and interfaces. The framework of this solution gives the user a high-quality product.
Salary
The salary of a designer may vary based on different parameters such as experience, employer and location. As of 2018, the average annual package for a Catia Designer in the United States is around $69,000 a year.
Career Outlook in Catia
CATIA is the world's leading solution for product design and development, has a huge market. It is being used by major organizations in various industries, business, companies, OEMs etc. Currently, there are many job openings for CATIA certified students. In addition, these job opportunities will remain available throughout the year.
As per the ongoing status from a major job portal in India, there are about 35000 job posting that requires a Design Engineer. With the change in industries, the demand for design engineers will also grow in the future.
Conclusion – Career in Catia
CATIA is a software suite used for design purposes. It offers a variety of application in the industry, and because of this, there is a rise in demand for the product. Industrial designers can manipulate shapes however they like and take benefit of the tools to add more ideas. To learn CATIA, a certification course is available that will prepare you to get a job. Aerospace, automotive, shipbuilding, industrial equipment are some of the fields that one can apply to. With industrialization, growth will be seen in the utilization of this software.
Recommended Article
This has been a guide to Career in Catia. Here we have discussed the Introduction, Education, Career Path in Catia, Application Area, Salary, Career Outlook in Catia, etc. You may also look at the following articles to learn more.