Updated May 8, 2023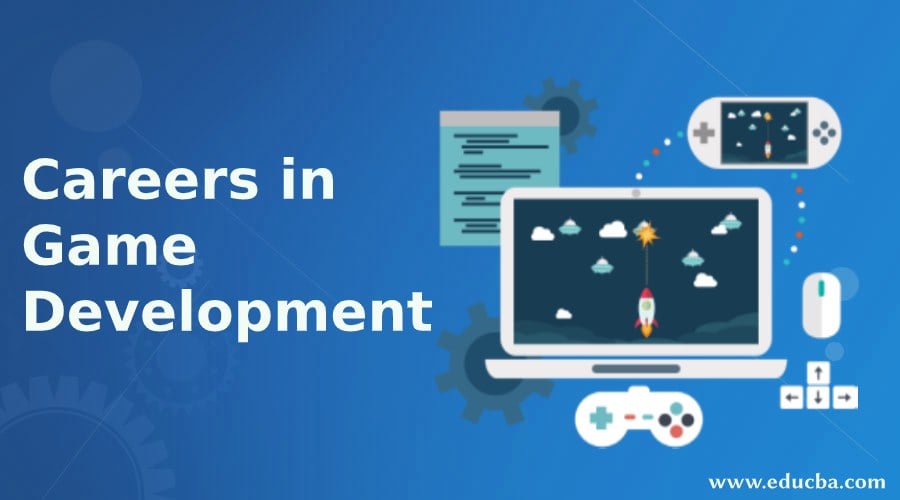 Introduction to Careers in Game Development
In this Topic, we will learn about Careers in Game Development. There would not be a child that has not played any games in the history of man. But were you one of those who invented a new game every day to play with your friends? If you did invent games, were you popular? You may have a basic understanding of game design, which, combined with formal training, would make you a game designer, a professional who designs games.
On the other hand, if you were good at making your friend's game work, you can be in-game development; Just kidding. It comprises many different things, and today, we will tell you about them.
A game has three main components – a premise or story, gameplay mechanics, and visual or sensory aids. For a video game, this translates to the game's engine, code, artwork, visuals, sounds, and story or goal.
Education Required to Build Careers in Game Development
Computer science graduates pioneered video game development, the first being Pong, a tennis-like game invented at AT&T Labs. However, it is not necessary to have a degree in computer science. You can apply for programming positions without reservation if you are a competent programmer. The industry is more oriented in looking at your capabilities than paper credentials.
Yet, if you are targeting a particular line of work in the video game industry and are not an extraordinary talent, you would be well advised to go for formal training based on the line of work you prefer, and trust me when I say; there is something for everyone in this industry.
Leaving the lawyers, accountants, and salespeople, specific talent needed in the video game industry includes professionals in 2D and 3D graphics, animation, sound engineering, and game programming, as well as musicians, actors, martial arts choreographers, voice artists, production managers, and so on. Each of these disciplines has a learning path, and you must choose appropriately according to your need.
Career Path in Game Development
You can start as an independent game developer or as part of a video game studio. The independent path is like starting on your own in any other business – full of difficulties and requiring exceptional perseverance more than talent.
Try it only if you have an excellent financial backup for at least a year or two to get at least one complete game released, depending on your game's scale and complexity and the parts you can build with your capabilities. For the things you cannot cover, you will need help from other people, and you do have choices for taking this help in different ways. You can use pre-existing game engines to cut the cost and time of developing your own. You can also look for pre-built code and artwork from various marketplaces and platforms like GitHub.
While developing your game, you must also promote it by building an audience before its release. Most indie developers do this independently; a few have enough funds to cover the expenses of a marketing team or representative. If you score a hit with your first game, you may have a shot at a career as an indie developer.
The more accessible and sustainable path is looking for a job at a studio. You can work in one specialization and have prospects that depend solely on your quality of work.
Job Positions or Application Areas
In the technical teams, you will either begin as a junior programmer or a junior artist and can rise to lead a team or project over time, depending on the quality of your work and available vacancies or opportunities.
Some positions are above this hierarchy, but decision-makers usually do not access them through the above route. These include directors, producers, game designers, and the studio's board of directors at the top of the chain.
Salary
Starting salaries vary by line of work and location and the conditions in the local industry, but on average, video game programmers make more than artists.
As indicated by a search result on PayScale.com, an average salary of a game programmer in 2018 was a little above 63 thousand dollars in the united states, and the average salary of a video game artist was slightly more than 52 thousand dollars.
For India, as a search result on Glassdoor.com indicates, salaries for game programmers were between Rs 3-4 lakh for small to medium-scale companies and around Rs 5-6 lakh per annum for significant studios.
Career Outlook
The video game industry has grown in multiples in the last twenty years, and as technology advances, more platforms are gaining ground. At the beginning of the 21st century, PC and console games were the only show in town. Handheld consoles and mobile games were a tiny part of the industry. These two segments have gained a significant audience over the years as the platform technology has progressed. Today, the industry is valued at over US $100 Billion and poised for robust growth. Developers are also developing augmented and virtual reality as new, more engaging platforms. When they are ready with the proper hardware platforms, it will give birth to a whole new subset of the industry.
This means there are growing opportunities for artists and professionals who want to pursue careers in the game development industry. The subsets of specializations will grow along with new platforms.
Conclusion
The video game industry is hard to begin a career in but very rewarding to determined, hardworking, and talented people, whether in technical or non-technical lines.
Considering the industry's growth prospects, it can be said without a doubt that it is an excellent place to look for a job if you want a specialized professional career in Game Development and are focused, hardworking, and talented at what you want to pursue in the industry.
Recommended Article
This has been a guide to Careers in Game Development. Here we have discussed the Introduction, Education, Career Path, Job Positions, Salary, and Career Outlook. You may also look at the following articles to learn more –