Updated May 25, 2023
About Betsy Ross House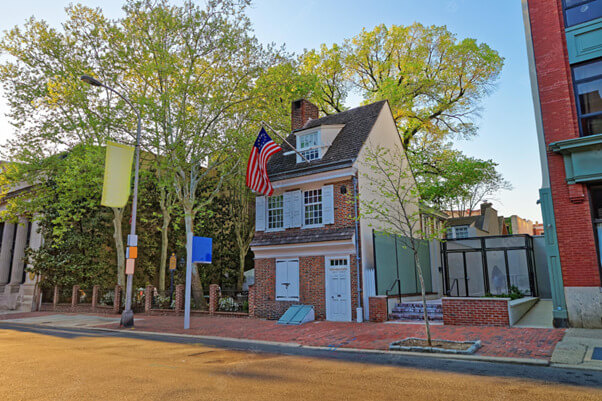 Have you seen the beautiful Betsy Ross House? One of the gorgeous landmarks in Philadelphia, the Betsy Ross House, is worth a visit.
This beautiful house cum museum is where the flag maker Betsy Ross lived. It is believed that she sewed the first American flag inside the house.
History of Betsy Ross House
It is believed that she never owned the house. She was staying on rent for the years 1773 to 1786.
This house was built back in 1740 with decent architecture. It included 3- ½ floors with 6 rooms and an attic.
She used to live with her husband, John Ross and ran an upholstery business out of the house. Future generations disclosed this information.
Other businesses came to the house and acquired it. Betsy was asked to move out in 1786 and leave her belongings as it is. It was later when the Betsy Ross memorial association acquired the house.
Who Gave Funds to this Association?
It was the Americans! They donated approximately 2 million dimes in 1898 to the association. It was done to convert the house from a building to a national shrine. Americans had similar emotions and didn't want the place to be a time-worn building.
It was only in 1920 that the neighborhood declined, which led to serious consideration of moving the structure of Fairmount Park. The latter is the largest urban park in the United States and was considered due to a safety concern.
There were serious fire risks around the two adjacent factories that made people consider moving to Fairmount Park.
Are these factories still present?
No! These factories are gone. If you visit the place, you'll find no traces of fire-prone factories. It was in 1937 that the building was donated to Philadelphia.
The city donated the building and restored it with all monetary assistance. This monetary assistance included radio-manufacturing expert Atwater Kent (a millionaire).
History has the essence of the house. It is dedicated to the house staff and donors. It salutes them for their generosity.
It gets more than 250,000 visitors annually. They tour the house in person, and more than half a million people take a virtual tour of it.
You may visit the official website for a virtual Betsy Ross House tour. It's a place where the American flag's history was made.
Some Interesting Facts
More than two million Americans donated dimes to convert the Betsy Ross House into a national shrine.
It was in a state of disrepair before 1898.
Each American donor received a certificate of the donation.
They also got a copy of the Weisgerber painting that said THANK YOU.
Today, Liberty Bell and Independence Hall have more visitors than the main house of Betsy Ross.
It is in Philadelphia, where many visitors come and pay respects. Some also visit for sightseeing.
The adored flagmaker Betsy Ross used to live on rent in the house.
Every year, it gets over a quarter of million visitors.
Quick Facts
Location
 239 Arch Street (between Second and Third Streets)
Style
Georgian
Built
Circa 1740
Timings
10 am-5 pm daily: March 1 – November 30

Tuesdays – Sundays, 10 am – 5 pm- December 1 – February 28,

closed at 3 pm on December 24

(Open December 28, Martin Luther King, Jr. Day, Presidents' Day)

Entry Fee
Adults $8,

Children/Students/Seniors/Military $7.

Telephone
215.629.5801
Is there a Gift Shop at the Betsy Ross House?
Yes, there is a gift shop at the venue. Here, you may see people of Philadelphia selling jewelry, postcards, clothing, dolls, and other collectibles.
All the sale merchandise is made in the United States of America. It may also provide refreshments and restroom facilities.
Worried about parking?
Don't! it offers street-metered parking. There are also parking garages nearby. The rest one has to walk.
It might be hard to find! Why don't you take a cab or bus facility?
Don't park illegally, as the parking authorities are strict.
Recommended Articles
We hope that this EDUCBA information on "Betsy Ross House" was beneficial to you. You can view EDUCBA's recommended articles for more information,