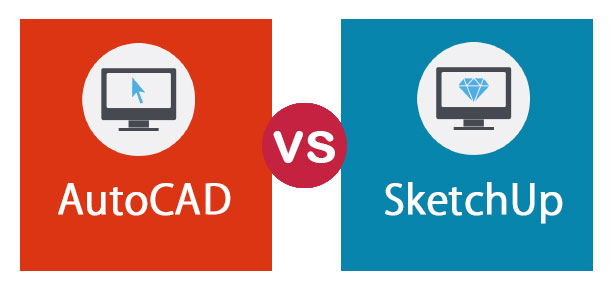 Difference Between AutoCAD and SketchUp
AutoCAD was developed keeping in view the computer-aided design (CAD) architecture and is a drafting software. AutoCAD is primarily used in designing blueprints and floor plans by various production and construction companies. Autodesk first developed and marketed the software as a standalone microcomputer application. Eventually, it was released as a full-fledged OS-based software. AutoCAD was later also released as an online tool with the name of AutoCAD 360. Files created in AutoCAD have the extension .dwg.
Sketchup is another 3D modeling based design software that Google and Last Software initially developed. It was launched as Google Sketchup. Trimble Inc owns the software. Today. Sketchup is useful for creating civil, mechanical engineering, filmmaking models, etc. A highly versatile software, Sketchup is available as a free web-based application with a paid version offering added functionality. Designs in Sketchup are saved in SKP format with the extension .skp.This article provides Ditail comparison of autocad vs sketchup.
Head to Head Comparison between AutoCAD and SketchUp (Infographics)
Below are the top 6 differences between AutoCAD vs. SketchUp :

Key Differences Between AutoCAD and SketchUp
Both are popular choices in the market; let us discuss some of the significant differences:
AutoCAD is a tool primarily used to draft and design 2D designs and print those designs on paper for use in the field, while SketchUp is a 3D modeling application that assists you in creating models how they would seem in real life.
AutoCAD has many features and plugins to customize the designs precisely per your needs. This makes learning AutoCAD a time-taking task. On the other hand, SketchUp has a simpler interface and can be learned relatively fast.
AutoCAD does not import many file types for editing and integration, while SketchUp is less adamant. It can only import dwg files, while SketchUp can load 3DS files, a popular format.
AutoCAD is comparatively better than SketchUp when it comes to rendering the details. Models in AutoCAD can effectively replicate shadows under various lighting conditions. Designs in SketchUp are not as detailed as in AutoCAD, and one can tell by looking at the design it is software work.
AutoCAD has developed twelve extensions for discipline-specific applications. SketchUp does not offer a different vertical for different applications.
AutoCAD monthly subscription plans start from INR 10,000. A paid monthly plan for Sketchup costs INR 8500. It is available for free. A lifetime license for SketchUp costs roughly $1,500. INR 50,000.
AutoCAD has no official library for users to upload and share their designs. SketchUp has a huge library under the name of 3D Warehouse, which involves thousands of users who regularly upload and download different designs directly from the portal.
AutoCAD does not allow importing files from the internet directly. It must be downloaded onto your system before loading it into the software. SketchUp can fetch designs up to 50MB large and load them directly into the software, which you can download later.
AutoCAD is also available in a student version at a smaller price, while SketchUp does not offer a student concession.
AutoCAD can support many APIs, such as AutoLISP, Visual LISP, VBA, etc., so that you may customize and/or automate your tasks to some extent. SketchUp does not support many APIs and features a native integration for LayOut API.
While AutoCAD has its own large set of plug-ins available for integration, it does not support third-party plugins. All plug-ins must be installed from the Autodesk App Store. SketchUp can integrate third-party plug-ins, which can be added from the Extension Warehouse, a site hosted for the same purpose.
AutoCAD is available in more than 10 languages, and documentation can be done in additional languages. On the other hand, Sketchup is only available in 9 languages.
Since AutoCAD has a lot of tools to choose from, the UI may sometimes appear clutteredSketchUp's user interface is rather straightforward, making it easy for new users to use.
AutoCAD vs SketchUp Comparison Table
Below is the topmost Comparison:
| | | |
| --- | --- | --- |
| The basis Of Comparison  | AutoCAD | SketchUp |
| Definition | It is a computer-aided design (CAD) based computer application. | It is a 3-D modeling based computer application. |
| Usage | AutoCAD is used by civil engineers, architects, town planning companies, graphic designers, etc. | Sketchup is used by architects, interior designers, filmmakers, 3D modelers, etc. |
| Features | AutoCAD supports many APIs and allows the conversion of files into other formats. | Sketchup can create 3-D models with near realistic rendering. The models are viewable on Google Earth. |
| Platform | AutoCAD is available on a computer as a standalone application with multiple extensions. It is also available as an online tool. | Sketchup is proprietary software and is available for download as well as an online tool. |
| Libraries | AutoCAD has a large plugin repository available on the Autodesk Exchange Apps Store. | Sketchup has a user-based library where users can download and upload their designs to share. |
| Licensing | AutoCAD is available as a full commercial software and with a student license. It also has a free plan with limited functions. | Sketchup is available in Free, Pro & Make versions with different functionality depending upon the plan. |
Conclusion
To conclude, AutoCAD vs Sketchup are both great software for creating and publishing designs for different things professionally. While AutoCAD is great for 2D and 3D designs that revolve around civil, mechanical engineering, and architecture, SketchUp can help you design 3D objects and render them on the world map. Your choice of software depends upon the needs of your clients and the nature of your work.
If you are an engineer or an architect, who needs to design floor plans and/or big designs, AutoCAD would be your software of choice. On the other hand, if you happen to be a filmmaker, graphic designer, or production engineer who needs to design 3D models of parts, then SketchUp would be your pick. Financially, AutoCAD is comparatively more expensive than SketchUp. At the same time, AutoCAD offers much more customization options than SketchUp.
Both AutoCAD vs SketchUp platforms are great and work very well. Both AutoCAD vs SketchUp can be learned quickly and don't take much time to get familiar with. Ultimately, it all depends upon your preference and requirements and which one you find more suited to your needs.
Recommended Articles
This has been a guide to the top difference between AutoCAD vs SketchUp. We also discuss AutoCAD vs SketchUp key differences with infographics and comparison table. You may also have a look at the following articles to learn more –