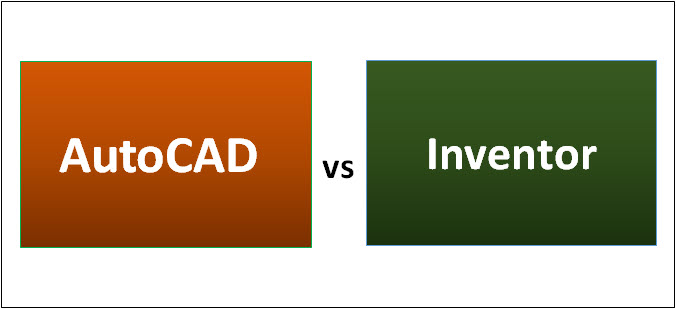 Difference between Autocad vs Inventor
AutoCAD is a heavyweight design production platform with post-development features. Developed and marketed by Autodesk, AutoCAD was initially released in 1982 as a desktop app running on microcomputers with internal graphics controllers. The latest version of AutoCAD was released as AutoCAD 360 that supports mobile and web also. Used by a wide range of industries, by project managers, engineers, architects, town planners, and many other professionals. The beauty of Inventor is that it allows the user to blend the 2D and 3D data into a single environment that creates a virtual presentation of the output product that helps the user to validate the form, fit and function of the product before it is ever built. An inventor is developed on a dimension-driven design. Drawing any shape or object is simpler using the inventor.
Head To Head Comparison Between Autocad vs Inventor (Infographics)
Below are the top 6 differences between Autocad vs Inventor

Key differences between Autocad vs Inventor
Both Autocad vs Inventor are popular choices in the market; let us discuss some of the major Differences Between Autocad vs Inventor:
AutoCAD is difficult to use and adapt due to the generic domain, while Inventor is easy to use due to industry specificity.
AutoCAD works based on designing and discovering new items while Inventor targets users who want to test something in motion. For example, AutoCAD is used to design the robotic machine, while Inventor can be used to imitate how that machine would move when used.
Since AutoCAD is used for designing and drafting, it is more used than Inventor as it ensures the right materials used before any tests.
If the user needs to work with a technical aspect of a program or device, then using Inventor would be perfect than using AutoCAD.
Inventor incorporated 3D modeling features by default, while AutoCAD lacks in these since it was primarily a 2D software and later it adapted 3D modules.
An inventor is visually and technically user-friendly software, as compared to AutoCAD.
AutoCAD is not a very smart program in comparison to Inventor. The user must draw lines all over again if anything he wants to change or move in the drawing later.
An inventor can distinguish between assemblies, parts and 2D drawing, unlike AutoCAD.
The inventor can update the existing geometry based on the updates within the base part of the geometry. While this base-part proportionality is not available in AutoCAD.
AutoCAD is a gigantic design production application with features like cross-sectioning, artificial lighting based-renders and panoramic rendering for virtual walkthroughs. While the Inventor is an application used after the designs are manufactured.
As the user creates 3D parts like chamfer, hole, fillet, all are stored as independent features in Inventor. While in AutoCAD, the user finds it difficult, and they must delete and re-create the specific feature.
The inventor was created for primarily the Manufacturing company. While AutoCAD was made for a larger audience. It was designed for Civil, Plant Design, FM, AEC and more.
An inventor does not use layers. That means it sets up all the parameters once and then automatically assigns them to the parts from that point. While it is a troublesome task to use layers in AutoCAD.
Inventor allows the user to use any specific file formats or individual parts and assemblies. It has an amazing geometry-based engine designed to ensure that all readouts and analysis reports are generated in real-time.
Since AutoCAD came a much before, people are more drifted towards AutoCAD. Inventor, on the other hand, was introduced much later.
An inventor is much more like a practical demo giving software where the user gets to know how his designs are working in motion. While AutoCAD is more for creating new models out of imagination.
Inventor being the latest amongst the two, has the shortest learning curve, gives speedy results, has a very attractive workflow and interface, while AutoCAD is no less than it, but still, it lacks in some features.
AutoCAD vs Inventor Comparison Table
Let's look at the top comparison between AutoCAD vs Inventor; –
The basis of comparison of AutoCAD vs Inventor

AutoCAD

Inventor

Definition
2D drafting software that can also create 3D objects
It is based on only 3D objects.
Usage
It is used by any designer who works on 2D or 3D designing or drafting
It is used by developers or designers who are specialist in manufacturing
Design
It is a Geometry-driven software
It is a Dimension- driven software
Compatible File formats
It uses only DWG file type
It uses IPT, IAM, IDW, IPN file types.
Specialty
It's mostly used for 2D designing and documentation
It's mostly used for 2D/3D designing and production.
Characteristics

It came much earlier, so; it has a larger audience and industries
It is used for general purpose.
AutoCAD allows the user to upload a diagram or any drawing and edit it in real-time while sharing it with other people.
In AutoCAD, the users can review their drawings from any angle they wish since the design process in AutoCAD is fully three-dimensional.
AutoCAD especially aids the users to revise the diagram of prototypes and makes it very simple for them to share info in real-time.

It came much later, and hence it targets a smaller audience, but still the latest ones.
It operates with its own motion simulation feature
When used right, it can create a better design that is very simple for the user to use and control without worrying about the editing part.
An inventor doesn't use layers, or a command line, or a UCSISON.
It is a much user-friendly software
Conclusion
AutoCAD vs Inventor is two programs that differ in the way of what they can do. Moreover, if Autocad vs Inventor is paired together, then it will be easier for any business to do more with respect to designing different items and using them in the workplace. Overall, the Inventor is a better choice when it comes to 3D drawing. An application for 3D mechanical design, simulation, visualization and documentation invented by Autodesk in the year 1999 is Autodesk Inventor. It is CAD software whose sole responsibility is to help the post-design manufacturing process.
Where AutoCAD offers extreme control, Inventor offers the ease of use. AutoCAD offers pre-production flexibility and unique designs; Inventor is all about post-development and manufacturing potential.
Recommended Articles
This has been a guide to the top difference between Autocad vs Inventor. Here we also discuss the Autocad vs Inventor key differences with infographics and comparison table. You may also have a look at the following articles to learn more –