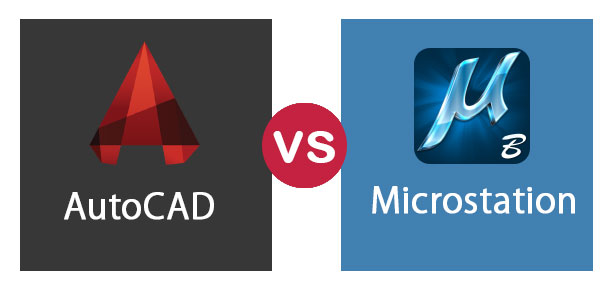 Difference between AutoCAD vs Microstation
AutoCAD abbreviated as Commercial Computer-Aided Design (CAD) and drafting software application. It was developed and marketed by Autodesk, this software was first released in December 1982 as a desktop application running on microcomputers with internal graphics controllers. Micro Station is a CAD software, a platform for two and three-dimensional design and drafting, developed and sold by Bentley Systems and used in the architectural and engineering industries. Micro Station provides a highly interoperable environment that ensures information from diverse sources is integrated and accessible on demand by your team, empowering the incorporation of any design data, regardless of format.
AutoCAD vs Microstation
Using CAD, you can draw something once and copy it hundreds, or even thousands, of times. Changing a design can be as simple as pushing a button. Drawings can be shared instantaneously across the room or even around the world over a computer network. These and the other benefits of CAD include the following:
Increased productivity
Drawing content can be continuously reused.
Text and dimensions can be created and updated automatically.
Hatch and pattern fill can be placed with a single pick.
Revising and editing drawings can be done quickly with minimum effort.
Improved precision
Digital information is accurate to 14 decimal places.
Geometry is precisely located using the Cartesian coordinate system.
It is possible to snap to control points and features on existing drawing geometry to accurately locate drawing information.
Polar and object tracking features can be utilized for precise angular measurements.
Better collaboration
   Drawings can be shared across a network (locally and globally).
Drawings can be referenced and updated in real-time with notification.
Revisions and markups can be managed electronically via email and Internet-based document management systems.
3D visualization and analysis
Microstation generates 2D/3D vector graphics objects and elements and includes BIM features. In 1980s Bentley Systems developed the MicroStation.The  latest version of the Micro station software released for Microsoft Windows operating systems, but already It was available for Macintosh platforms and Unix like operating systems Using CAD,
Features of  AutoCAD vs Microstation are as follows:
Extensive Format Interoperability:
Precise incorporation of existing data from an extensive range of AECO and geospatial formats including DGN, RealDWGTM, DXF, PDF, point clouds, U3D, 3DS, Rhino 3DM, IGES, Parasolid, ACIS SAT, CGM, STEP AP203/AP214, STL, OBJ, VRML world, Google Earth KML, Sketch-Up SKP, Collada, ESRI SHP, IFC, and more.
Automatic transformation and integration of geospatial information supporting hundreds of geospatial coordinate systems and ensuring spatial information are always displayed in its proper context.
Flexible File Referencing:
Live design information can be viewed and shared across multiple formats in real-time with all project participants, regardless of location.
Programmatic Extensibility:
A wide range of options to tailor Micro Station's behavior and data exchange with other systems including customizable user interface, user-defined macros, support for VBA, >NET, C++, C#, and  Bentley MDL.
Industry-leading capability enabling the convergence of modeling and documentation workflows. It automates drawing production and annotation tasks and integrates related documents and information into the 3D model through links embedded in it.
Complete Modeling Toolset :
A wide range of 2D and 3D design tools to easily create information models, including complex geometry and relationships such as surfaces, meshes, and feature and solid models.
Streamlined Design Environment:
Innovations to simplify and speed design tasks and related workflows including AccuDraw for dynamic input with a heads-up display, customizable menus, keyboard position mapping, and intelligent and interactive snapping.
Head To Head Comparison Between AutoCAD vs Microstation (Infographics)
Below are the top 7 differences between AutoCAD vs Microstation

Key differences between AutoCAD vs Microstation
Both AutoCAD vs Micro station performance are recommended options in the business. Let us examine some of the key difference between AutoCAD vs Micro station:
AutoCAD is a Command base Software, Micro Station is a tool base Software there you can use Toolbar.
The internel data storage of micro station is an integer(32bit) based but AutoCAD is Floating point based which means you can draw a small object anywhere of scale drawing of the solar system.you can insert another drawing in it. it is perfectly ok in AutoCAD but not easy in Microstation
Autocad supports object snapping much faster and better than microstation.
Autocad consists most of the process by use of dialog modal. This feature will be the Most irritating factor for a microstation user. The screen gets filled up with dialogs very fast in a micro station.
In autocad, you cannot see rubber banding and cursors simultaneously in multiple viewports while refreshing multiple windows on completion of some step.
The micro station allows parametric Drawings. But AutoCAD does not allow this feature.
Microstation supports technical interface .it has a user-friendly feature, but it needs extensive training for better understand.
Microstation supports Typical layer controls.
Micro Station's capabilities to automatically detect clashes and simulate schedules, design and construction teams can identify and resolve issues before they become costly problems in the field. With AutoCAD difficult to identify issues.
Micro Station provides a powerful platform for other discipline-specific simulation applications. It automates drawing production and annotation tasks and integrates related documents and information into the 3D model through links embedded in it.
AutoCAD vs Microstation Comparison Table
Below is the Top Comparison Between AutoCAD vs Microstation
| | | |
| --- | --- | --- |
| The basis of comparison between AutoCAD vs Micro station |               AutoCAD |         Micro station |
| Scope | 2D/3D drawing tool | Single platform for engineering specific CAD |
| Strongest feature | Design, documentation | Design, production |
| Extensibility | Discipline-specific packages | Project-specific add-ons |
| User base | Design-oriented | Engineering-oriented |
| Learning curve | Long | Relatively same |
| Project scale | Large | Large |
| Domain | A building, construction, pre/post-development | Engineering specific CAD |
Conclusion – AutoCAD vs Microstation
Which one is better among AutoCAD vs Microstation. Well, from a personal point of view, AutoCAD is a clear winner when it comes to 2D Design. This is possibly because it was the first CAD software that I learned how to use, and the one that I have used more often. But I am not the only one that thinks this: many professionals that use AutoCAD agreed that "AutoCAD still trumps the Micro Station with its advanced 2D Drafting capabilities" (Chief, 2012)
When it comes to 3D support, I have to give this to Micro Station. I lost count of how many coffees I had while the computer was rendering a 3D Design. It takes practically forever, so the best thing to do was to let the machine to do the magic and take a break. (Alvarez, 2006)
In conclusion, both AutoCAD vs Microstation, tools provide features which classify them as advanced drafting tools. These tools can be used by CAD designers to draw and design both 2D and 3D Designs, independent of their complexity. (Prakoso, 2011)
In summary, the final choice is AutoCAD as a better drafting tool, but Micro Station as a better CAD platform.
Recommended Articles
This has been a guide to the top difference between AutoCAD vs Microstation. Here we also discuss the AutoCAD vs Microstation key differences with infographics, and comparison table. You may also have a look at the following articles to learn more –