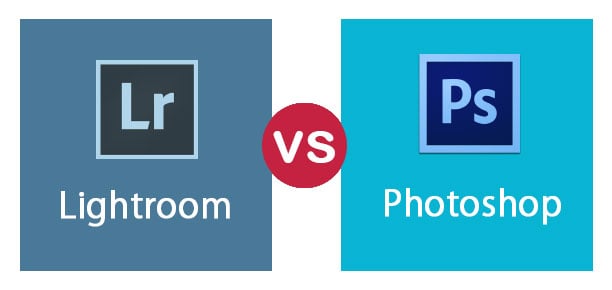 Difference Between Adobe Lightroom and Photoshop
The most popular and commercial photo editing software is Photoshop. It can also be called layman's software as it is the most used software presently. Basically, Photoshop is a raster and pixel-based image editor developed and published by adobe systems. In 1988, American brothers Thomas and John Knoll created Photoshop. Most importantly, Photoshop today is taught in almost all educational institutes from the basic level to an advanced level and is in high demand. It is used by graphic designers, photographers, architects, and all the creative designers.
An image- management software with image editing is basically what defines as Lightroom. It was created in 2006 by Mark Hamburg. Simple software with an in-built saving option, Lightroom is easy to learn and non-destructive software. A global program that allows the user to view, organize, manage and edit large numbers of digital images is what Lightroom offers.
Head to Head Comparison between Adobe Lightroom and Photoshop (Infographics)
Below is the top 4 difference between Adobe Lightroom vs Photoshop:

Key Differences between Adobe Lightroom and Photoshop
Both are popular choices in the market; let us discuss some of the major differences:
Photoshop saves its files in PSD or PSB formats, whereas Lightroom doesn't have a "save" option. It saves all the set of instructions in a catalog file as XMP.
Being a global program, Lightroom works overall of the image, while Photoshop works on every minimal detail of the image.
It is very difficult in Photoshop to work on multiple or a group of images, while Lightroom is based on image management, giving the ease for an efficient workflow.
Photoshop is a much more complicated software in comparison to Lightroom, which makes Lightroom easier to learn.
Photoshop is used generally for advanced purposes like image retouching and image manipulation, while Lightroom is for simple and straightforward editing.
Photoshop can be used to edit graphics as well as photos, whereas Lightroom can be used only for photos.
For rendering 3d graphics or text over 2d, the user must use Photoshop, while Lightroom lacks in this feature.
Adobe Lightroom vs Photoshop Comparison Table
Below is the topmost comparison:
The basis of comparison 
Adobe Lightroom
Photoshop
Definition
A combination of image management with image editing.
It is a pixel-based image editing software
Usage
Used for large quantities of images. It is more of a beginner's software loaded with presets with an efficient workflow.
Used for more advanced and detailed editing. Since it is based on pixels, the user can work on a single-pixel as well.
Advantages

Non-destructive: – the user can play with images, whether RAW or JPEGS. We don't have a save option in Lightroom, and the original file is kept untouched. when a user edits an image, Lightroom creates a set of instructions for saving a copy of the original file. These instructions are stored in a Lightroom catalog file known as XMPs.

Achiever in operating RAW files: – Just like Photoshop has adobe camera Raw, Lightroom is a similar program with much more presets. The user can quickly work on settings like exposure, brightness & contrast. We can also apply the crop tool, slice tool, and many more adjustments can be done on Raw files.

Easier to learn with well-organized workflow: – Lightroom is basically an image management program so we can easily import images, sort through selects, organize collections, process raw images, create slideshows and even post them directly to social media. Being an effortless software, Lightroom is a much easier software to learn.

•Layers: – layers give Photoshop an altogether different altitude. The user can create different layers; they can control their opacity and other parameters of a layer, which gives the user very easy and speedy access to work.

Advanced Retouching: – the spot healing brush, the patch tool, and the clone stamp tool contribute to the retouching of an image. (like whitening teeth, removing blemishes, making person fat/thin, etc.…)

Compositing: – with this feature, the user can create a single image using different multiples images. (example: I have an image of a crying baby. No issues, just copy an image of a happy baby and paste it on the crying baby's image). Since Photoshop works on pixels, slicing and dicing one image on to the other is one of the strengths of Photoshop.

Actions: – this feature helps the user to record a chain of steps so that with just one single button, the whole function is carried out. (example: if you have fifty images in a folder and all of them are of different image sizes, then the user can create an "action" with desirable image size, and all the fifty images are edited with just one click.). A time saver for the user.

• Rendering 3d Objects: – Photoshop allows the user to render 3d objects and text on 2d images. As well as convert 2d images in a 3d format.

Disadvantages

Only for Photos: – Lightroom is specifically designed for editing photos only.

Retouching: – While the user can do simple retouching in Lightroom. Advanced retouching is not possible in Lightroom.
Only for a group of images: – Lightroom cannot remove, modify or edit an induvial image.

Rendering 3d Objects: –
Lightroom is incapable of rendering 3d objects and text.

Destructive in nature: – If by mistake the user saves the edited image over the original one, then it can be impossible to return to the untouched original image.

More complex program: – since Photoshop is based on pixels and much detail, learning each feature and its use can be exhausting sometimes.

Uneven workflow: – to sort, organize and manage files, Photoshop need Adobe Bridge. working on multiple images simultaneously is troublesome in Photoshop. Also, to process Raw images, it needs Lightroom or Adobe Camera Raw.
Conclusion
Adobe Lightroom vs Photoshop is both very different programs. While Lightroom is a much easier, simple, and effortless software to learn and grasp. Photoshop, on the other hand, is a much elaborated, complex, and advanced software. Both Adobe Lightroom vs Photoshop has their own strengths and weaknesses, and it is very difficult to decide which one is better than the other.
It all depends on the nature of the work. If the user is a beginner and wants to edit multiple images with simple editing and retouching, then he should go for LIGHTROOM; otherwise, for advanced retouching, detailed editing, and advanced image manipulations, PHOTOSHOP is the winner.
Recommended Articles
This has been a guide to the top difference between Adobe Lightroom vs Photoshop. Here we also discuss the key differences with infographics and comparison tables. You may also have a look at the following related articles to learn more.