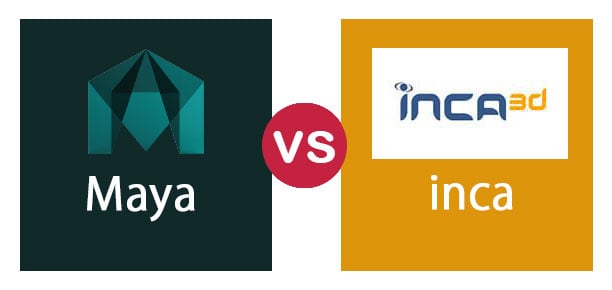 Difference Between Maya and Inca
MAYA is basically a 3Dimensional computer graphics software application developed by Alias systems corporation. MAYA was introduced in the year 1998 and written in languages like C++, MEL, Python. To understand it better, one can say it is an application used to develop 3Dimensional interactive objects on video games, animated movies. You can visit the Autodesk MAYA at www.autodesk.in. INCA is development software that is used for the measurement, calibration of electronic control units and their diagnosis. The ETAS Group developed INCA. ETAS is a German-based company that provides embedded solutions (software and hardware) to the automotive industry. You can understand more about INCA, its base products, tools, add-on, licenses, system requirements, functions, technical data, compatible products, other software products of ETAS group through www.etas.com.
Head To Head Comparison Between Maya and Inca (Infographics)
Below are the top 4 differences between Maya vs Inca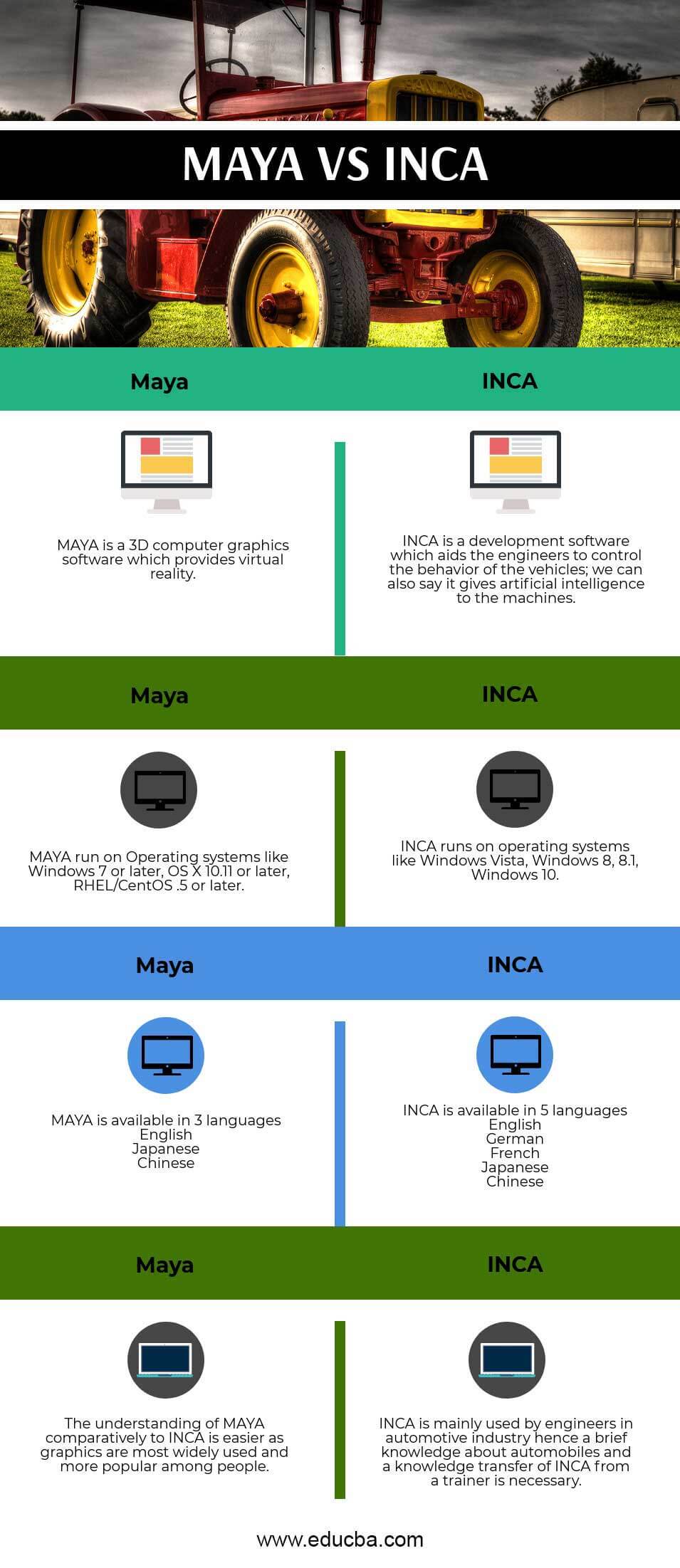 Key differences Between Maya and Inca
Both are website designing tools, but they're a lot of differences between Maya vs Inca. Both the software are not direct competitors, but they are used for more or less the same purpose with different functionality.
Functions of MAYA:
MAYA is used to create motion graphics, 3D animation, 3D modeling, dynamics, 3D rendering and shading, pipeline integration.
Some of its features are Time editor – To process the animation and view it at the same time, which helps to get the work done easier.
The motion graphics toolset, which includes curve node, signal node, procedural animation, audio node, color node, breakout node etc., of MAYA, allows the user to create complex animations with ease.
Functions of INCA:
INCA is used to calibrate the control functions of engines.
The latest version of INCA provides graphical measurement displays, making it easier to handle the software and have a live view of the input and its output reactions.
INCA also has a guide center to help the user understand its functionality.
Skeleton of MAYA:
The MAYA workspace has tabs like File, Edit, Create, Modify, Display, Windows, Mesh, edit mesh, Mesh display, Curves, Surfaces, UV, etc.; just by reading this, one can get a glimpse of how the workspace will look and how to use it.
While working on big projects on MAYA, you can use customize your workspace according to your requirements and switch between panels.
Skeleton of INCA:
The main window of INCA allows the user to access all items and files stored in the database.
It has different tabs to import data, export data and tools to modify, configure, set up file etc.
The main window of INCA allows the below 4 tools
Hardware configuration editor
2. Experiment environment
3. Calibration data manager
4. Measure data Analyzer
Benefits of MAYA over other 3D software:
MAYA is more user-friendly.
Animators usually prefer MAYA as it can create realistic animations.
Benefits of INCA:
INCA comes with an INCA service pack, which is basically like a user manual and does self-reconfiguration to mold itself to meet the latest product requirements like ETK/FETK/XETK.
Applications of MAYA:
MAYA is widely used in films.
A few of the notable movies are The Matrix (1999, Tarzan (1999), Spy kids (2001), The Fast and Furious (2001), Harry Potter and the Philosopher's
stone (2001), Hellboy (2004), Ice age (The meltdown), Kung Fu Panda (2008), Avatar 2 (2020).
It is also used in television series like The Game of Thrones (2011-present), Star war rebels (2014-2018), Kung Fu Panda: The Paws of Destiny (2018-present).
Applications of INCA:
The INCA product family contains 2 main parts. The base product and its add-ons.
The base product is used for basic measurement and calibration.
EHOOKS-CAL/EHOOKS-BYP tool makes the calibration process to be done in lesser time with no compromise on quality.
INCA-RDE tool is used to track the status of real driving emission measurements.
INCA-MIP (MATLAB Integration package) acts as an interface between MATLAB and INCA. The objective of creating this interface is that with MATLAB scripts, calibration of texts can be automated easily.
The add-ons of INCA are humongous, which provides extraordinary uses. Please go through the below link to get a detailed knowledge of the www.etas.com.
It is quite interesting to understand the similar and contrasting features of MAYA vs INCA. Let us now go through how their basic functions, how they behave and their use in the industry.
Maya vs Inca Comparison Table
Below are the topmost comparisons
MAYA

INCA

1.MAYA is a 3D computer graphics software which provides virtual reality.
1.INCA is a development software which aids the engineers to control the behavior of the vehicles; we can also say it gives artificial intelligence to the machines.
2.MAYA run on Operating systems like Windows 7 or later, OS X 10.11 or later, RHEL/CentOS .5 or later.
2.INCA runs on operating systems like Windows Vista, Windows 8, 8.1, Windows 10.
3.MAYA is available in 3 languages
English
Japanese
Chinese
3.INCA is available in 5 languages
English
German
French
Japanese
Chinese
4.The understanding of MAYA comparatively to INCA is easier as graphics are most widely used and more popular among people.
4.INCA is mainly used by engineers in the automotive industry; hence a brief knowledge about automobiles and a knowledge transfer of INCA from a trainer is necessary.
Conclusion
To sum up, MAYA vs INCA are 2 different software used in different industries but at the same time the most successful software in their fields.
The creators of MAYA vs INCA, Alias Systems Corporation, and ETAS group respectively have contributed great workmanship for their respective fields, which contributes a great deal in making the world a global village and making our lives easier.
Understanding Maya vs Inca and becoming strong when clubbed with creativity, the outcomes come with a new dimension of reality and ease of work.
References for INCA:
Preussner, M. "Available options for Automated testing with the ECU Stimulation system CUS(PDF). IAV GmBH (in German). Pp. 1-13. Retrieved August 18, 2010
Infineon: Data measurement/Calibration & Rapid prototyping. Retrieved August 18, 2010.
References for MAYA:
MAYA 2017 overview. Autodesk Retrieved May 18, 2018.
More than meets the Eye usa.autodesk.com. Autodesk. Retrieved February 21, 2017.
Recommended Articles
This has been a guide to the top difference between Maya vs Inca. Here we also discussed the key differences with infographics and comparison table. You may also have a look at the following articles to learn more.