Updated May 3, 2023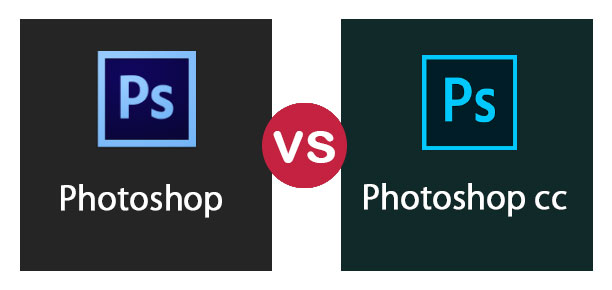 Difference Between Photoshop and Photoshop CC
The most basic photo editing software is what we define as Adobe Photoshop. It is available with a single license and a one-time user payment. Adobe Photoshop's earlier versions were based on a numbering scheme. After thirteen number versions (with considerable changes), Adobe introduced CS (Creative Suite) branding in October 2003. Adobe Photoshop has been the most senior software since it came earliest and has been modified and updated with many features. Adobe Photoshop CC (Creative Cloud) is the updated and advanced software version of Photoshop. After the number of versions and Adobe CS, Adobe introduced CC versions with a monthly and yearly subscription with frequent updates available without extra cost. Likewise, Photoshop CC has many updated features and new features that are not available in Photoshop. Photoshop CC is a progressive image editor software allowing users to access Lightroom Photos and share their projects with social media.
Head to Head Comparison between Photoshop and Photoshop CC (Infographics)
Below are the top 5 differences between Photoshop Vs Photoshop CC

Key Comparisons Between Photoshop and Photoshop CC
Both are popular choices in the market; let us discuss some of the major comparisons:
Photoshop CC works on a subscription basis with a monthly fee, which also includes a cancellation fee if not paid on time. The software will automatically stop working in this condition. Whereas Photoshop was available with a one-time payment.
Photoshop has a plain workspace, while Photoshop CC has an amazing workspace, making work faster and more enjoyable.
Photoshop doesn't support various layer adjustments like applying multiple shadow styles and Copy-paste layers, whereas Photoshop CC does support all of them.
Since Photoshop is an elementary software, all the designers are well known for its features. In contrast, Photoshop CC is an extension of its predecessor, so learning it is not troublesome.
Photos in Photoshop cannot be shared directly with social media, whereas we can share our artwork, graphics, and 3d designs to social media directly with Photoshop CC.
Photoshop is an easy-to-use software designed for effortless editing and can be used by even a non-professional. It makes your work easy once you understand the tools and where to use them.
Photoshop CC is a more modernized software with some upgraded tools and new tools also added to its library like it has a better brush arrangement, Curvature pen tool, 360 panorama workflows, Adobe stock and many more. While Photoshop has limited tools required for necessary editing.
Photoshop is a massive software, and all the elementary editing tools were first created in Photoshop; one of the main tools would be Vanishing point and Image wrapping. With this tool, the user can easily transform, paint and edit the image by maintaining the perspective of the image. Whereas Photoshop CC just has a modified version of the same.
Photoshop CC has a major advantage in that the user can also access Lightroom photos. The user can edit those photos, which are automatically saved in the Lightroom library whereas photoshop lacks this attribute.
Photoshop CC offers the user to create crystal lines and uniform brush strokes. The user can control the smoothness of the brush, eraser, or pencil tool ranging from 0 to 100; the higher the value they enter, the smoothness. Whereas Photoshop doesn't have this characteristic.
Photoshop vs Photoshop CC Comparison Table
Let's look at the top comparison:
The Basis of Comparison 

Photoshop

Photoshop CC

Definition
The most fundamental photo editing software is used for simple editing with basic features.
An upgraded version of Photoshop with improved and new characteristics.
Usage
Not in use presently, as of now, Adobe Photoshop Basic is not sold in the market, but users who have previously installed software can use it.
Photoshop CC is in demand and used by all editors, artists, and school students.
Version
Adobe Photoshop came with a lot of versions with a lot of changes. The latest being CS6(Creative Suite 6)
After CS6, Photoshop came with CC branding (creative cloud). In CC branding CC 2018 is the latest updated version.
Characteristics

Basic tools like (crop tools, move tools, quick selection tools, erasers, and pencil tools) are used for simple editing.
Only one shadow style can be used for a layer.
Freeform Pen tool, by which the user can draw paths freehand
It supports a basic brush tool that paints a brushstroke.
Introduced the concept of smart objects.

More upgraded tools like (Intelligent Upsampling, Camera shake reduction, and an updated version of Camera Raw for editing raw images)
CC 2015 offers ten different shadow styles for a layer.
Photoshop CC included a curvature Pen tool like an illustrator, allowing a more rapid formation of Bezier paths.
It supports over 1000 brushes and Brushstroke smoothening.
Linked Smart Objects, 3d printing, and perspective wrap are some new attributes added.

Availability
It was available on a one-time purchase basis. Currently, this version of Photoshop is no more sold.
It is based on a subscription basis with a monthly and yearly fee and a cancellation fee.
Conclusion
Photoshop acts as a parent to its child Photoshop CC. A parent is the principal of all the traits present in the child; similarly, Photoshop has a vast variety of tools and attributes that is the principal of Photoshop CC. Presently Photoshop is not sold in the market, but it will always be the fundamental software for all editors.
Photoshop CC has an amazing workflow with a 360 panorama, which makes work easier, more creative, and boring. It may not be wrong to say that Photoshop CC is an incredible extension of its predecessor, and besides only a few tools, the rest are upgraded versions of Photoshop.
Photoshop CC champions modernization, improvised tools, new characteristics, and remarkable work experience.
Recommended Articles
This Photoshop vs Photoshop cc has guided the top difference between Photoshop and Photoshop CC. Here we also discuss key differences with infographics and comparison tables. You may also have a look at the following articles to learn more.