Updated May 4, 2023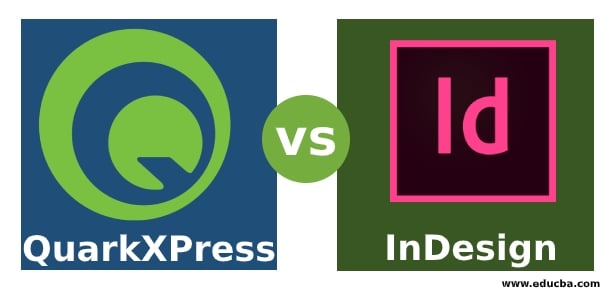 Difference Between QuarkXPress and InDesign
QuarkXPress was released in 1987 for Macintosh. QuarkXPress is owned and developed by Quark. It works on WYSIWYG (What You See Is What You Get) environment. QuarkXPress is a desktop publishing software (DTP) used by graphics designers, marketing, and corporate professionals. For different applications, for example, to create the layout, produce the advertisement, and many more things. QuarkXPress is multilingual software that supports 36 languages excluding English. This software imports various formats of files like pdf, illustrator, and EPS files. In this topic, we are going to learn about QuarkXPress vs InDesign.
The main applications of QuarkXPress are listed below.
With the help of this software, we can create and produce a banner, stickers, broachers, magazine books, catalogs, flipbooks, newspapers, Print, books and user guides, financial reports, logo design marketing Ads, professional print out, and digital output.
QuarkXPress 2017 comes under four major categories.
Image and vector
Typography and text
Customer wish list items
Digital publishing
QuarkXPress versions
Quark Inc. launches QuarkXPress 1, which supports Mac OS only by 1987.
The most recent version of this software is QuarkXPress 14.1, launched in Oct 2018, which operate and are supported by both MAC OS and Window operating system. The latest version supports eBooks, web, and mobile apps.
InDesign
InDesign software was owned by Adobe system, which Adobe developed on 31 Aug 1999. Adobe InDesign is desktop publishing software (DTP) that is used by graphics designers, marketing, and social professionals for different applications, for example, to create the layout, for combining the text and images, to designing the eBooks. This software provides a platform to create professional pages published and distributed in print or online.
The main application of Adobe InDesign is listed below.
Posters, banners, flyers, brochures, magazines, newspapers, presentations, books, eBooks, books cover, postcards, stickers, comics, etc. Through this software, the file can be shared in different ways, like digital and print formats. This software is suitable for both Mac OS and Windows.
InDesign may be used in conjunction with other application which is part of the cloud service.
Adobe InDesign versions.
Adobe InDesign launched its first version of InDesign 1.0 in Aug 1999, intending to replace PageMaker. In 2002 they launched InDesign 2.0, the first version to support Mac OS X.
Later, Adobe launched the InDesign version InDesign CS in Oct 2003 CS format, which stands for the Creative Suite. The last version of this series is CS6, launched in Apr 2012. This service is available for a one-time payment.
The latest Series launched by Adobe is CC, InDesign CC by Jan 2014, CC stands for Creative Cloud, and InDesign CC is a subscription Base service that can buy monthly or annually.
Subscription. It provides a bundle package including Photoshop Illustrator etc.
Adobe launches the latest version in this series for InDesign software. It's CC 2018 (14.0.0.130) by October 2018
These are some feature that makes InDesign better than QuarkXPress.
Text setting:- Provide a special setting for the local language, i.e., Arabic
Bidirectional text flow:- It allows writing Left to the right or vice versa
Table of contents:- provides a set of the table of contents according to the local language
Indices:- Indices can be written down according to the Languages
Importing and exporting:- It can import QuarkXPress files, including the 50import/export files retaining the layout and contents similarly.
Reverse layout:- similar to text layout feature is reversible when reversing the layout document
Complex script rendering:- they support Unicode character encoding with local languages
Head To Head Comparison Between QuarkXPress and InDesign (Infographics)
Below is the top 16 difference between QuarkXPress vs InDesign

Key Differences Between QuarkXPress and InDesign
Both are popular choices in the market; let us discuss some of the major differences:
QuarkXPress
Libraries
New pdf print engine.
Direct InDesign IDML import.
Optimized resolution.
Xenon graphics Feature.
Digital preview improvement.
HTML5 export optimization.
Create an unlimited single Android app.
Built-in JavaScript ES6+ based on V8.
Upgraded font listing.
Updated color fonts support.
The first type of open type control.
Adobe InDesign
Your team can work on the same layout simultaneously.
You can create your own libraries with text, colors, graphics, etc., and share them with your team.
Imports comments and edits from your pdf.
Your layout is adjusted automatically whenever you change the size of the document.
Images are automatically resized and fit to the screen.
You can browse different fonts.
Fonts in a variety of colours are available for design.
You can create footnotes in the table.
It's easier to add spacing in the paragraph, and you are enabling to share in the same style.
QuarkXPress vs InDesign Comparison Table
Below is the topmost comparison between
| | | |
| --- | --- | --- |
| The Basic comparison  | QuarkXPress | InDesign |
| Operating system | Classic Mac OS, Mac OS, Microsoft Windows | Windows and Mac OS |
| Language | Multilingual | 24 Language |
| Quality vs Quantity | Feature-rich software | Quality rich software |
| License | Lifetime license | Subscription base License |
| Colors | Its supports hex chrome color | It doesn't |
| Page Size | 48 Inch Square (QX 6.0) | 216 Inch Square |
| Installation | Concurrent installation is prohibited | Concurrent installation permitted |
| Export JDF files | Yes | No |
| Convert print to HTML for use in Dreamweaver | Yes | No |
| Design a web page compatible with Dreamweaver | Yes | No |
| Import flash SWF files for pdf | No | Yes |
| Support for Illustrator layers | No | Yes |
| Drag and Drop from Illustrator | No | Yes |
| Photoshop transparency control | Yes | No |
| Photoshop-like palette controls | Yes | No |
| Control Photoshop spot colors | Yes | No |
Conclusion
QuarkXPress focused on adding more new features rather than improving previous tools and features. On one side, Quark focuses on improving various types of HTML tools so that you can create multiple layouts in a single document. Still, their typographic and layout feature still needs to be updated. So why we called QuarkXPress is feature-rich software.
Adobe InDesign does not focus on only adding a feature; they also try to improve the previous feature. For i.e., Adobe InDesign has a Typographic feature more powerful than QuarkXPress, but Adobe did, improved in the newer version of InDesign 2.0 as well. Adobe InDesign focuses on improving performance and speed, so that's why Adobe InDesign gives better performance than any other competitive software.
Recommended Articles
This has been a guide to the top difference between QuarkXPress vs InDesign. Here we also discuss the key differences between infographics and comparison tables. You may also have a look at the following articles to learn more –