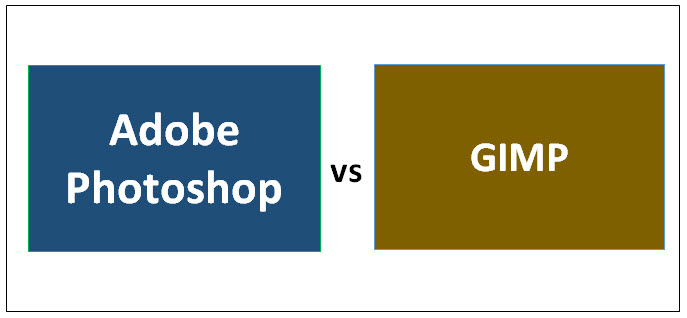 Difference between Adobe Photoshop vs GIMP
In today's world, there are lots of challenges which are been faced by every competitor or a manufacturer. Similarly, in the field of photography, we can see the hundreds of software are coming day by day. Among all these, not all software's are used by professionals but there are some which leave a mark in the market. As Adobe Photoshop is the evergreen software, but still one of the equivalent competitor software is GIMP. These both Adobe Photoshop vs GIMP software's are good and they have some special and unique feature in them which shows their special appearance to the user.
Head To Head Comparison Between Adobe Photoshop vs GIMP (Infographics)
Below is the top 10 difference between Adobe Photoshop vs GIMP

Key differences between Adobe Photoshop vs GIMP
Both Adobe Photoshop vs GIMP are popular choices in the market; let us discuss some of the major Difference Between Adobe Photoshop vs GIMP:
At the start, the first basic difference between Adobe Photoshop vs GIMP software's is that Photoshop has customers and client's, similarly, GIMP has contributors and well-wishers.
For the beginners, Photoshop provides its own tutorials, videos and study materials which in GIMP, it's a self-learning software.
When someone is in hurry and needs fast updated or modified pictures from their photographers then he/she is unable to satisfy the requirement using Photoshop instead GIMP works there.
Some of the tools and features of Photoshop are:-
CMYK mode
Copy-paste layers
Curvature pen tool
Brush tool
Four healing tools
Non-destructive editing to the original layer
Stroke smoothing
Some of the tools and features of GIMP are:-
The user interface is customizable.
Inkspace – This is a tool for vector graphics editing.
Painting tools which help us to fill the region with our choice of colors.
Digital retouching this one is the best tool which users find very friendly.
Swatchbooker – Even this is linked to GIMP which allows editing colors palettes.
One of the main and key differences between Adobe Photoshop vs GIMP software's is the financial point. Those who want to go with the cheapest ones and don't want to spend more time and money on software's will have to choose GIMP. People who want to spend time on quality, precision, and sharpness will definitely go for Adobe Photoshop.
Photoshop provides user lots of plug-in tools and filters which enhances the experience of the user and give smoothness in operation. Well in GIMP has many sophisticated tools and also it has third-party plug-ins which further helps photographers, graphic designers, illustrators, scientists and many more to use this software.
The big disadvantage of Photoshop is that it continuously gives license validation which is a money consuming all the time and sometimes the user gets frustrated. In GIMP this things doesn't happen as it doesn't have a license to give.
Well looking at the high prices of the Adobe Photoshop their lots of pirated copies in the market which beginners are using. Estimated price of this software is about 1000 dollar which is too high and on the other hand, GIMP is freely available in the market.
For Linux users, Gimp is the tool as it is very light and easily available on open source websites and Photoshop can't be installed in the Linux.
In Photoshop we get answers of every question and we can fix any issue regarding editing but in Gimp everything is not possible.
A Photoshop creates a file with PSD extension which can be saved in any other formats and also it contains layers, mask, color areas, transparency, text, duotone, clipping path settings and many more.
Adobe Photoshop vs GIMP Comparison Table
Below is the topmost comparison between Adobe Photoshop vs GIMP
| | | |
| --- | --- | --- |
| SR.No | Adobe Photoshop | GIMP |
| 1. | It is the Oldest software in the market since 1990. | GIMP means GNU image manipulation program |
| 2. | Users have to purchase the license copy of this software as it is not freely available in the market. | It is the open source software available in the market which is compatible with any operating system. |
| 3. | Photoshop is a bit tricky and complicated software as a learner has to go through the tutorials or go for classes. | This is an easy and user-friendly software that anyone can learn from the first day after installation. |
| 4. | It is heavy software which usually consumes space in gigabytes of your computer. | This is a small software which consumes nearly 20-50 megabytes of space. |
| 5. | To run it needs a minimum of 1 gigabyte RAM in the system. | It doesn't have such a kind of specification because it needs very less RAM to work. |
| 6. | The software updates are given by only Adobe as it is restricted to it. | This is an open source so the updates are provided by developers working under that project. |
| 7. | Photoshop is very huge software and loved by all the photographers because they get the expected quality from it. | This is small software and contains some fixed slides and portraits which might leave the user to fulfill their expectations. |
| 8. | This software is loved and recommended by the professionals. | This software is loved by beginners who have less knowledge about editing. |
| 9. | Photoshop is a software which runs on a completely industrial standard. | This is a communal software standard are not classified here. |
| 10. | In Photoshop GIMP images cannot be opened. | Any file either from Photoshop or any other software can be opened. |
Conclusion –
When the point comes after the long explanation to write conclusion then it can be said that both GIMP vs Adobe Photoshop software's allows us for basic editing. A user can do simple changes like rotating image, crop, resize, modify and change the color of the image. Also, these two software's has the power tool to repair the damaged photos.
But still, we can say the same point again that GIMP is not for professionals, looking at the tools which a professional may lack in using. Simultaneously Photoshop is not for beginners but the Front screen is the same for both the software.
Using both Adobe Photoshop vs GIMP software's user needs to decide which one is suitable for him but recommendations would be, he should use both this software's as per need he should be able to use benefits of both software's.
Recommended Articles
This has a been a guide to the top difference between Adobe Photoshop vs GIMP. Here we also discuss the Adobe GIMP vs Adobe Photoshop key differences with infographics, and comparison table. You may also have a look at the following articles to learn more –
Design Course - All in One Bundle
280+ Online Courses
2000+ Hours
Verifiable Certificates
Lifetime Access