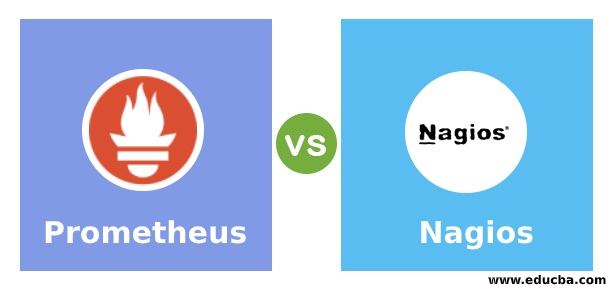 Difference Between Prometheus vs Nagios
Prometheus vs Nagios, A pull-based system working with Kubernetes by monitoring the clusters, is called Prometheus. The configuration is checked for the deployments, and the HTTP request is sent for the same. Data access is done with Prometheus, and hence this makes the users check the data directly without entering into other applications. Open-source software to monitor systems, networks, or infrastructure is called Nagios. Along with monitoring, alerting services are also provided for applications, services, servers or switches. Periodic checks are done on any critical services or applications using Nagios, and these checks help to determine and solve the issues.
Head to Head Comparison Between Prometheus vs Nagios (Infographics)
Below are the top 7 Comparisons between Prometheus and Nagios:

Key Differences of Prometheus vs Nagios
Let us study some important key differences between Prometheus and Nagios:
Prometheus provides a time-based monitoring solution, while Nagios will not offer time-based monitoring. Also, alerts are present in Prometheus while it is not present in Nagios. The time-based monitoring helps Prometheus to monitor and manage the applications based on the schedules and trigger them with the timeline provided. However, alerts are present in Prometheus to acknowledge the user if the monitoring does not work well and if there are any critical issues.
Nagios monitors the servers, networks, and applications, while Prometheus is not good at these activities. Server monitoring helps to find the logged data, and if there are any errors, this monitoring helps to solve them.
The disadvantage of using alerts in Prometheus is that it will not work without alerts. Logs and queries should be used in the application to run the alerts, and hence it will take the storage space. While considering Nagios, these queries are not needed as alerts are not present in Nagios. But logs should be available in the application to run the monitoring for servers and applications.
The monitoring can be done in any Operating System in Prometheus as it is designed to support any OS. In Nagios, the OS should be either Linux or Windows as it is designed to work with Linux and got updated to work with Windows as well.
Prometheus is offered for free while Nagios is not. The enterprise version of Prometheus is priced while the basic version is offered for free. And the enterprise version is offered along with many other applications, and the price is less when compared to Nagios. Nagios enterprise version is offered at the rate of 3500 USD per month. The price of Prometheus is less than 200 USD per month.
Prometheus's dimensional model has metrics with metrics name and tags so that storage, graphs, and alerts are taken care of by the application. Tags are not present in Nagios, and they do not need alerts. Storage space is not offered in Nagios, and few plugins are offered to store the visualization models.
The infrastructure and working of Nagios are different when compared to Prometheus. It is a legacy infrastructure based on IT and focuses more on networking, servers, and also to monitor the application. Prometheus works to monitor the applications run within Kubernetes, and more focus is given to the data.
Grouping, rerouting, and duplication is done in Prometheus after the alerts, while these options are not available in Nagios. Nagios has some scripts to do the plugins and to provide alerts if needed.
Comparison Table of Prometheus vs Nagios
Below is the comparison table:
| | |
| --- | --- |
| Prometheus | Nagios |
| The query language is used to perform the monitoring and to provide the logs in the application. | Nagios work with hosts' help as they provide services, and scripts can be run to perform the checks. |
| The servers are run independently, and local storage is not looked upon. Only for alerts and rule processing, the local storage is used, and Prometheus's replicas are available to check the availability mode. | Standalone servers work well with the system, and the configuration checks are done with the help of files in the system. |
| Prometheus works well in a cloud-based and virtual environment as the servers are based on Kubernetes. Whitebox monitoring can be done with this application. | Basic monitoring can be done easily with Nagios, which helps to look for small and static systems. More details could be figured out via Nagios, and this helps to monitor and make logs of the details to be used when the systems face issues. |
| The problems are not known prior, and with the help of alerts, known problems can be solved by scheduling the alerts. | The problems are known and notified to the users even before they arise, which helps the users solve the issues.  This is done by monitoring the entire IT infrastructure. |
| Prometheus is not customizable, and plugins are not offered in the application.  But the initial setup is easy, and anyone can do easy monitoring with the help of Prometheus. Also, it is easy to extend the application with the help of queries. | Nagios is customizable and has a flexible monitoring system. The monitoring is easy to use, and due to the flexibility, customers prefer this more. Free plugins for visualization also attract customers. |
| While working with Prometheus, we can integrate with different applications, and hence the working model is different and nice. | We cannot integrate with any other systems while working with Nagios as it provides the plugins and free checks. |
| The user interface is bad, and it is mainly used for metrics. Also, the configuration is not easy as it appears through the setup is easy. Agents to work in the application are very less as it works only with active agents and not passive agents. Different applications have to be used along with Prometheus to make it work. | Interactive UI and easy configuration make Nagios comfortable. But the application is not written in any specific programming language, which creates problems while checking for issues in the code. |
Conclusion
Some prefer Prometheus for its easiness and experimentation offered, while others prefer Nagios for its simple interface and less storage. Also, many other monitoring applications look into if users are looking for different use cases. Working with a cloud environment is an advantage for Prometheus as nowadays, cloud technologies are preferred more.
Recommended Articles
This is a guide to Prometheus vs Nagios. Here we discuss the difference between Prometheus vs Nagios, key differences, and comparison table. You can also go through our other related articles to learn more –