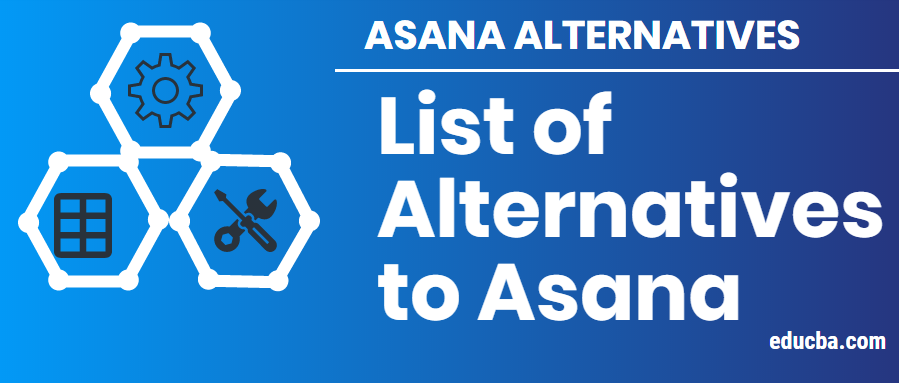 Introduction to Asana Alternatives
Before we get into details of Asana alternatives, let's know what Asana is. Asana is widely used in monitoring multiple projects, where Asana can monitor projects simultaneously and can get into details very quickly. The project team can make changes in any subtasks and upload files as in need. Asana also helps us prioritize the tasks which are to be considered as the top priority and also to delegate the workaround. Just like any other social media network, even Asana has an option to follow, like, comment and share.
List of Alternatives to Asana
Here are a few alternatives to Asana in terms of its design and application.
1. Jira
Jira tool is a very popular tool in project management by Atlassian. The name Jira is inherited by "Gojira", which means "Godzilla". This software is used to track and fix bugs and issues and a great tool for tracking project workflows and issue attributes. Many types of charts options are available like Sprint Report, Epic Report, Version Report, Velocity Chart, Control Chart, Cumulative flow diagram. Each progress of a project can be represented using different chart options. A pie chart can give information regarding Assignee, Components, Issue Type, Priority, Resolution, and Status. Jira helps to measure the cycle time for issues, also gives us the actual time and meantime of the issue for better understanding.
2. Scoro
Scoro was introduced in 2013; it is majorly designed for task management. It involves time tracking, get real-time updates on progress, also has features of To-Do listing. The project team members can assign a task, plan work and schedule them. The software is extensively used for billing and invoice generation at ease using templates. These invoices can be sent in pdf formates. The dashboard gives overall details in sales, deadlines, tracking of projects, and a complete visual representation of the workflow.
3. Workfront
If your organization is having many-layered hierarchies and looking for each hierarchy, be aware of project progress and development. This is the best app to have since it provides different permission according to the user. Automatically the task can be tracked by the next level in the management order. Workfront gives vivid visibility according to the user and gives the ease of tracking.
Digital assets can be easily streamlined on the work front. Agile and water flow methodologies can be implemented on the work front. For resource allocation and time management work front is the best tool to work on. It fits all the sizes of an organization. The custom reporting ability is the best on the work front.
4. Smartsheet
Smartsheet is very much similar to a spreadsheet. The smart sheet is a Microsoft Excel expanded version of project management applications. It has smarter functionality. The drawback is the ease and user-friendly. This also has a chat option, unlike Asana.
Smartsheet enhances reporting through real-time metrics. It correlates and gives information on planned and actual spend with team activity and financial transparency.
5. Trello
Trello is a simple task manager app. It gives a visual representation of what has been worked on and what to be the very next task to perform. The visuals are similar to that of post-it notes and give information regarding the work To-do, Working on currently(Doing), and Done. Trello consists of a board, card, and list.
Board: Boards are used for categorical operations of the project in development. Only specific members can access it, check and control the movement of cards.
List: The list divides into 3 categories based on the project tasks. Namely, the 3 tasks as To-Do, Doing, and Done. Lists help in organizing the task as per priority. You can also have a visual representation of members working on which task.
Card: Cards represent an element of any feature of a project. For example, a research article, a software update, a bug or a new update. You can work around with images, attach files, and your own comments. The title of the card hints at what the card is all about. You can assign a card to any member of a team and send a notification.
Trello also comes with an editorial calendar. We can add to any event or planning. It also has colored labels to represent each event.
6. Nutcache
Nutcache is a project management and expense management tool. This app enables time tracking, invoicing applications, and a centralized Dashboard for all-expense tracking. It helps with the client invoicing and gets paid online. Nutcache collaborates with clients to work along with project development by sharing documents. Nutcache also consists of boards, lists and cards, making it flexible to track on different tasks and manage them. This management tool is basically for a small-sized organization with around 1000 employees.
7. Mavenlink
Mavenlink platform works on the finance and modern operational performance for the unified project management. it has an Operational System of Records that collaborates and gives more visibility. It works on Mobile as an application and also gives integration with CRM tools. Mavenlink is used for any team size.
Mavenlink also tracks time and does so for every task and expense incurred. It won't be difficult to import/export data in and out of it.
Conclusion
Each app has its own features and cons; it is necessary to know which application suits your business and decide on its effectiveness. Hopefully, these applications mentioned will help you away in harnessing, which is a great tool for your upcoming project as an alternative to Asana.
Recommended Articles
This has been a guide to Asana Alternatives. Here we have discuss the alternatives to Asana in terms of their design and application. You may also look at the following articles to learn more –