Updated June 16, 2023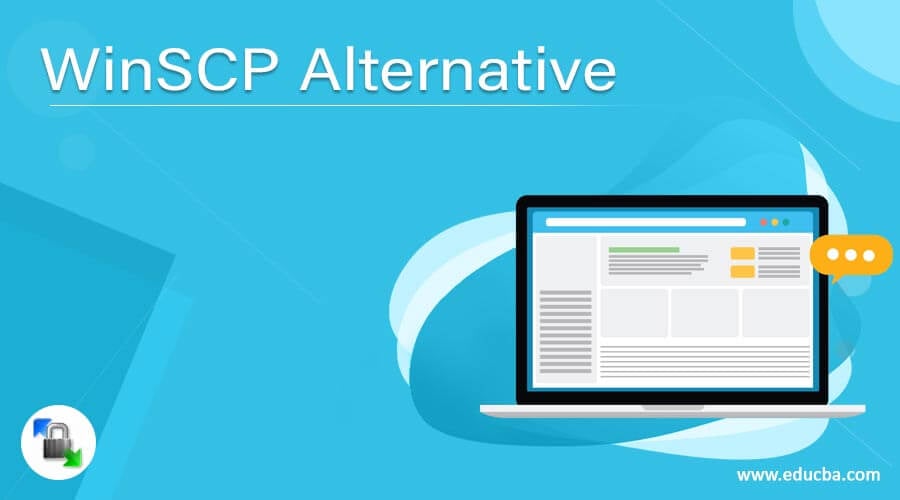 Introduction to WinSCP Alternatives
This WinSCP Alternative should be tested because applications are also useful for safely transferring data from a local to a remote device. This is an SFTP, SCP, and FTP client. It can also be used for syncing and handling files in addition to the above features. In addition, the tool follows the SCP protocol and uses SSH to ensure secure transfers. We have some applications to suit your bill if you want these features. The strong ones are mentioned below, each with a brief description. Take a peek and determine whether to move to a new program.
List of WinSCP Alternative
Given below is the list of WinSCP Alternatives:
1. Bitvise's SSH2
The SSH2 Bitvise, Stable Shell Protocol Version 2, is another WinSCP alternative. This SSH and SFTP client complies with Microsoft platforms and continues to be one of the most advanced SFTP graphics applications. You will surely enjoy specific software capabilities, our auto-resumption, recursive subdirectory transfers, text file comprehension, transfer lists management, and rapid response, even though various other transfers are ongoing. And the tool uses VT-100, xterm, or Bvterm protocols for accessing the console of the SSH server.
2. Filezilla
Filezillahas been licensed with GNU GPL and is an FTPS, FTP, and SFTP solution that provides you both with a client and a server. The tool is easy-to-use and allows SSH protocol for safe file transfer. This tool is compatible with Windows, BSD, Linux, and Mac OS X. The site manager and the upload queue will function perfectly well for massive files. For this multilingual app, you can customize upload speed limits to enable you to drag and drop content too. Its other tasks include remote file editing, scanning, synchronous user interface, and tabbed directory browsing. It can also support our applications list, such as Filezilla.
3. SecureFX
SecureFXis a cross-platform software, similar to the one used in Filezilla, and can be installed on any operating machine running Mac, Windows, or Linux. You can find an incredibly easy-to-understand visual interface. At the same time, the tool is filled with sophisticated and much-needed functionality such as site synchronization and automation. You can opt to upload SFTP data via SSH2, SCP, FTP via SSL, FTP, and link to and arrange the sessions on the software interface page. Moreover, more than one website on the application can synchronize files and store configurations.
4. Cyberduck
Cyberduck is an SFTP, FTP, and WebDAV client that doubles as a Windows and OS X cloud storage browser. The S3 and Open stack APIs are available and compatible with most third-party storage providers. The software interfaces easily with any external editor to quickly modify any binary or text file. Dressing and dropping files to import, download, and copy content between servers to synchronize local and remote directories is easy. It is hardly a difficult job to transfer the files within the browser.
5. FUGU
We have received Fugu, a front end for SFTP applications that allows file transfer on Mac computers. It offers protection and an intuitive, user-friendly interface. You can easily drag-and-drop content and use external editors to make changes to your files to import and update files. The tool saves the history of the directory and can also build SSH tunnels.
6. SmartFTP
And ultimately, SmartFTPis a WebDAV, FTP, FTPS, SFTP, S3, SSH, and Terminal app with some of the best winsCP alternatives. The primary role of the tool is, of course, that files are transmitted to an internet server from a local device. It would help if you were assured that the software guarantees safe, reliable, and effective transfers and has synchronization features for files and folders.
7. Transmit
The Transmitis a proprietary Mac FTP client. It is implemented with 45+ functions, such as a widget/dock dashboard upload, WebDAV, and iDisksupport. It executes up to 25 times its tasks. You either need to migrate files from Amazon S3 or WebDAV to an FTP or SFTP server, and you can use this program to store them in the cloud. You are also able to manage the website and allow data backups. Users can easily complete tasks such as sharing, downloading, uninstalling, or uploading files.
Conclusion – WinSCP Alternative
So did you like any WinSCP alternatives sufficient to substitute for that software? If yes, then try the application based on your requirements.
Recommended Articles
This is a guide to WinSCP Alternative. Here we discuss the introduction and the list of WinSCP Alternatives in detail. You may also have a look at the following articles to learn more –