Updated April 20, 2023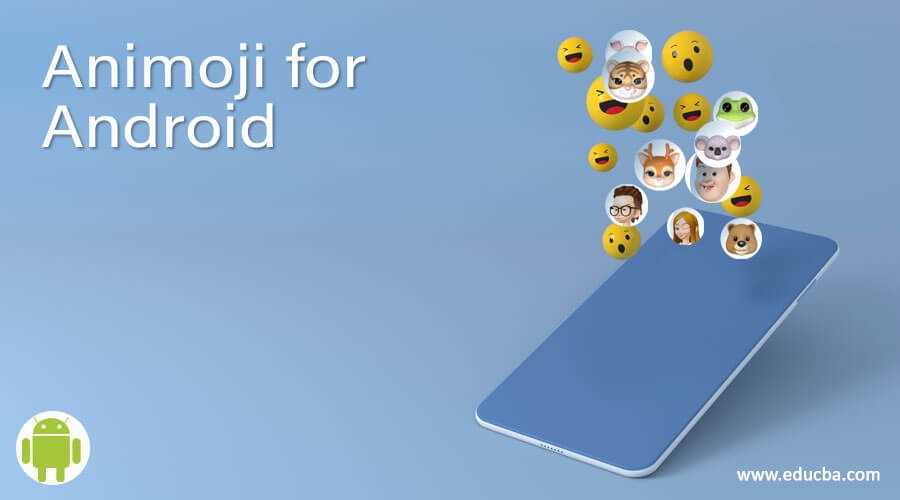 Introduction to Animoji for Android
Animoji is known as an animated emoji for the iPhone to submit various kinds of face avatar with different head forms, hairstyles, eyes, and more. In their post, every smartphone user likes using emojis. We will send these animojis (or emojis) to friends, family, and others in a letter to share our feelings. Only the iPhone can use the animoji software. They can't work if you're dreaming of using the animoji program on your Android smartphone.
List of Android Animoji
Let's have a look at Android Animoji.
1. Face Cam
Face Cam is a 3D Avatar app with live selfie, face swap, and others. We will render a 3D emoji of the avatar on our face. The software is like eyebrows, mouth, and eyes to transform your skin. Face Cam framework has a multi-faceted recognition functionality that also facilitates emoji development with mates. The program can be used to create 3D cartoons of friends, relatives, and others. There are different skin tones, hairstyles, shades of the hair and eyes, shoes as well as many more. Users can also capture and post their videos with friends and social media sites through this program. This program helps users to construct 3D avatar expressions that fit their personalities. We can create multiple emojis including starving, sorrowful, joyful, wrathful, and more.
2. MojiPop
MojiPop is another animoji app that allows up to three different avatars to be made. We can make custom GIF sticks with many people. Free and paid edition MojiPop is available. We must go through two phases to create a cartoon sticker. To make a new sticker, firstly, press on a picture using a 3D camera program and use this photo. We will directly transfer emoji from the app to the gallery and other applications like Facebook and WhatsApp.
3. Mirror
You might like to use Mirror Emoji Builder Software if you are involved in sending stickers to chat apps like WhatsApp or other. Mirror emoji software makes funny emoji and animoji on our phone simpler to develop. To create a new avatar, a picture must be posted to produce an emoji for a few seconds. By sharing a picture of your mates you can even create several facial emojis. The app contains a vast array of items that allow us to easily build unique emoji.
4. ZEPETO
ZEPETO is another nice animoji app you enjoy using. From a picture that looks like us, or from preset signs, we can create 3D animoji. It offers resources for the personalization of our animoji including multiple hairstyles, costumes, appliances, and more. The app helps us to create and use our emojis when talking to others. By clicking on the camera or choosing the gallery we can conveniently create a cute character from a picture. Animoji can be edited with multiple faces or costumes of character.
5. Gboard
The Google Keyboard contains Emoji Micro, which is often referred to as the Gboard. Through this program, we can scan our face and generate many types and expressions of stickers. We would use Gboard, the Gboard keyboard, as our cell phone's keyboard to use Google emoji. It also has numerous great features like voice typing, handwriting, glide style, quick search, and sharing GIFs to ensure that you are able to do the right thing. After the Gboard has been mounted, start the keyboard and then click on the sticker button. At the top, you can see the segment "Build" where you need to pick. You can now take yourself and create three sticker types: Sweet, Emoji, and Bold. It also helps you to personalize your face emoji if you did not take your shot properly. Tap Done, if anything is fine, and you're ready to use your emoji. On the sticker column of the Gboard keyboard the cradled emoji appears.
6. Emojidom
Emojidom is one of the most common animoji applications with a large set of animated smileys. The app also allows GIF icons and stickers to be created in our Android and iOS smartphones. We will send GIF emoji directly to our contacts on the WhatsApp, Line, Skype, YouTube, and other chats. The program is free of charge and can be used in less time to build animated emoji. It makes the talk more fun and enjoyable by sending emojis to our post. Users can also capture and distribute amusing videos through different messaging programs or networks with their contacts.
7. Supermoji
Supermoji is another common animoji software you like to use. This software allows us to quickly construct amusing video and sound animoji. Supermoji is a highly regarded animoji program in which we can free 3D emoji. For both Android and iOS tablets, this application is available.
Conclusion
In this article, we have seen various Animoji tools for keyboard in Android. You can choose any of them based on your ease of using keyboards. We hope you will find this article helpful.
This is a guide to Animoji for Android. Here we discuss the Introduction and list of Animoji for Android respectively. You may also have a look at the following articles to learn more –