Updated June 29, 2023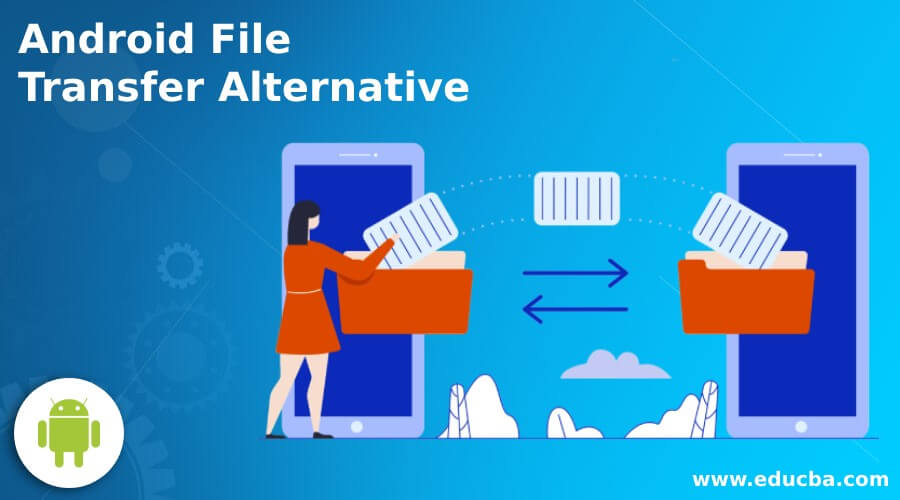 Introduction to Android File Transfer
It is free to use Android File Transfer, so why should we look for an alternative to Android File Transfer? Well, it's not always the easiest software to use, and you might not always be able to get support when things go wrong. You risk losing your valuable images, videos, or other files. You are in danger. Here we will look at some of the best alternatives to Android File Transfer and the benefits and disadvantages of any Android File Transfer alternative.
Alternatives of Android File Transfer
Given below is the list of Android File Transfer Alternative:
1. OpenMTP
OpenMTP is another big free addition to our list. This open-source Mac file transfer software is free and always works with most Android devices. Download the software and connect your device to your Mac using USB. Android files are quickly sent from your Android to your Mac — rates are faster than many applications which only connect to your Mac via Wi-Fi.
With the simple drag 'n drop file transfer functionality, transferring all types of files is quick and easy, and you can easily see all your files between Grid and List view. The transfer process is even easier with handy keyboard shortcuts. With regular updates, OpenMTP is safe and reliable.
2. Coolmuster Android Assistant for Mac
If you are looking for Android File Transfer alternatives for Mac, it is worth considering Coolmuster Android Assistant. With this software, you can transfer, manage and edit different file types from your Android device to your Mac. Features include 1-click Backup, SMS Manager to send and reply to text directly from your computer, and the App Manager for selecting and downloading your Android device applications, uninstalling, or back-up to your Mac. Apps are also available. The Coolmuster Android Assistant for Mac is a free trial, and a money-back guarantee for 90 days is available.
3. MobiKin Assistant for Android
MobiKin's Android Assistant is a powerful tool for transferring information from your Android device to a Mac or Windows PC. You can back up and restore almost any type of detail from applications, texts, and contacts, and you can use the software to call up logs, photos, and music for click backup and backup. You can also change the contact list for your phone on Mac and add or remove playlists from your computer directly. MobiKin Assistant for Android provides a free trial for a one-year license costing $29.95 and is charged recurrently.
4. iSkysoft Phone Transfer
Mac is a tool that works with Blackberry, Xiaomi OS, Android, iPhone, or Nokia Symbyan. It works with the iSkysoft MobileTrans Phone Transfer. You can transfer almost any type of data from an old phone to a new one or back it to your Mac. Using this software, it is simple to back up and restore data between mobile devices.
5. Vibosoft Android Mobile Manager
Vibosoft Android Mobile Manager is software that enables you to transmit everything, including contacts, apps, multimedia files, SMS messages, and more, from your Android device to your computer. Vibosoft Android Mobile Manager can even use the software to send SMS to your phone contacts directly from your Mac or previeve files and folders from your Android and manage them from your Mac with a 1-click backup and restore feature.
6. Wondershare TunesGo
Wondershare TunesGo is an Android and iOS phone manager. You can take advantage of features like a GIF maker, Disk Mode that lets you view all data on your mobile device, and effective application management for large-script exports and backups of all your apps, with versions available for Windows and Mac. Select a yearly subscription, a living license, and a family license — starting at $29.95 a year, for one PC, with an Android version. The version of the Suite includes iOS software and Android. You can also choose to use it.
7. dr.fone
They have Android and IOS phone manager versions, but you'll have to buy both programs if you have both devices. The Android versions allow you to transfer images from Android to Mac and almost any kind of data, from music, videos, and photos to contacts and even SMS messages. Deleting files makes it easy for you to manage your data and includes a HEIC photo converter. It is easy to see why this software is so popular with a ringtone maker, a converter for media files, and an app management tool.
Conclusion
In this article, we have seen various alternatives for transferring files or media in Android. You can choose any of them based on your requirements.
Recommended Articles
We hope that this EDUCBA information on "Android File Transfer Alternative" was beneficial to you. You can view EDUCBA's recommended articles for more information.