Updated April 11, 2023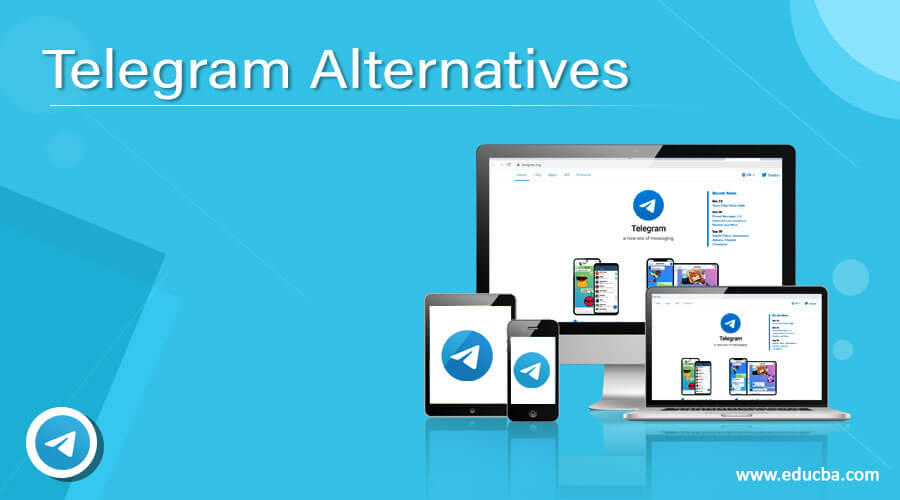 Introduction to Telegram Alternatives
There are endless choices when it comes to messaging apps. Telegram is one such alternative. Many people want to use Telegram because it is discreet and private, so security issues aren't present. In addition, you can build your own software using an open API. However, it is not the GUI that everybody loves and finds Telegram alternatives. In this article, we will talk about the best telegram solutions you can pursue. This chat app isn't as popular as WhatsApp or Facebook Messenger, but it is still one of the better options to connect with your team.
Let start about telegram alternative
1. Skype
Skype is the most popular video chat software in the world. The new version of Skype helps you to transfer texts, photos, files, make video, and voice calls to a person. In an environment in which working from home is becoming common, Skype is even more important. On a laptop and tablet you can do it, but look after spammers that are willing to deliver the texts.
2. Snapchat
Snapchat is a popular app for chatting with anyone. You can even submit images, videos, and even make free calls to voice and camera. This method is very fun to use with its variety of filters! Snapchat also has a special function that hides all the posts once you see them. You will also be alerted if you take a screenshot of your chat. This is the ideal software for online privacy issues.
3. Slack
Slack is one of the world's leading team collaboration tools, imagine the whole communication team at one location, searchable immediately, accessible everywhere you go. Slack is used by thousands of people on a regular basis, including the Stripe, Rdio, Medium, and Airbnb teams for the Mac, iOS, PC, and Android systems. Don't be fooled by the word, Slack will make your job interactions more efficient.
4. Flock
Flock is nothing other than a forum for correspondence. In addition to email, voice, and video correspondence, there are various features related to productivity, such as to-do lists, polling, comments, notifications, and file sharing. In addition, you will not have to think about protection or privacy because it is conforming to SOC 2 and all traffic between Flock and servers is encrypted.
5. ICQ New
ICQ is a desktop tool (Windows, Linux, macOS, and mobile devices, allowing you to connect through email, voice, and video calling with your team or business partners. It features many strong features and a nice and tidy GUI. ICQ helps you to create chat groups up to 25 kilometers and connect up to 30 people to your group calls. ICQ can quickly turn voice messages into the text because your partners normally send them and you don't have time to listen to them.
6. Microsoft teams
Microsoft Teams is an excellent corporate collaboration platform. You will hold audio, video, and online conferences for others. Files, solo or party chats, and more can be easily exchanged. With that, even though your team has 10,000 participants and is spread across the globe, you will get your team together. Microsoft teams are now provided with company security.
7. KaKaoTalk
With KaKaoTalk, you can share messages for free for as many users as you want and make video and voice calls. When you register you will need your phone number and a verification code. For mobile devices as well as desktops KaKaoTalk is available. It helps you to exchange files, create a live conversation, and arrange meetings through voice on your calendar.
8. Google Hangout
Google Hangouts is an enterprise collaboration video conference app. Hangouts helps you to create communities of up to 10 people with videos that can be regarded as a restriction. But you should connect up to 150 contacts when it comes to community chats. Open and inexpensive, Hangouts helps you to connect to or chat to your staff. There are countless possibilities of contact with Hangouts.
9. Tox
Tox is a safe and free application that links you to your staff, family, or friends. Instant communications, speech and video correspondence, screen networking, sharing, and community chats are all aspects of this application. Tox is a safe option for online communication, free to download, encrypted, and with null ads.
10. Threema
Threema is a mobile chat software with a close Whatsapp GUI. You can submit pictures, texts, and GPS places in your chat with this app. It even synchronizes all the contact lists to make the app consumers easy to locate. Threema also places protection and privacy first, so you can talk without thinking about someone else reading your messages with your friends, family, and team.
Conclusion
In this article, we have seen various alternatives to Telegram. You can choose any of them based on your requirements. I hope you will find this article helpful.
Recommended Articles
This is a guide to Telegram Alternatives. Here we discuss the Introduction and various alternatives of telegram. You may also have a look at the following articles to learn more –