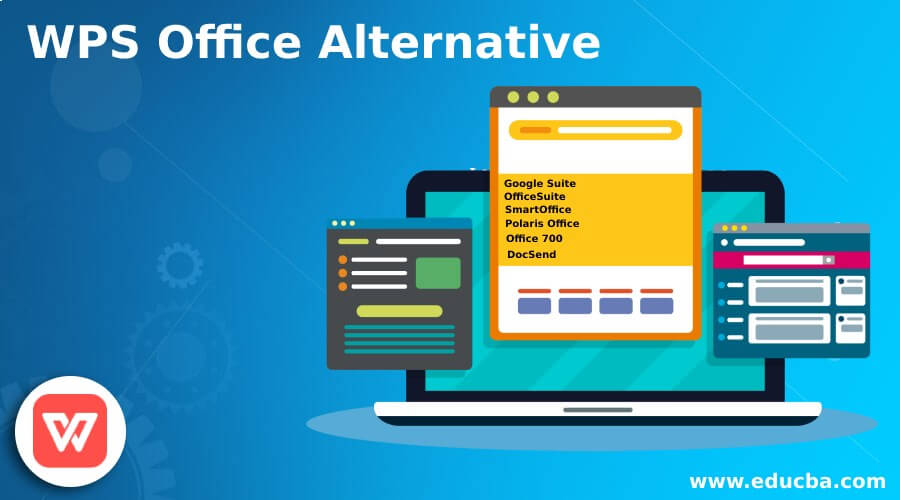 Introduction to WPS Office
The following article provides an outline for WPS Office Alternative. WPS Office has for many years been one of the best mobile office suites. Kingsoft offers all the basics to integrate the majority of office suite tools such as Word, PDF, presentation, document scanners, and memo into one app. Moreover, Microsoft Word, PowerPoint, Excel, the Adobe PDF, and Google Docs are fully compatible, so you can manage your documents, create a presentation, and edit PDFs on the screen.
Even though WPS Office is so rich in features, it does not have faults. The app has some glaring downside to address regardless of whether it's a syncing problem, the limited freemium model, or the confusing interface requiring some learning curve. So if those weaknesses have forced you to find alternatives, these are all the best alternatives to the WPS Office for Android and iOS for you.
Various WPS Office Alternative
Given below are the various WPS Office Alternative:
1. Google Suite
Google Suite might be the best response to your needs if you had a feature-packed alternative to the WPS office. The offer from Google has everything to suit your different requirements. And it does much better than the Kingsoft app in several fields. If you want a basic office suite that can check the essential boxes, the G suite might seem too abundant to suit your requirements.
The seamless integration with Google services is, as you already know, its main focus. You can manage your files with Google Suite, regardless of which platform you are using. G-Suite includes more well-known apps than WPS-Office, including Gmail, Slides, Docs, Sheets, Drive, Calendar, Vault, Admin-Panel, etc.
2. OfficeSuite
If OfficeSuite claims to be a full-service application, it seems that it is totally equipped to claim one of the great alternatives to the WPS office. The application has a minimal user interface and features, and the tools which are easy to use make it easy for you to view, create, edit documents with Excel, Word, and PowerPoint.
Besides, as a handy PDF editor, it can fulfill the expectations. In fact, we would go to the latter because of the presence of several annotations tools if we would choose OfficeSuite on the basis of the PDF edition. Slides for the presentation are created, another department where OfficeSuite looked a bit better than WPS Office. Besides being fully PowerPoint compatible, it comes with a useful presenter mode for a more attractive presentation.
3. SmartOffice
SmartOffice is a lightweight and fully-functioning office suite designed to easily view and edit documents on your mobile device. The app includes a good range of predefined templates that allow you to quickly create a number of documents. These templates can come into play in times when you do not have much time to make docs. And this, too, without putting the backburner on the quality factor.
SmartOffice could be your better replacement for WPS Office if you love using beautifully designed templates. SmartOffice is as good as WPS Office when it comes to editing presentations, if not better. So it should not be a problem to view, edit and present slideshows. Found it decent, even with regard to PDF editing. Regardless of whether you annotate PDFs or convert office documents into PDFs, the app is perfect for doing the tasks assigned.
4. Polaris Office
Polaris seems to be a direct competitor to the WPS Office in more than one respect. The app is equipped first and foremost for handling all of the major office components of Word, sheet, slide, and PDF. Second, the format of the most popular DOC, XLS, XLSX, DDOCX, PPT, PPS, PPTX, TXT, PPSX, and ODT is supported. So it should be easy for you to manage a number of files, regardless of format. And third, Polaris Office's interface is a little bit more intuitive than WPS Office. Thus, it is hassle-free to navigate files and documents. Like WPS, there are also dozens of predefined templates so that you can make nice appearances without spending a lot of time.
5. Office 700
Although Office 700 lacks the expertise of Microsoft Office and a variety of G-Suite tools, found it capable of addressing basic needs in a way that is easy. Thus, you should bear in mind that you are looking for an alternative WPS office that allows you to manage docs or create good presentations.
6. DocSend
DocSend is a tool user can use without taking too much room into their inbox or having to download a document to their computer to easily share contents and documents between the individuals. DocSend also provides notices and tracking so that you know the contents once the recipient has accessed them. You would also be notified after reading, as long as the document was opened, if it were transferred to other viewers, page analytics, etc.
Conclusion
In this article, we have seen WPS alternatives. You can choose any of them based on your requirements.
Recommended Articles
This is a guide to WPS Office Alternative. Here we discuss the introduction and various WPS office alternatives, respectively. You may also have a look at the following articles to learn more –