Updated April 19, 2023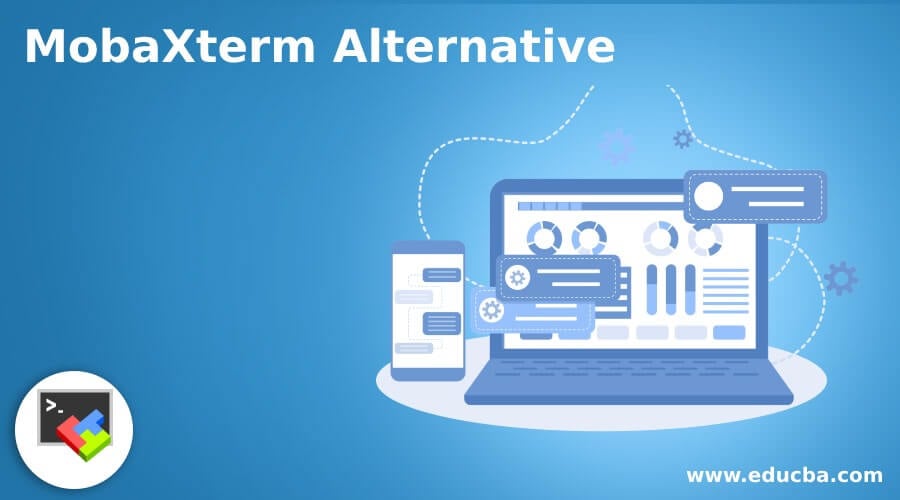 Introduction to MobaXterm
The following article provides an outline for MobaXterm Alternative. Windows Terminal Software MobaXterm has been renowned for its remote access capabilities and a large number of features covering a much broader spectrum of applications. In particular, the X11 server is packed into a box with all major terminal applications. It is also portable in that respect, so administrators can use it conveniently without being placed in arbitrary places. The mobile feature can find similar portable tools.
It is vital for communication applications such as this that you can adjust the interface with the tabbed interface function between different sessions. While there are a few mobile apps for Android and the iPhone, most of those tools are exclusively for the desktop. Windows is a platform that is more widely supported, although several tools support Mac. Linux users prefer via their terminals to have a broader variety of choices, although some of these tools support them.
Top Alternatives of MobaXterm
Given below are the top alternatives of MobaXterm:
1. FileZilla
FileZilla is an FTP protocol or client transfer file. It allows individual files or bats to be moved to a Web server. FTP has been the model for developing websites for many years. For those who prefer coding websites in HTML, FileZilla is still a useful choice. This software is a free-to-download open-source project. It works on many operating systems but was particularly designed for Linux.
2. Beyond Compare
Beyond comparison is a client-enabled software that allows advanced file, data, and folder comparisons and then acts accordingly. The software is maintained in Madison, Wis, by a small corporation called Scooter Software, Inc. The software is actively developed and was launched in January 2018.
3. PuTTY
PuTTY supports many network protocols, such as SSH, SCP, SFTP, rlogin, and Telnet, and is a free and open-source terminal emulator. It also provides support to connect raw sockets. Originally designed exclusively for Windows, it supplies the OS with terminal emulation tools similar to those available on Unix-like operating systems but has since been ported to other OS.
4. OpenSSH
OpenSSH is the leading remote login connectivity method for SSH. It encrypts all traffic to remove eavesdropping, hijacking link, and other attacks. OpenSSH also offers a wide variety of protected tunneling capabilities, multiple authentication procedures, and advanced set-up solutions. OpenSSH: OpenBSD manual pages for the manual PagesWeb.
5. PowerShell
WCF the newest versions of PowerShell, DSC, WMI, and WinRM for older versions of Windows are found in the Windows Management System. Browser for PowerShell Module. Check for modules and cmdlets of PowerShell. Azure Cloud Shell PowerShell. PowerShell is now open to the public in Azure Cloud Shell.
6. MobaXterm
MobaXterm is a program that uses a series of networking resources that are optimized in a single exe file. With an X server MobaXterm combines a variety of network clients and provides a complete selection of Unix commands. MobaXterm is an ideal remote machine toolbox. The features provided by the webmaster, IT administrator, programmer, and any user need to be more user-friendly in their remote tasks. MobaXterm includes big RDP, SSH, X11, VNC, and MOSH remote networking resources. The Unix commands are also complete.
7. WinSCP
The WinSCP is a free open source Windows Copy software that enables users to safely transfer files from and into a Windows computer and a remote computer, such as a Linux server. WinSCP is a short version for Windows Safe Copy. Not only SCP but SSH, FTP SFTP, and WebDAV are supported. It also provides a couple of graphic interfaces that allow you to drag and drop files and copy, transfer, and remove files on a remote computer.
8. WebDrive
WebDrive is a stable file-sharing networking app. The software is developed by Michael J. Ryan and John C. Glavin, South River Tech, which was founded in 2001. Sirius XM, New York City University, Harvard University, the JackSonville Medical Center, the Naval Intelligence Bureau, Georgia Tech, Teleflora, Rutgers, Verizon, Land O'Lakes, the University of Western Sydney, the United States Post Service, among others are among Sirius XM's influential customers.
9. IFTTT
IFTTT is a superb application that enables you to build automation chains between your different applications to automatically trigger such events. This can greatly enhance the ability to do stuff, since a single initial task that starts a chain of tasks can execute multiple tasks. Each automated series is an applet to carry out a certain event chain between your applications as a service.
10. Dropbox
Dropbox is a common solution for cloud storage, offering smooth file syncing across platforms, so that team members and employees share it with each other easily. It's been around for years and a reputable, credible reputation has been established.
Recommended Articles
This is a guide to MobaXterm Alternative. Here we discuss the introduction and top alternatives of MobaXterm respectively. You may also have a look at the following articles to learn more –