What is Humanitarian?
Humanitarian: Compassionate, Selfless, and Generous. These are mere synonyms for this word, but the objective is much bigger. It is about coming to the aid of people who need help. It takes the globe to support each other, and the need for the same is bigger than ever. According to the data collected by the United Nations, there are approximately 274 million citizens who need humanitarian assistance. The ratio is only increasing, and we are nowhere near achieving the mission. This World Humanitarian Day 2023, the United Nations hasn't yet decided on the theme. In 2022, it built the theme on an effective metaphor – "It Takes a Village." It believes that more focus should be put on appreciating the efforts of humanitarian work.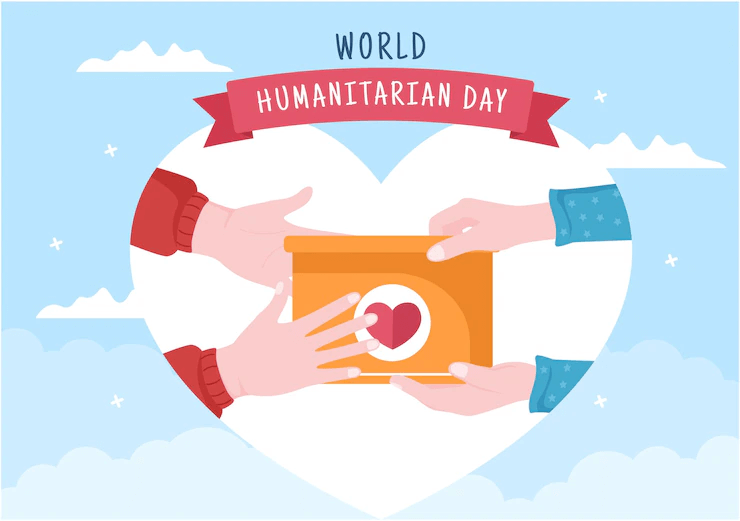 Several people stand for support and protection regardless of where and in which way someone needs help. According to past studies, the first respondents for any disaster are the same people affected by the problem. After that, the global community comes forward for support. This World Humanitarian Day, 2023, is about appreciating those who help.
History
World Humanitarian Day 2023 will be celebrated on August 19 like every year, but what about its history? What led to the initiation of this movement that is celebrated on a global scale today?
On August 19, 2003, there was a bomb assault in Baghdad, Iraq. It was at the Canal Hotel, where approximately 22 people were killed. Among those on the list were several humanitarian workers, including Sergio Vieira de Mello, the UN Special Representative for Iraq. It took the United Nations five years to conduct a General Assembly and adopt a resolution that August 19 would be celebrated as World Humanitarian Day every year.
Every year, the focus of this day is to bring humanitarians from across the globe to advocate for other people's dignity, well-being, and survival. It is also focused on the safety of all the aid workers. This World Humanitarian Day 2023 focuses on showing the positive influence, effectiveness, and significance of the work done by humanitarians.
Principles of Humanitarians
The Red Cross society first promoted humanitarian principles in the 19th century, and now they have shaped the modern humanitarians' way of life. These principles act as the main tools for humanitarians to work every day.
The four principles are:
Humanity: If you find any kind of suffering or problem around, try to prevent or resolve it. Do everything possible to protect the well-being and life of other human beings.
Independence: Political, economic, and military objectives are not a part of any humanitarian's life. Stay independent from them or any other non-humanitarian activities.
Impartiality: If you perform any humanitarian activity, do it without being partial to anyone. Make sure that you give priority to the worst cases first.
Neutrality: In a hostile situation, refrain from taking sides and decide on neutral grounds. A humanitarian doesn't engage in religious, political, ideological, or racial controversies.
Importance of World Humanitarian Day 2023
The day is a way of reminding everyone that many people around the world have sacrificed their lives for the greater good. The day highlights the selfless care and activity of millions of volunteers who have provided others with immediate food, medical care, protection, and shelter in times of need. It even acts as a motivation for others.
How to Celebrate World Humanitarian Day 2023?
People put their lives in danger for the sake of others. They strive to eliminate poverty, illness, and illiteracy from wherever they can. This World Humanitarian Day 2023, take some time to improve your efforts for the sake of those in need. You can research and learn where problems are occurring and volunteer for help. You can work for their betterment through donations, raising awareness, and visiting those places. The time requires people to help each other and uplift everyone together. The world is fighting an endless war, so make sure you contribute. On World Humanitarian Day 2023, be a part of the movement instead of being the audience.
Recommended Articles
We hope that this EDUCBA information on "World Humanitarian Day 2023" was beneficial to you. You can view EDUCBA's recommended articles for more information,