Updated February 17, 2023
When is International Men's Day celebrated?
International Men's Day is celebrated every year on November 19 to celebrate the men in our lives. And why not? They play an important role in our lives.
This day marks their celebration, no matter how much men think about the world being dominated by women.
The IMD, or international men's day, is celebrated every year, and unlike women's day, we don't see much hype or celebration about it.
Many don't know there's a day called International Men's Day!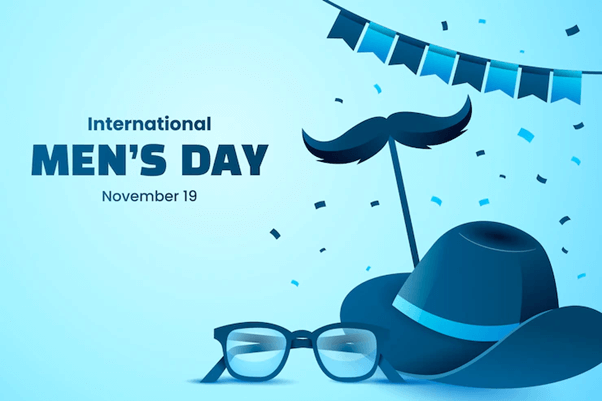 History
International men's day was inaugurated in 1999 by Dr. Jerome Teelucksingh. Much before when the world declared international women's day in 1909, there was constant hype about international men's day.
Men wanted to have the same honor and support from society. Many demanded the day to be declared by 1969 but couldn't. It was only in 1999 that it got relaunched by the doctor from Tobago and Trinidad. He made sure to choose the date wisely, November 19, and also honored his father.
Dr. Jerome Teelucksingh relaunched international men's day on his father's birthday in 1999 (November 19).
Later, it came to India on November 19, 2007, when the leading Indian men's rights organization, the Indian family, demanded the same. It was a huge celebration for men, who got a chance to stand equal to women!
India also accepted November 19 as international men's day to Australia and West Indies. There was a celebration back in 2008 for the IMB, and plans were made to celebrate it annually.
Why should we celebrate international men's day?
Many people argue about the concept of IMD.
They may ask- why do men need a day? They already have everything!
Women fought long for equal rights and are still discriminated against- not men!
These are some of the common debates we come across. But why men's day?
Let's dig in-
1. They deserve to be celebrated
Jokes apart, men are deserving. The boys and men in your life deserve an occasion- to make them believe that we value you. Men also serve the nation, union, and society. They are also actively part of the community, family, marriage, and child care. If we don't honor them, we do them wrong.
IMD is about celebrating the achievements of your boys and men.
2. Their issues
Women have issues (they have had them for a long time)- but they fight and speak. Society lets them speak. But we ignore men.
Men should also be entitled to speak on issues and what bothers them. This day is not just a celebration but also promotes basic awareness of men.
There are many issues faced by men globally. These may include societal expectations, stress at work, sexual assaults, marriage related, and more.
They have the right to speak, so it should be celebrated.
3. Deal with taboos
Men don't cry! Men aren't cowards! Men don't have mental breakdowns!
These are some of the common taboos of society. We don't expect men to act like a coward (or a woman).
This day is important to break these taboos- men are the same beings as women. They may have mental breakdowns and face depression. They may often cry to let go of their emotions.
With international men's day, we support men to have emotions.
4. Appreciation
It is important to appreciate men in your life- this includes marking them as role models and how influential they are to society.
All the positive contributions are considered on November 19!
5. Teach values
Not all men are the same- international men's day supports this norm. They teach younger boys to have a positive impact on society. They also teach men about values and character and how to be an asset to society.
Wrapping up
IMD should be a positive day to celebrate boys and men. It teaches men to become a better version of themselves and society about valuing men.
Each year, it's celebrated with a theme. Let us all appreciate the men in our lives and support them through thick and thin!
Recommended Articles
We hope that this EDUCBA information on "International Men's Day" was beneficial to you. You can view EDUCBA's recommended articles for more information,