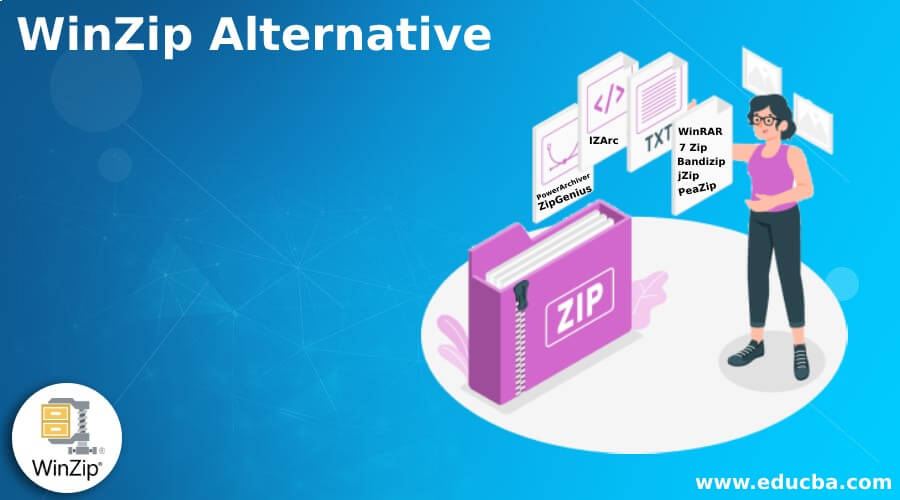 Introduction to WinZip
The following article provides an outline for WinZip Alternative. WinZip is a file archiver and compressor that creates archives in zip file format and unpacks other archive file formats. It also has various tools for the system integration. It unpacks LHA, RAR, ZIP, LZH, Zipx, BZ2 and 7Z. It can decode HQX, B64 and UUE files. It provides backups to retrieve the loosed files, the process of backup is automated. It provides operating systems like Windows, macOS, iOS and Android. There are some other alternatives in the market which provides the same functionality as WinZip and other functionality.
List of WinZip Alternative
Given below is the list of WinZip alternatives:
1. WinRAR
WinRAR is the best alternative for WinZip. It is a trialware file archiver utility developed for the Windows operating system. It creates and view archives in RAR or ZIP file format and unpack numerous archive file formats. Furthermore, it embeds CRC32 or BLAKE2 checksums for each file in the archive file and enables users to test the integrity of the archives.
2. 7 Zip
7 zip is a free open source file archiver utility. It uses its own 7z archive format but can read and write several other archive formats. It supports a number of other compressions and non-compression archive formats such as gzip, xz, tr, ZIP, bzip2 and WIM. 7 Zip support file manager along with other standard archiver tools. This file manager has a toolbar with options such as creating an archive, testing the archive to detect errors, extracting archive, copying, moving or deleting files and opening the file properties menu.
3. Bandizip
Bandizip is another alternative for WinZip, which is a file archiver for Microsoft windows. It allows users to extract multiple files and helps them to open the extracted folder easily. It supports archive formats like RAR, 7Z, RAR5 and ZIP. It enables users to compress archives with multi-volume and passwords. It supports the compression of files having more than 4 GB. In addition, it supports AES 256 encryption algorithm to provide the security to the user.
4. jZip
jZip is a powerful tool for unzipping Zip archives. It is based on 7 zip technology. It can create zip compatible files and other archiving software. Its easy to use feature make it quite popular to extract any type of compressed file. With jZip, users can archive files in various formats; RAR is the most popular one. RAR files are compressed archives, which are files that are designed to store both single and group of related files while minimizing their memory size to save on storage space.
5. PowerArchiver
Another best alternative for WinZip is PowerArchiver which supports Microsoft windows. It can create dread ZIP, Tar, 7z archive formats and various disk image formats. It can also read RAR and ACE files but cannot create them. PowerArchiver is also known for EasyZip. It also provides a command-line version and Microsoft Outlook plugin. Its latest version also allows users to use the Ribbon GUI in Microsoft office 2007 and Windows 7. Users can revert to the old-style toolbar if they wish.
6. PeaZip
PeaZip is another best alternative WinZip is an open-source file manager and file archiver. It supports operating systems like Microsoft Windows, Linux, ReactOS and BSD. It supports its own archive formats called PEA archive format and other mainstream formats. It allows users to automatically run extracting and archiving operations using command-line generated exporting the job defined in the GUI front end. It provides various features like archive conversion, secure file deletion, splitting and joining files, finding duplicate files, batch renaming, byte to byte file comparison, encrypting archive, checksum or hash files, etc.
7. ZipGenius
ZipGenius is a file archiver utility that supports Microsoft windows. It can handle nearly two dozen file formats, including all the most common formats, as well as password-protect archives. It is available in two versions, one is standard, and another is a suite. It supports TWAIN devices such as scanners and digital cameras. In addition, zipGenius can extract files to CD/DVD burner. To provide security, it supports encryption algorithms such as blowfish, CZIP, Twofish and Rijndael AES.
8. IZArc
IZArc is a free archiver which supports Microsoft windows. It supports archive formats like rar, tar, zip, gzip, and gz. To provide the security, it also uses the AES256 algorithm. It allows users to perform both compression and decompression of files. It provides a drag and drop interface. IZArc can also convert CD images. It allows users to add or view comments in the archive files, can repair the broken archive and scan any archive for the virus.
9. Zip Extracter
The zip extracter program is used to open files such as RAR, ZIP, 7Z and files on your PC and google drive. This software extract unzips files from google drive. It allows user to preview and download files existed inside the ZIP folder without extracting the whole file. Zip Extracter support password protected files.
Conclusion – WinZip Alternative
Here in this article, we have seen various WinZip alternatives such as WinRAR, 7 Zip, Bandizip, jZip, PowerArchiver, PeaZip, ZipGenius, IZArc and Zip Extracter.
Recommended Articles
This is a guide to WinZip Alternative. Here we discuss the introduction and list of WinZip alternatives for better understanding. You may also have a look at the following articles to learn more –