Updated June 3, 2023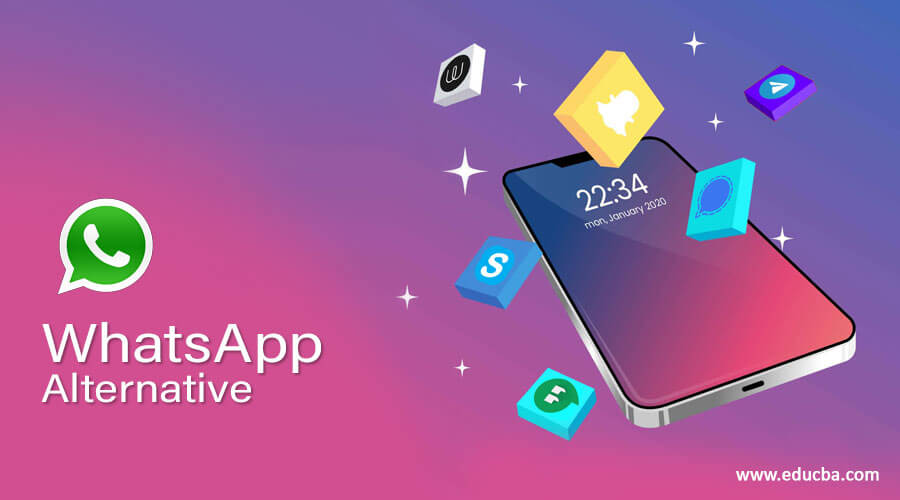 Introduction to WhatsApp Alternative
WhatsApp Messenger, owned by Facebook, is the most popular messaging app. The organization introduces new features to ensure that it stays at the top. Not everyone seems to be pleased with WhatsApp, however. WhatsApp recently updated its privacy policy to explain how it regulates your details within the applications. The policy clearly indicates that the company gathers a lot of users' data and metadata.  There is also the fact that these days, everyone uses WhatsApp, so it's too distracting. In this topic, we are going to learn about WhatsApp alternatives.
List of WhatsApp Alternative
So, if you want to change more secure messaging app, here is a list of the best alternatives to WhatsApp.
1. Telegram Messenger
Telegram Messenger has been renowned as one of the greatest alternatives to WhatsApp. It is free and open-source. On the Telegram Group, conversations can have Up to 200 participants, and 100,000 participants can be added to supergroups for channels and public forums.
There is a voice as well as a video calling feature.
It provides End-to-End encryption.
Users can share files and media up to 1.5GB.
It has a Chatbot feature that is very reliable and user-friendly.
It provides inbuilt Stickers.
It also provides passcode authentication. Users can update their status as a Bio. Users can edit and send messages within 48 hours.
Educational groups or businesses can create channels to share information. Users can join or leave these channels whenever they want.
Chats are stored on the cloud server; therefore, they are portable.
Users can simultaneously use Telegram on multiple platforms, allowing them to text on their phones and continue using it on their PCs. However, Telegram doesn't have any payment feature as of now.
Platform Availability: iOS, Android, Windows, macOS, Linux.
2. Signal
Signal Foundation, which operates Facebook Messenger and WhatsApp Messenger's end-to-end encryption technology, has launched its own Signal Private Messenger messaging app.
Signal offers various security features as compared to WhatsApp. It has self-destructing messages and screen security in which no one can take screenshots of the chats.
On signal, the User can add up to 100 participants in the group, and Group video calling allows up to 5 members.
On signal, Users can share media and files up to 100MB.
The signal does not allow backup on drive or cloud service. It offers only local backups.
Signal provides calls, group calls, backups, and metadata.
There is no status feature provided as of now.
Signal provides a "Sealed Sender" option and a Relay Calls feature that reroutes calls through Signal servers.
Users can not delete Messages within 3 hours.
Signal collects only the Phone number of the user and none other personal data.
It supports PIN lock, fingerprint, 2 Factors Authentication, and Incognito Keyboard. Also, users can automatically blur faces before sending.
However, it doesn't have any payment feature.
Platform Availability: iOS, Android, Windows, macOS, Linux.
3. Skype
Skype is the most popular and well-known app for video calls. An updated version of Skype allows users to send messages and share images and files. Skype can be used on smartphones and desktops, but spammers can send you messages on Skype, which is the disadvantage of using it.
Platform Availability: iOS, Android, Mac, Windows Phone, Windows.
4. Google Hangouts
Google Hangouts is a popular messaging tool where users can connect with friends or colleagues with a Gmail account and chat. It is a separate app, or you can use it within Gmail to send phone messages.
It can not be used to chat with friends who don't have a Gmail account. In this, Group chats can be created. It supports sharing files and scanning for text messages.
Platform Availability: Android, iOS, Windows Phone, Windows, Mac.
5. Wire
Wire app is one of the popular alternatives to Whatsapp as it provides end-to-end encryption. It has a user-friendly and simple interface.
Skype co-founder Janus Friis founded the Wire app. It only asks for users' phone numbers and email addresses for signing up and is not shared with anyone.
Platform Availability: Web, Android, iOS.
6. Snapchat
Many people widely use Snapchat, an app for creating online Stories like images and short videos that disappear in 24 hours. In this, users can add stickers or funny masks to their photos. Many messaging apps copied this feature. It also provides secure messaging, file sharing, group chatting, etc.
It also allows one to create emojis and connect with friends.
Platform Availability: Android and iOS
Conclusion
In this article, we have seen various alternatives to WhatsApp along with their features. You can choose any of them based on your requirements and privacy preferences.
Recommended Articles
This is a guide to WhatsApp Alternative. Here we discuss the introduction and various alternatives to WhatsApp along with their features. You may also have a look at the following articles to learn more –