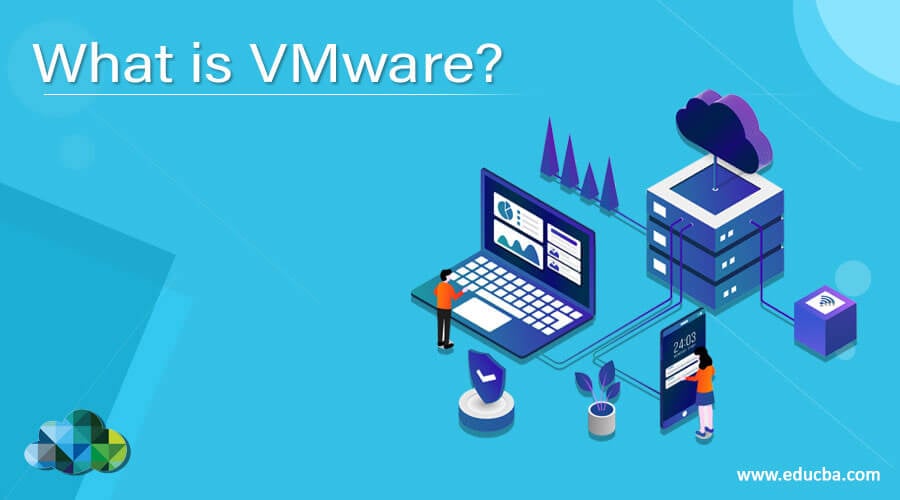 Introduction to VMware
VMWare is a subsidiary of Dell Technologies. It provides a platform for cloud computing and virtualization. It stands to be the first commercially successful company to virtualize the x86 architecture. It is one of the key providers of virtualization in the software industry. They are categorized into two levels which is desktop applications and server applications. VMWare's desktop software is compatible with all major operating systems, which include Linux, Microsoft Windows, and MAC OS. The first software product was released in May 1999. Later he entered the server market by releasing the VMWare GSX server and VMWare ESX server.
What is VMware?
It is a virtual machine software from VMWare Inc. It enables multiple copies of the same operating system, or there can be several different operating systems that can run simultaneously on the same x86 based machine. It supports multiple operating systems running on a Windows or Linux PC. It also has deployment tools like VMWare ACE. A user's desktop can be stored on a USB drive for transport. It is the process of creating software-based or virtual representation, which includes servers, storage, and different networks. It effectively acts to be a solution to reducing IT expenses and boosting efficiency and agility.
Understanding
Virtualization is a process where a software-based representation of something rather than a physical one. Virtualization that is managed by a program is called a Hypervisor. A hypervisor is a software that helps in creating and running virtual machines. There are two types in this which are as follows:
Type-1 native or bare-metal Hypervisors
Type-2 or hosted Hypervisors
Type 1 provides direct interaction to the hardware, and it can run directly on the host's hardware and control it.
In type 2, an operating system is needed to interact with the hardware. The Hypervisor is installed along with the operating system.
How does VMware make working so easy?
There are limitations of various servers like x86 servers, which may create problems in IT organizations to get things deployed on multiple servers. It also creates issues to keep pace with high storage and processing demands. A virtual computer system is known as a virtual machine that has a software container with an operating system and an application inside. All self-contained virtual machine is completely independent. This can be multiple virtual machines on a single computer which provides a facility of having several operating systems and applications which run on just one physical server. It also provides properties like partitioning, isolation, encapsulation, and hardware independence.
What can you do with VMware?
This can help with the below:
Learn server management and web development.
Testing multiple operating systems and applications.
It acts o be the best tool for an IT administrator.
Providing product demos where all technical rehearsals can take place easily. If at all there is any damage, then it can be easily recovered.
It is the ultimate solution for vSphere staging. vSphere is a solution for running virtualized solutions for all kinds of customers. If there are deployments being considered on new virtual machines, then first, the VMWare Virtual Appliance marketplace can be used and later download them in VMWare Workstation.
It helps in software development and browser testing.
Working with VMware
Working with this is quite easy and needs that the following steps are being followed. First, you need to install the VMWare workstation and then install the operating system. You can name your virtual machine and also set the disk size. Once this is done, the user can customize the virtual machine's virtual hardware. Then you can now start the virtual machine. Once the installation is complete, you can start navigating VMWare. You can easily move files between the virtual machine and also your physical computer. A printer can also be added by your name. You can also find shortcuts with keys once you are familiar with the system.
Advantages
The advantages of VMWare are as below:
All old applications can be run on it.
Even if your data is infected with a virus, even then, you can access it when using VMWare.
Browsing on VMWare is completely safe.
You can run Linux on top of Windows very easily.
To create a personal cloud computer is feasible.
Reuse of old hardware is easy.
Required Skills
For a professional to be successful at VMware below skills can be beneficial.
Experience in Linux operating system
Knowledge of concepts in VMWare Data Center Virtualization
Knowledge of cloud automation
Network Virtualization
Why should we use VMWare?
It helps in consolidating servers, and it can improve in a reduction of capital and operational costs.
It can support in running the latest and legacy systems that cannot run on physical hardware.
You will never face downtime when you are looking at hardware maintenance.
It provides easy and centralized management for all servers.
Scope
This has high-end visualization and virtualization management software. It has viewed and supporting requests which can be submitted by VMWare users. It provides events and tasks with Center alarms. With all these latest technologies and features, VMWare is here to stay and has a great scope.
Why do we need VMware?
It provides easy and centralized management for all servers. When there is a fear of downtime and loss of data, the best option is VMWare. All legacy software can be easily used on VMWare. It helps in consolidating server and all save a lot of money.
Who is the right audience for learning VMware technologies?
The people who are interested in server management can opt for learning VMWare. It helps in safe browsing and browser testing. Hence testers and developers can also choose VMWare. With this, it also allows legacy systems to run properly. This overcomes the short come of users who are working with old hardware.
How will this technology help you in career growth?
Once you learn VMWare, you can easily work with multiple operating systems. You can get to know them and work with different kinds of legacy systems. By this, you are a complete blend of new technology taking care of the legacy as well. It has many opportunities for developers, IT admins, and testers.
Conclusion
It is the perfect solution when different OS need to work together. It also helps in working with infected data.   VMware is a safe, secure and best option when the user is concerned about data and not sure about its contents and work across varied operating systems.
Recommended Articles
This has been a guide to What is VMware. Here we discussed the working, skills, scope, career growth, and advantages. You can also go through our other suggested articles to learn more –