Updated March 20, 2023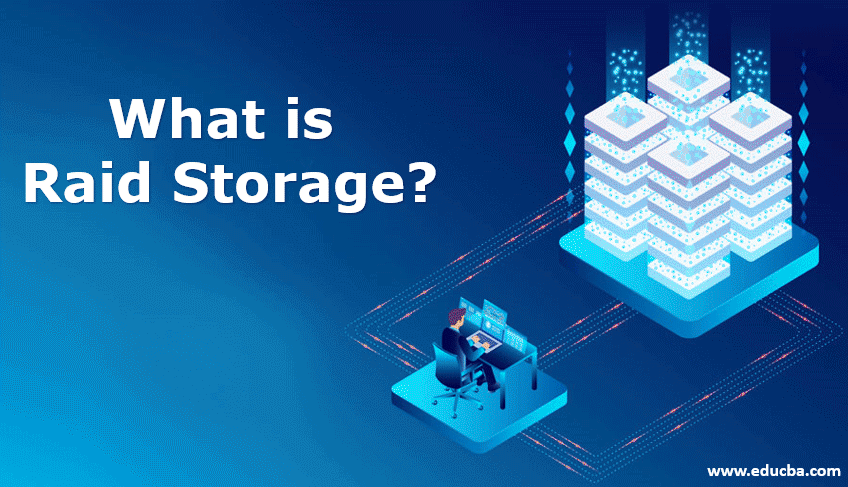 Introduction to Raid Storage
Raid is a virtualization technology to store data as it combines different physical drives of different locations and stores data. These physical drives are combined to form a single logical unit to improve the performance for the storage. Raid levels are named with numerals starting from 0, and it is not continuous. The main goal of Raid is to be available always for data storage and also to duplicate data for recovery. The raid is protected from errors with the help of parity, and this is different for different levels
What is Raid Storage?
Disk drives became the early arrival technology that lasted till the past decade and was a top priority for data in the early '80s and late '90s. However, since every technology gets out-dated at some point in time, data operation speed and security became prime reasons for its decline, with a new technology known as RAID to take its throne.  This technology works to improve data storage performances and reliability. A RAID storage system has a combination of multiple drives that work together. The RAID storage technology considers the available multiple drives as a single continuous drive with the help of hardware and/or software. One crucial behavior of RAID storage is its availability into multiple RAID levels which have a specific purpose to serve like.
RAID 0: It provides a convenient better performance for all read and write operations, this technique is easy to operate.
RAID 1: Is configured on disk mirroring and duplexing which means the same data is written in two disks making a mirror image. In case one disk fails the operation is not aborted as the second disk continues to function.
RAID 2: RAID 2 and RAID 5 are similar here the disk striping is performed at the bit level and encodes a Hamming code for error prevention.
RAID 3: Is a byte-level stripping having a dedicated parity disk.
RAID 4: Has good performance of random reads and sequential data access. It has a block-level striping with a parity disk.
RAID 5: It is great for excellent performance and fault tolerance. It is used in the file servers, backups, and web servers. The transactions are fast for reading and comparatively lower speed for writing transactions (due to lower parity)
RAID 6: It is an independent data disk with double parity functions. It is reliable, fast and provides full tolerance for fault tolerance handling. It has a similar block pattern as RAID 5 but with different parity functions for block-wise parity function.
RAID 10: It is a combination of two RAIDS i.e. 1 and 0. It performs the mirroring functions like RAID 1 and stripping as RAID 0. It has a good read and writes performance which can be used in database storage in terms of performance and availability.
There are 3 types of RAID Arrays:
RAID 1: Focuses more on the mirroring.
RAID 1: Deals primarily in error correction.
RAID 0: Confined to data striping.
How Does Raid Storage Work?
RAID storage works to improve the performance, it divides the data into small chunks and places them into multiple disks at multiple locations. It does this in a balanced way so that the I/O operations are not disturbed. It appears as one complete hard disk to the OS (operating system). Now the RAID technology does the mirroring of the disk into multiple strips. A data is stored in multiple places as a mirror image of its original file. These stripes of the respected disks are interleaved and addressed in order. This is an effective way to make data storage and retrieval fast but at the cost of fault tolerance which means if at any point one of the disks is not working and gets fail then my data which is saved in all the disks gets lost. A data backup solution is a must when using the RAID storage technology.
Benefits of Raid Storage
As compared to one single hard disk drive the RAID adds more benefits to users including fast data retrieval and read/write. Below we have listed some crucial benefits of using RAID:
Large storage is undoubtedly an obvious advantage of RAID over traditional storage, it offers its users more storage capacity than a single drive. The RAID storage can be easily increased by inserting an additional hard drive.
OS running time is not affected to that extent in case of normal hard drives. Consider a case when the hard drive fails in a normal system, where the OS will stop working but compared to a RAID storage a similar situation is dealt with better and increased the running time of the OD.
Parity check is a new feature in RAID storage which enables its users to check for any potential system crashes if so then it warns you. It gives time to the users to understand the issue and fix it.
Fast speed is something we have briefed in the intro section; it does this as it stores the mirror image of each file into two or more locations.
Data availability and performance are enhanced to a greater extent as the files are stored at multiple places, the read/write tasks are performed instantaneously.
Conclusion
We are consuming more data in many ways as of now, the application and file size has increased considerably in the past decade. We cannot encounter this demand with technology that existed earlier i.e. hard disk drives rather we need RAID storage for faster data handling. We have presented all possible details our reader wants to know for RAID.
Recommended Articles
This is a guide to What is Raid Storage?. Here we discuss what is Raid Storage and how it works along with advance Benefits and Different types. You can also go through our other suggested articles to learn more –