Updated March 13, 2023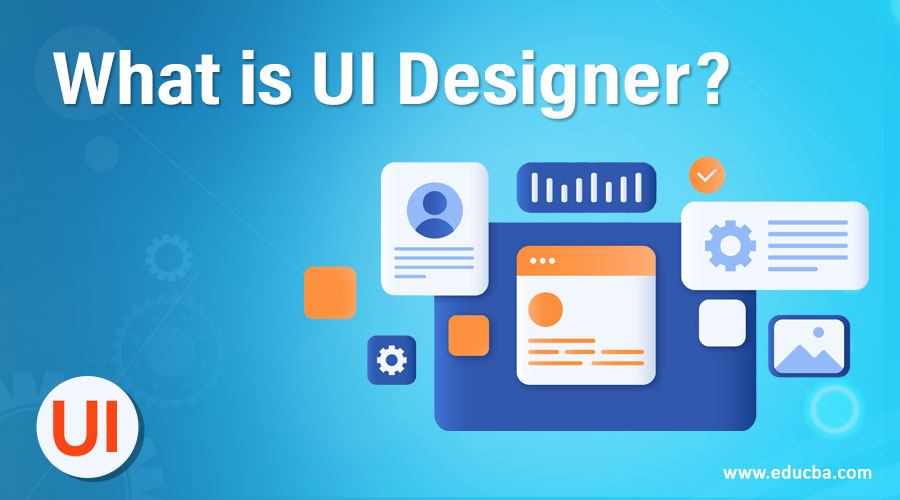 Introduction to UI Designer
User Interface design helps the user to interact with the computer so that the communication between user and system is done easily. The user experience and usability of the applications and the products are improved. The interactions with any system or application are made possible with the help of a UI Designer. All the screens are designed, and visual elements, interactive properties are created by the designer. Visual and non-visual communication is important to become a UI Designer. HTML and CSS should be known, and some bit of coding make the UI Designers excellent in the field.
Who is a UI Designer?
The UI designer is the one who will design all screens through which a user can move around, and he/she is the creator of visual elements and their properties that are interactive and would be facilitating the movement.
Understanding UI Designer:
Before moving ahead, please know that a UI designer is different from a UX designer. It is an interface designer, whereas a UX designer is the user experience designer. User Interface is totally about the look and feels of the product, whereas User Experience or UX is researching about the experience the interface and the product will have on the user and how shall that experience be created. This can be understood by considering the given example -Consider there is a drop-down button on the first page. The job of the UI designer is to work on the color, border, size, padding, etc., of the UI. The UX designer, however, will figure out if the dropdown button is required and if it should be in that very place or not.
How does UI Designer make Working Easy?
It is very important for a UI designer to have good knowledge and hands-on with the softwares and technologies related to graphic designing.
Not only this, the designer should be well updated with the latest technologies in trend to make graphics designing easy and time-efficient. Apart from this, They are expected to be able to develop good content for the product.
To make a user-friendly web page, it is very important to understand colors, texture, font style, font size, color schemes, elements making the page interactive and design components, etc.
What can you do with UI Designer?
A UI Designer is someone who will make your product easy to be handled by taking up technology to make it cool and friendly to the consumers. The job is to learn the human psychology and behavior in order to understand the pattern of perceiving things by the human.
It is the consumer who interacts with the technology, be it in the form of a website, an app or any other such thing. They are the ones to ensure the interaction is swift and easy.
Today, each and every kind of industry creating innovative technologies for everyday consumers have UI Designers to procure a good value for their product.
Working with UI Designer
Good communication skills, patient, organized, scientifically creativity are some of the key characteristics of a good designer.
With great intuition and attention to details.
They are just as amazing working in a team as they are working independently.
Duties of UI Designer
Assuring that each page and each step that a user will experience in the interaction with the finished product will conform to the complete vision that is created by UX designers.
Create and improve wireframes, prototypes, user flows and communicate their interaction ideas.
They should also regularly keep themselves and their design team updated with the changes in the industry's standards. 
What does a UI Designer Actually do?
They focus on the user's visual experience.
He would determine how a user would be interacting with an interface which can be anything, a video game or a website.
It's all about how the user navigates from screen A to screen B through visual touch points.
Skills
Given below are the skills mentioned:
Business Skills: UI Designer should attend business meetings, write business cases and deliver presentations.
Participatory Design: It means opening up the process to as many interested as possible. UI Designer can organize collaborative design workshops for these parties.
Lean Software Development Skill and Agile: In an agile environment, they are not just designers but design conductors who efficiently conduct research. A great designer has to be able to buckle up for a challenging environment.
Rapid Prototyping: They are expected to be able to fastly create prototypes which in future would help them evaluate designs. Then they can create coded prototypes with the help of Axure.
Who is the Right Audience for Learning these Technologies?
If we talk about the audience for these technologies, it is pretty wide since today all of us are looking for digital services on both business & personal level.
Henceforth, differentiating the right audience from the wide population is tricky.
How will this Technology help you in Career Growth?
A UI designer is a great career path and a satisfying job. UI designer's work helps people solve real problems and make the world a better place. Every designer should work efficiently with the desire to do things as best as possible and design web pages that anyone can benefit from. They can bring new ideas to the real world and change them as well.
The role of the UI designer could mean different responsibilities for different companies. In startups, the UI design role can mean incorporating a wider range of responsibilities like deeper knowledge of UI principles, whereas, in a larger company, the role of each designer can be more precise.
Conclusion
It is not easy to design interfaces which are not just user-friendly but also great looking. If the interface is not user-friendly, the user will certainly move on without even trying to understand the product. So, they play a key role in marking an unforgettable impression of the product on the user.
Recommended Articles
This has been a guide to What is UI designer. Here we discuss the concept, skills required, and the duties of a UI designer. You can also go through our other suggested articles to learn more –