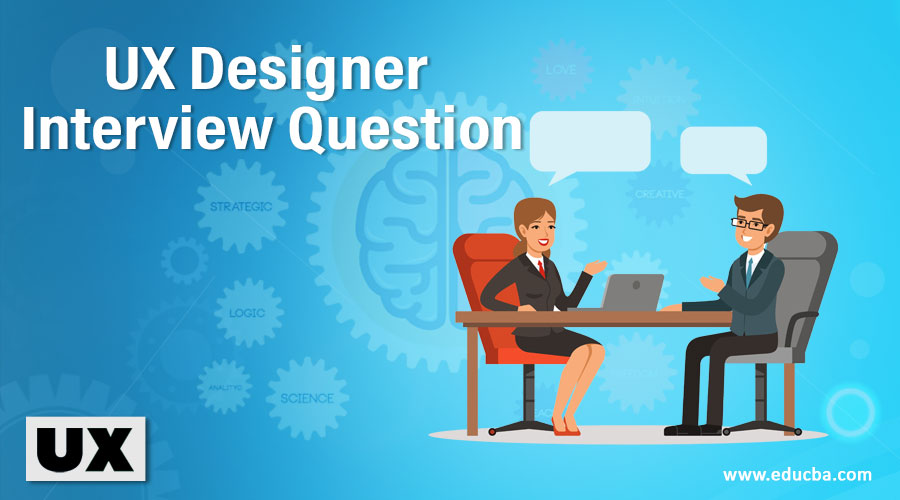 Introduction to UX Designer Interview Question
Preparing for interviews can be overwhelming. One can never predict how the interview will land up even if one has prepared with full heart and soul; it all depends on the interviewer's temperament. So my tip is to try to be excellent observant of your interviewer's body language once you face him/her.
Nevertheless, it's always better to prepare and go, especially for a design interview. We must have the basic concepts of our design clear and embedded in our psyche, for we never know our interview might be a surprise design challenge too!
Top 10 UX Designer Interview Question and Answers
I did some research and have come up with the most common popping questions in an interview for the post of UX designer. Remember, these are just tips and some nudges for you to prepare your best for the interview, but there is no way to predict an interview in reality.
While preparing for an interview for UX designer posts, kindly remember we are talking about working in creative customer-centric scenarios, so make sure your answers always surround and mention customer and product relationships. It's a safe bet.
These questions are divided into two parts
Part 1- UX Designer Interview Questions (Basic)
This first part covers basic Interview Questions and Answers.
1. Tell us about Yourself?
Answer:
This is an interview classic. It's because this is the easiest way for an interviewer to understand from your answers as to how and why he /she should hire you.
From the question, it may seem like an informal conversation beginner, but what the interviewer really wants to know is how you ended up working as a UX designer and what do you really know about this field. By judging this, he/she may decide whether or not you are the right candidate who knows all the nooks and corners of being a UX designer.
Here, you can actually tell a short anecdote as to what inspired you into being a UX designer and why you chose that company.
2. Are you a Team Player?
Answer:
What the interviewer actually wants to know is the answer to two things.
One, how will you react to negative feedback by a customer/ fellow designer/ senior designer in a team? You can say that you are open to any feedback provided it's not vague. It should be clear and to the point.
Second, how comfortable are you in sharing your design concepts and changing them in a team and surveys? If the company is profiting from your design, that will be a feat on your part as a UX designer, so sharing is actually a responsibility.
3. What is the difference between UX and UI Design or Other Design Disciplines?
Answer:
This is a common question for this particular interview.
The interviewer wants to know whether you know the roles and responsibilities of a UX designer and how they are different from other designers' roles and whether you would be able to apply UX design concepts to collaborate with other design disciplines. The tip here is to research those roles that this particular company requires first and then lay your answers.
Try to mention that other disciplines are like the subsets of UX designs and that design disciplines change with products, but in UX design, the basic layout will be the same for all.
4. How will you Improve our Product?
Answer:
Here the interviewer wants to know if your research for the post and company is done right. If it's a big company, present an alternate solution only if required but let that solution be in accordance with that company's current trend only. Diplomacy can be applied too. Don't be afraid to voice out your views, but subtlety and exact words will be heard well. If it's a start-up, then try not to criticize the product but talk about making it famous instead. Make sure you know about the target users too.
5. A Design Challenge?
Answer:
There is nothing much to say here. Some interviewers are so work-focused that they will just present a challenge before you and judge you. Here you can show them your portfolio too.
Part 2- UX Designer Interview Questions (Advanced)
This second part covers advanced Interview Questions and Answers
6. How do you Work and Process a Design?
Answer:
In this case, too, you can show them your portfolio. Talk about your best work or your favorite design that you have created. This way, you can walk them through how your work style is. Again, in either case, try to answer in accordance with your role as a UX designer for that company.
7. Why do you want to Work Here?
Answer:
This is a direct question that will require some confidence on your part because otherwise, the interviewer would not invest their time and yours too while conducting this interview. There can be varied answers to this question. Maybe it's a big design company, and gaining experience from such a company can improve you as a designer. Or it may be a start-up where your role may be more than a designer, thereby giving you that edge over other UX designers to handle any crisis situation. Try to align the answers accordingly.
8. How do you feel about this new approach to our product? Do you think it's profitable?
Answer:
This is another way to identify if you are a team player. The interviewer wants to know if you are a flexible person who is ready to deal with on-the-spot changes in the product's design. So it would be better if you research the new trends applied in the field. In case you don't know if the approach, do mention that you are not aware of this approach, but there is another approach in your mind that will improve profitability. This will show the interviewer that you are more solution-focused rather than a problem-focused person.
9. What Inspired you to be a UX Designer?
Answer:
Here the interviewer wants to know if you are really passionate about your work and will deliver better results in the future. So you can talk about your favorite project, or maybe an anecdote. Those who change their field of the profession will face this question. Remember; try to keep it short and a UX design-related answer only.
10. Where do you See Yourself in 5 years?
Answer:
This is also an interview classic. But here, the interviewer wants to actually know if you will be committed to the company and your work. They want to be sure if you are worth investing their assets in you. You can say that I have appeared for this interview for a reason, and if my work is recognized, I will land up where my work takes me, and if I am lucky, I will grow with this company too.
Conclusion
These are some top questions that are usually encountered. You can think of some bonus questions like; If your design is leaked or copied, how would you feel about it? Or what excites you about this position? Etc. They are all different ways of framing the same questions. Alertness and observation here is the key.
Recommended Articles
This is a guide to UX Designer Interview Questions. Here we discuss the Introduction and answers to the top 10 UX Designer Interview Questions. You can also go through our other related articles to learn more –